Santa Cruz Guitars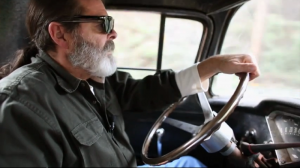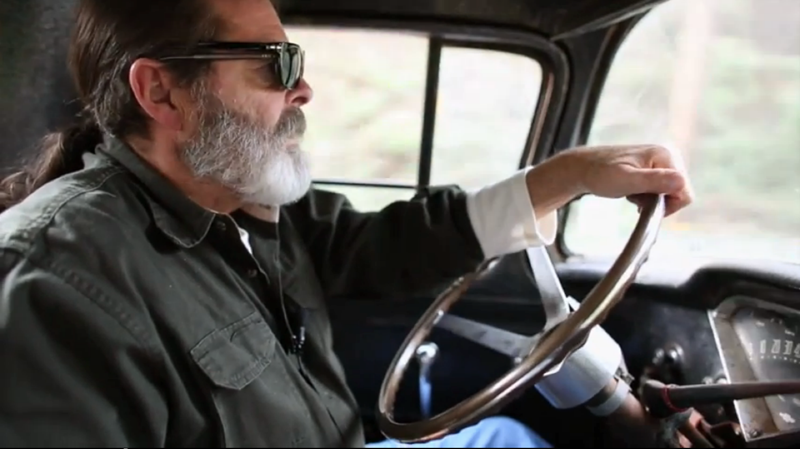 Richard Hoover's passion for the acoustic guitar gave rise to a burning desire to discover how they were made and equally important, how they worked. In 1968, there was absolutely no information on the construction of the acoustic steel string guitars. In pre-Internet days, the other independent pioneers of guitar building may just as well have been on other planets.
Copying the assemblies of the important brands was straightforward, compared to truly controlling the guitar's voice. Hoover turned to the printed body of knowledge on centuries of violin refinement as the sole source of the true way. Herein lay the key for taking his favored instrument out of the realm of the factories and into the enlightened practice of traditional lutherie. The quest included independent experimentation, the grace of mentors, countless repairs, restorations and the construction of numerous guitars and carved-top mandolins.
Throughout the process, a concept grew. If I try to figure this out by myself it will take forever. This simple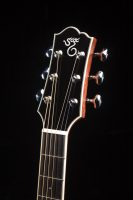 frustration, voiced by Richard, would have a profound effect on the future of steel string guitar making. If I hold true to the principals and ethics of lutherie traditions, I can work as a team with others to accelerate the learning curve without compromise. This became the mission statement for the beginnings of boutique lutherie and the inspiration for the Santa Cruz Guitar Co.
We know that the whole is greater than the sum of its parts, and that through practice and study we will pursue ongoing improvement. Each of us has become masterful in our current specialties and collectively we embody nearly two hundred years of expertise. By adhering to the principles of physics and the tried and true practices of lutherie, SCGC guarantees the most sophisticated instrument of its kind. We will assure maximum sustain and complexity of overtones and maintain consistency of balance and tone specific to each of our standard models. To accommodate the subjective nature and personal requirements of EQ, tone and presence, we offer our considerable talents to deliver exactly what you need in a custom instrument.
Visit us at SantaCruzGuitar.com
Santa Cruz Guitars's Blog
A Santa Cruz OM-PW was the grand prize at this year's fundraiser.

Read More
Pacific Northwest guitarists perform the flatpicking standard on a pair of Santa Cruz flattops.

Read More
String Cheese Incident guitarist and his vocalist wife perform a duet in the Santa Cruz shop.

Read More
Organic Sounds' Larry Sogolow demonstrates a selection of five new Santa Cruz guitars.

Read More
Roots-reggae artist performs his latest single on a Santa Cruz Custom D.

Read More
Santa Cruz now offers Plek setup services for guitars of any brand.

Read More
A dream guitar built with stunningly beautiful Brazilian rosewood.

Read More
Bill Cooley plays a great custom Santa Cruz at The North American Guitar.

Read More
The Santa Cruz founder and flatpicking virtuoso team up for a presentation about the company at Organic Sounds Guitars.

Read More
A look at Santa Cruz' strings prior to installation.

Read More
Acoustic jazz guitar aces perform a spontaneous duet of the Milt Jackson standard.

Read More
A modern classic optimized for fingerstyle playing.

Read More
Andy Cambria demonstrates one of Tony Rice's personal signature model guitars at the Music Emporium.

Read More
A spontaneous duo version of the jazz standard played on a pair of Santa Cruz OMs.

Read More
The latest set of Santa Cruz Parabolic Tension strings is optimized for DADGAD tuning.

Read More
A great duo version of the Thelonious Monk standard played on a pair of Santa Cruz OMs.

Read More
Santa Cruz founder Richard Hoover discusses "moon" spruce, choosing a top, and more on the Santa Cruz Coffee Break podcast.

Read More
Fingerstyle virtuoso Richard Smith plays "Danza Paraguaya" on a small-body Santa Cruz.

Read More
We check out the latest addition to Santa Cruz Parabolic Tension strings using a pair of Santa Cruz baritone guitars.

Read More
A 45th anniversary message from Richard Hoover and his team at Santa Cruz Guitars.

Read More
Buy two sets of Santa Cruz Parabolic Tension Strings and get a third set free.

Read More
A great all-mahogany 12-fret with custom upgrades.

Read More
Eric Skye performs a fingerstyle arrangement of the jazz standard.

Read More
Happy Traum plays and discusses his new signature model guitar.

Read More
A beautiful signature model for folk legend Happy Traum.

Read More
The blues guitarist discusses his signature model with Santa Cruz founder Richard Hoover and Peghead Nation's Teja Gerken during a Facebook Live session.

Read More
The blues master and Santa Cruz Guitars founder talk about the Catfish Special guitar and much more!

Read More
Eight Santa Cruz dealers discuss how they help their customers order their dream guitars.

Read More
A conversation between the Santa Cruz founder and signature artist from a recent Peghead Nation Facebook Live event.

Read More
Peghead Nation hosts the Santa Cruz Guitars founder and one of their signature artists live on Facebook, Friday, December 11 at 3 PM Pacific Time, for a special conversation.

Read More
Bruce Molsky demonstrates his touring guitar.

Read More
Eric Skye flatpicks the well-known fiddle tune on his Santa Cruz signature model.

Read More
The guitarist, singer, songwriter, and member of the Waybacks pays homage to Doc Watson with a medley of "Bright Sunny South" and "Jack-A-Roe," a traditional song that became a mainstay of the Greatful Dead.

Read More
Eric Skye and Jamie Stillway play Skye's original "Kathryn By the Delaware"

Read More
A stunning redwood and mahogany guitar, built in collaboration with Heartbreaker Guitars.

Read More
Santa Cruz's Richard Hoover and Carolyn Sills discuss the process of ordering a custom guitar.

Read More
Santa Cruz co-founder Richard Hoover discusses the company's approach to building a custom instrument.

Read More
A powerful 12-String from California's custom guitar specialists.

Read More
The Western Swing group plays a song from their forthcoming album "Return to El Paso," a celebration of the Marty Robbins hit song from 1959.

Read More
A contemporary OM with a cedar top and walnut back and sides.

Read More
An Orchestra Model built with spectacular Brazilian rosewood.

Read More
An all-mahogany 0-size 12-fret made for blues guitarist Catfish Keith

Read More
A signature model dreadnought for country star Brad Paisley.

Read More
Eric Skye demonstrates his 00-size Santa Cruz signature model.

Read More
The Santa Cruz signature model for bluesman Otis Taylor is all about mahogany.

Read More
A short film about the history of Santa Cruz Guitars, with the founder of the company, Richard Hoover.

Read More