C.F. Martin & Co.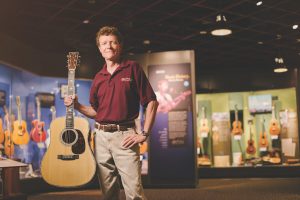 C.F Martin & Co.® (www.martinguitar.com) has been creating the finest instruments in the world for 183 years. It continues to innovate, introducing techniques and features that have become industry standards, including X-bracing, the 14-fret guitar and the "Dreadnought" size. One of the world's leading acoustic instrument makers, Martin guitars are hand-made by skilled craftsmen and women, who use a combination of new design and techniques, along with those introduced by the company founder.
The company is also known for producing high-quality, popular acoustic guitar strings and they have been making their own strings since 1970. These include the successful Martin SP® Lifespan®, the fastest-growing long-life string in the industry, the exciting new Retro Strings line played and loved by Tony Rice and Laurence Juber, and the Martin SP Acoustic and SP Flexible Core lines, which use an industry leading core wire to hold tunings better.
Martin guitars and Martin strings are the instruments and strings of choice for musicians around the world, from the icons of rock, pop, country, folk and bluegrass to those just beginning their careers. They can be seen across all segments of pop culture, from television to movies, Broadway, books, online, and gracing the covers of popular magazines on newsstands everywhere. Connect with Martin and Martin Strings on Facebook, Twitter, Tumblr, and YouTube and via www.martinguitar.com and www.martinstrings.com.
C.F. Martin & Co.'s Blog
Chris Martin discusses Martin's anniversary and special edition dreadnought.

Read More
Martin's contemporary take on a classic high-end model.

Read More
A warm-sounding and easy-playing set of strings made with a nickel-cobalt alloy.

Read More
Bay Area guitarist Jim Nunally demonstrates his herringbone dreadnought, which was originally owned by Windy Whitford of the Goose Island Ramblers.

Read More
Martin introduces four new models, including two John Mayer signature OMs.

Read More
A compact acoustic bass guitar that's easy to play and offers a big sound.

Read More
A rosewood dreadnought with a satin-finish and simulated wear.

Read More
A satin-finished version of the classic dreadnought with a well-worn look.

Read More
A look at the oldest known example of a Martin with an X-braced top.

Read More
The first special edition guitar designed by Martin CEO Thomas Ripsam.

Read More
Bay Area guitarist Jim Nunally demonstrates the dreadnought he's played for almost four decades and used on recordings with David Grisman and others.

Read More
Aged Authentics, StreetLegend, and satin-finished models to be introduced at NAMM.

Read More
Joe Konkoly demonstrates cutting the saddle slot on a replacement bridge for a vintage Martin.

Read More
A pair of 12-frets that brilliantly combine vintage and contemporary features.

Read More
Chris Martin to give keynote speech at Northampton Community College Luthier Summit.

Read More
A great vintage-accurate mahogany dreadnought.

Read More
A limited edition Martin that pays homage to the special grains made famous for their use in beer making.

Read More
The pop star's signature model is an affordable small-body guitar built from FSC-certified woods.

Read More
A supersized dreadnought that sounds as big as it looks.

Read More
Chris Martin presents a lecture on his company's history at a special event at New York's Rudy's Music.

Read More
Fishman artist Angela Petrilli shows basic strumming techniques.

Read More
Joe Konkoly shows the finished result of performing extensive repairs on a vintage Martin.

Read More
A set of Flexible Core strings for the fingerstyle guitar master.

Read More
A variation on a classic model built with premium woods features an inlay design by Dick Boak.

Read More
Martin Guitar Partners with SITKA Gear and Thomas Rhett On a Collaboration for Conservation.

Read More
Martin unveils a signature guitar for the multi-platinum singer-songwriter.

Read More
An affordable rosewood-and-spruce 000 with stripped-down appointments and a distressed finish.

Read More
The roots music star demonstrates Martin's innovative SC-13E Special.

Read More
The late luthier's dreadnought accompanied him onstage and was heavily modified.

Read More
A fantastic vintage-style dreadnought built with Guatemalan rosewood.

Read More
Legendary producer and session guitarist is reunited with one of his first guitars, which has recently been restored by Martin's repair shop.

Read More
A great limited edition 14-fret 000.

Read More
Martin's 2.5 Millionth guitar features 436 diamonds to depict the night sky as it appeared when Christian Frederick Martin Sr. arrived in New York in 1833.

Read More
Martin releases Authentic Series D-18 and D-28 based on 1937 models.

Read More
A rosewood 00 that fuses vintage design with modern features.

Read More
Peghead Nation instructor Doug Young demonstrates his Brazilian rosewood Laurence Juber signature model.

Read More
Long-time Martin employee Susan talks about her career, fitting necks, and other tasks at the company.

Read More
Bruce Molsky demonstrates a beautiful koa Martin with a cool history.

Read More
An updated take on a classic high-end Martin.

Read More
A brand-new version of Martin's innovative acoustic-electric.

Read More
Martin introduces three new models to the innovative SC line of acoustic-electrics.

Read More
Flynn Cohen demonstrates a great vintage Martin owned by Peghead Nation's new Beginning Celtic Fiddle teacher Emerald Rae.

Read More
Joe Konkoly fine-tunes his replacement bracing in a vintage Martin D-28.

Read More
The Grammy-nominated singer-songwriter performs two of her popular original songs for Martin's Jam on the Road series.

Read More
Watch how Martin's most iconic model is built at the company's factory in Nazareth, Pennsylvania.

Read More
Peghead Nation instructor Doug Young demonstrates his vintage 12-fret.

Read More
Joe Konkoly makes and installs replacement bracing in a vintage Martin D-28.

Read More
The Deep Dark Woods leader performs on a pair of all-mahogany guitars as part of Martin's Jam on the Road series.

Read More
Joe Konkoly demonstrates using a go-bar deck as he installs replacement bracing in a vintage Martin D-28.

Read More
Craig Thatcher discusses how woods affect sound and demonstrates a range of Martin guitars.

Read More
Joe Konkoly discusses repairs on four great vintage Martins.

Read More
SpaceX astronaut Chris Sembroksi to take ukulele to space.

Read More
A video overview of Martin's easy-to-play and rich-sounding strings.

Read More
Peghead Nation Irish Mandolin instructor Marla Fibish demonstrates her vintage tenor guitar.

Read More
Joe Konkoly discusses the steps he took to optimize a 1926 Martin 000-28.

Read More
A mid-price 12-string with a jumbo body and a big sound.

Read More
Elderly's Joe Konkoly discusses a great trio of vintage Martins.

Read More
A guitar built to raise awareness about climate change.

Read More
Martin's Skip Beltz discusses the small-size steel-string on a Fishman livestream.

Read More
Martin's Fred Greene discusses two new vintage-inspired models.

Read More
An affordable ukulele with a great sound and a koa photo finish.

Read More
Joe Konkoly shows a completed restoration of a 1948 Martin D-28.

Read More
A new variation on a familiar acoustic-electric.

Read More
Fred Greene, and Skip Beltz discuss the development of the Pink Floyd guitarist's pair of D-35s.

Read More
A compact guitar with a distressed finish.

Read More
Author and instrument historian Kilin Reece discusses the history of Martin's most popular model.

Read More
An affordable dreadnought with a great sound and upscale looks.

Read More
An easy guide for getting your uke in tune.

Read More
Martin's Vice President of Product Management discusses the company's latest instruments.

Read More
David Gilmour signature models, a fully FSC-certified "Earth" guitar, and other great new guitars and ukuleles are being released during NAMM's Believe in Music Week.

Read More
Peghead Nation hosts Martin's Vice President of Product Management to discuss the new instruments that Martin is releasing in 2021.

Read More
A conversation with Martin's international design manager on the Fishman live broadcast series.

Read More
The Martin Guitar CEO talks about the introduction of mandolins and ukuleles in the early 1900s.

Read More
The Martin Guitar CEO talks about the development of the dovetail neck joint, the switch from fan-bracing to X-bracing, and more.

Read More
Durable and affordable without sacrificing tone, Martin's X Series offers the legendary Martin tone, travel-friendly design, a comfortable feel, and great value.

Read More
The Martin Guitar CEO talks about his family's settlement in Nazareth, Pennsylvania, and early Martin guitar designs.

Read More
A cutaway dreadnought with Fishman electronics

Read More
Teja Gerken and Doug Young discuss the guitars used on their recent album of fingerstyle duets.

Read More
The Martin Guitar CEO talks about the earliest days of the company and his family's settling in the United States.

Read More
An affordable mid-size acoustic-electric.

Read More
The songwriter and multi-instrumentalist performs an original song live in the Martin Museum, on a 1942 Martin D-45.

Read More
The songwriter plays his original song, which debuted at #1 on Billboard's Gospel Music chart.

Read More
A great mahogany dreadnought with state-of-the-art electronics.

Read More
The songwriter and multi-instrumentalist performs her Grammy-nominated song live in the Martin Museum, on a 1942 Martin D-45.

Read More
A great OM that blends vintage design with state-of-the-art technology.

Read More
An ongoing series of live-streamed concerts by Martin artists.

Read More
Martin's recently revised rosewood 000 now comes with state-of-the art Fishman electronics.

Read More
The designers of Martin's innovative new acoustic-electric guitar talk about how the new concept, body shape, and neck joint came to fruition.

Read More
A contemporary acoustic-electric OM built out of ovangkol.

Read More
This acoustic-electric introduces a completely new body shape and an innovative neck joint.

Read More
New limited editions and updates to standard models to be released at NAMM

Read More
A dreadnought with a shallower-than-standard body and Fishman electronics.

Read More
The guitarist known for his portrayal of Ron Swanson on "Parks and Recreation" talks about his love of Martin Guitars and his struggle with the B chord.

Read More
An affordable 000 with granadillo back and sides and Fishman electronics.

Read More
The guitarist for the pop/rock/soul band The New Respects plays a solo version of an original song live at Martin HQ.

Read More
Watch this mesmerizing video of John Mayer's signature guitar getting an overhaul at the Martin factory.

Read More
Chris Martin and others talk about the creation of the X-braced guitar and the structural and tonal benefits of the historic bracing pattern.

Read More
The latest D-28 fuses classic design with innovative features

Read More
Martin Guitar's Fred Greene discusses the features and appointments on the new series that includes the D18, D28, OM28, and 00028.

Read More
Martin's new banjo strings use a long lasting nickel/steel alloy for its tonal qualities and smooth consistency, great for all styles of banjo playing.

Read More
Peghead Nation Irish Backup Guitar instructor Flynn Cohen demonstrates his favorite guitar.

Read More
Meet some of the artisans who are part of the 180-year history of building iconic American guitars by hand.

Read More
An affordable acoustic-electric cutaway built with solid woods and Fishman electronics.

Read More
Meet some of the artisans who are part of the 180-year history of building iconic American guitars by hand.

Read More
The latest Dreadnought Junior model offers a compact size and big sound.

Read More
A look at the design of the new Martin guitar strings and comparison to Martin's previous string models.

Read More
The songwriter and former frontman for Gaslight Anthem sings an original song in the Martin Guitar Museum.

Read More
A great all-mahogany 12-fret with vintage specs.

Read More
The new addition to Martin's Standard Series has a great combination of vintage tone and contemporary feel.

Read More
A helpful tutorial on how to easily change the strings on your acoustic guitar.

Read More
A great new acoustic-electric dreadnought with walnut back and sides.

Read More
A look at the design of the new Martin guitar strings.

Read More
Martin's newest strings use tin-plated trebles and core wires.

Read More
Martin's R&D guru is working on something top secret, and the best sleuths at Martin are having a hard time uncovering the mystery.

Read More
A contemporary classic is reimagined as part of Martin's new standard series.

Read More
A look at the details of the re-imagined Style 28 line of guitars from Martin.

Read More
A look at Martin's Classical and Magnifico Premium strings and the hybrid 000C Nylon guitar.

Read More
Martin releases a replica of their prewar 00 12-fret, with mahogany top, back, and sides, slotted peghead, and hide glue construction.

Read More
A brand new grand performance size flattop with Fishman electronics.

Read More
A look at the Martin guitar and string production facility in Navojoa, Mexico.

Read More
A look at Martin's Titanium Core, Retro, Acoustic SP, Flexible Core SP, and Lifespan SP strings.

Read More
A replica of the soprano ukulele that was aboard Admiral Byrd's 1926 expedition to the North Pole, and also made a trip to the White House.

Read More
Get an up-close look at how Martin Guitar necks are filed and shaped.

Read More
A look at Martin's Premium Ukulele and Ukulele Strings and the All-Mahogany 2 Concert Uke

Read More
The latest version of Martin's Standard series herringbone dreadnought includes custom Fishman electronics.

Read More
Watch as the finishing touches are put on a new Martin Guitar, from filing and polishing the frets to the first stringing of the guitar.

Read More
Marcy Marxer explains different ukulele sizes, tunings, and sounds.

Read More
A look at the custom Golden Era Style 45 guitar, a collaboration between the Martin Custom Shop and inlay artist Harvey Leach.

Read More
Eric Schoenberg with a one-of-a-kind vintage Martin.

Read More
The history of iconic guitar model, first introduced in 1916, narrated by Jeff Daniels and including insight from David Crosby, Chris Martin, Rosanne Cash, Del McCoury, and many others.

Read More
A look at the partnership between Martin Guitar and Fishman Electronics, and how together they've mastered the acoustic-electric guitar.

Read More
Laurence Juber demonstrates two of his signature model guitars.

Read More
A limited edition model of a classic Martin dreadnought.

Read More
Martin combines vintage design and modern materials for a great-sounding, rugged soprano ukulele.

Read More
A look at the construction, tuning stability, comfort, lifespan, and tone of Martin's new Titanium Core Strings.

Read More
The fingerstyle guitarist plays an original composition in the Martin Museum, on his Martin OM-21 Signature Guitar.

Read More
Martin combines its grand performance body with traditional styling for an exceptional contemporary flattop.

Read More
A guitar's neck shape can affect the feel and playability of an instrument, and Martin's Dave Doll shows a few examples of different necks.

Read More
Martin updates its iconic dreadnought for contemporary players.

Read More
Dick Boak talks about the Custom Signature Edition D-Boak dreadnought, featuring his original "Inside Out" artwork.

Read More
Meet the artists who cut, sand, carve, and craft the finest materials into your custom Martin.

Read More
A special dreadnought to celebrate Martin Guitar's Dick Boak.

Read More
An artful video showing the people, technology, and processes that create Martin's iconic guitars.

Read More
Martin's Dave Doll shows the parts of a guitar, explaining what some of the common terminology refers to and demystifying guitar-speak.

Read More
Martin's Dave Doll talks about the 100-year history of Martin ukuleles and shows examples of a few models.

Read More
The Martin Ambassadors play an original song in the Martin museum during their visit to Nazareth, Pennsylvania.

Read More
A classic small-body returns to Martin's standard series.

Read More
A trio of small-body acoustics with lightweight mahogany construction and two unique finish options.

Read More
A powerful grand jumbo guitar designed by Chris Martin.

Read More
Author Jerry Zolten tells the story of America's first music superstar, Jimmie Rodgers.

Read More
New 16-series dreadnought features sycamore back and sides, a shallow body, and Fishman electronics.

Read More
Author Jerry Zolten tells the story of the historic Martin D-28 that belonged to Clarence White and then moved on to bluegrass innovator Tony Rice.

Read More
Martin Guitar's Chairman and CEO talks about the two millionth Martin and the D-200 Deluxe.

Read More
A rare model returns to Martin's Standard Series.

Read More
Two decades ago, Martin Guitar began producing the high-tensile core wire for their popular SP Strings.

Read More
Songwriter and guitarist Jason Isbell tells the story of one Martin dreadnought that belonged to three music legends.

Read More
Take a look at the D-28 John Prine, Dwight Yoakam DD28 Signature Edition, CS-CF Martin Outlaw-17, CEO 8.2, and the CEO 8.2E from Martin Guitar.

Read More
To celebrate their two-millionth guitar since 1833, C.F. Martin & Co. introduces the spectacular D-200 Deluxe limited edition.

Read More
The new 16-Series guitars are built with sycamore or cherry back and sides, solid spruce top wood, and innovative silver binding.

Read More
Great-sounding mahogany and spruce 000 includes Fishman electronics.

Read More
A cool re-creation of Martin's first dreadnought.

Read More
Martin custom-shop tribute to bluegrass guitar legends.

Read More
Martin's latest D-18 marries vintage specs with a cutaway and custom electronics.

Read More
A cool dreadnought design from Martin Guitars, built with solid woods and with a size that falls in between a Little Martin and a standard Martin dreadnought.

Read More
Vintage-style 12-fret re-creation with dynamic and complex tone.

Read More
12-fret 00 fuses classic catalog guitar style with contemporary tone and feel.

Read More
Great-sounding cutaway OM includes Fishman's latest electronics package.

Read More
Martin's latest 14-fret 00 combines vintage-style design with the latest in amplification technology. A great-sounding small-body.

Read More
A modern 12-string dreadnought celebrates a classic Martin model.

Read More
Teja Gerken demonstrates his custom OM.

Read More