000JR-10E Shawn Mendes | Martin Guitar
Martin unveils a signature guitar for the multi-platinum singer-songwriter.
September 14, 2022
Martin Guitar has partnered with GRAMMY nominated, multi-platinum, singer-songwriter Shawn Mendes to bring you the 000JR-10E Shawn Mendes Custom Signature Edition.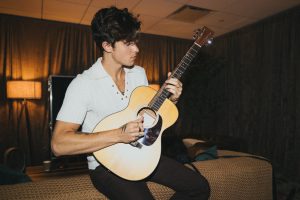 Inspired by Shawn's go-to vintage Martin and featuring classic Shawn imagery, every detail of this guitar was designed and created in collaboration with Mendes for his official signature model. The new guitar not only sounds amazing, but is incredibly comfortable, and best of all, it's environmentally friendly. This edition is crafted with 100 percent Forest Stewardship Council (FSC®) certified tonewoods in a 000 Junior-sized, 14-fret instrument and comes with a gig bag made from recycled ocean plastic that meets the Global Recycled Standard. The Shawn Mendes Signature Edition marks the largest production run of 100 percent FSC-certified guitars Martin has ever completed, and it is the first time a Martin guitar has been paired with a gig bag made from recycled ocean plastic. And the retail price of $799 is approachable for avid collectors and first-timers alike.
"Creating this guitar alongside Martin has been a dream of mine. The signature we created together is not only something I'm proud of musically, but also because it aligns with my passion for sustainability, and supports the Shawn Foundation's initiatives. I can't wait to share a guitar I love with fans across the world." – Shawn Mendes
A Shawn Mendes signature guitar wouldn't be complete without some personal design details that all of Shawn's fans will appreciate. Laser etched on each wing of the bridge is a swallow inspired by the tattoo on Shawn's right hand. Additionally, each instrument comes with a special label featuring the Shawn Mendes Foundation sunburst logo. And to finish it off, Shawn's signature is inlaid at the top of the fretboard.
The Jr. size and 000-body depth make this guitar extremely comfortable for any player. It's great for strumming on the couch, on the beach, or around a campfire. And with Fishman® Sonitone electronics included, it also sounds great on stage. This is a guitar you will never outgrow.
To add a little more fun to the project, a sample of Shawn's lyrics is hidden somewhere inside the guitar. You might find one laser-etched on a brace, or under the bridge, or even under the rosette. Some of the phrases include: "We lay under the same stars," or "You'll never be alone."
As part of the partnership, Martin Guitars will be supporting Mendes' goal of making music accessible to everyone. Martin will be making a contribution to the Wonder of Music Program at The Hospital for Sick Children (SickKids) presented by The Shawn Mendes Foundation. SickKids, affiliated with the University of Toronto, is Canada's most research-intensive hospital and the largest center dedicated to improving children's health in Mendes' home state. The Wonder of Music Program Presented by Mendes aims to fund music therapy activities that are accessible to young patients at the Toronto hospital, with activities including songwriting, first exposure to music, heartbeat songs for families of patients, and lullabies.
Visit Martin Guitar!
Related Inside Look Posts
A look at the oldest known example of a Martin with an X-braced top.

Read More
The first special edition guitar designed by Martin CEO Thomas Ripsam.

Read More
Joe Konkoly demonstrates cutting the saddle slot on a replacement bridge for a vintage Martin.

Read More
Chris Martin to give keynote speech at Northampton Community College Luthier Summit.

Read More
A limited edition Martin that pays homage to the special grains made famous for their use in beer making.

Read More
Chris Martin presents a lecture on his company's history at a special event at New York's Rudy's Music.

Read More
Fishman artist Angela Petrilli shows basic strumming techniques.

Read More
Joe Konkoly shows the finished result of performing extensive repairs on a vintage Martin.

Read More
Martin Guitar Partners with SITKA Gear and Thomas Rhett On a Collaboration for Conservation.

Read More
The roots music star demonstrates Martin's innovative SC-13E Special.

Read More