Inspiration4 Ukulele | Martin Guitar | Space X
SpaceX astronaut Chris Sembroksi to take ukulele to space.
September 14, 2021

C.F. Martin & Co. has created a one-of-a-kind custom ukulele to be taken into space by the Inspiration4 crew on its upcoming Space X mission, scheduled to launch September 15, 2021. 
Built from sinker mahogany, the space-bound ukulele features an inlay (done by master craftsman Brent Williams) of the Inspiration4 mission patch on the fingerboard. Astronaut Chris Sembroski will play the ukulele in space, and, upon its return, the instrument will be signed by the entire crew and then auctioned off to benefit St. Jude Children's Research Hospital.
No strangers to adventure, Martin guitars and ukuleles have been just about everywhere on earth and beyond. In 1926, a Martin ukulele called the Konter Uke famously tagged along on Admiral Richard Byrd's exhibition to the North Pole. And in 1994, the first guitar to ever go to space was a specially designed Martin Backpacker that hitched a ride with astronaut Pierre Thout on the Space Shuttle Columbia.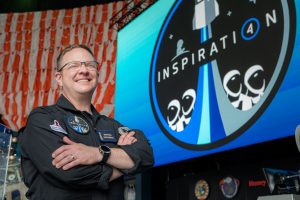 Inspiration4 is the world's first all-civilian mission to orbit. The mission will be commanded by Jared Isaacman, the 38-year-old founder and Chief Executive Officer of Shift4 Payments and an accomplished pilot and adventurer.
Inspiration4 will leave Earth from Kennedy Space Center's historic Launch Complex 39A, the embarkation point for Apollo and Space Shuttle missions, and travel across a low earth orbit on a multi-day journey that will continually eclipse more than 90 percent of the earth's population. Named in recognition of the four-person crew that will raise awareness and funds for St. Jude Children's Research Hospital, this milestone represents a new era for human spaceflight and exploration. The entire mission is also the focus of an upcoming Time / Netflix documentary.
For more info on the mission, visit inspiration4.com/mission
For info on Martin Guitars, please visit martinguitar.com
Related Inside Look Posts
A look at the oldest known example of a Martin with an X-braced top.

Read More
The first special edition guitar designed by Martin CEO Thomas Ripsam.

Read More
Joe Konkoly demonstrates cutting the saddle slot on a replacement bridge for a vintage Martin.

Read More
Chris Martin to give keynote speech at Northampton Community College Luthier Summit.

Read More
A limited edition Martin that pays homage to the special grains made famous for their use in beer making.

Read More
Chris Martin presents a lecture on his company's history at a special event at New York's Rudy's Music.

Read More
Fishman artist Angela Petrilli shows basic strumming techniques.

Read More
Joe Konkoly shows the finished result of performing extensive repairs on a vintage Martin.

Read More
Martin Guitar Partners with SITKA Gear and Thomas Rhett On a Collaboration for Conservation.

Read More
Martin unveils a signature guitar for the multi-platinum singer-songwriter.

Read More