Martin Jam in Place Live Streams
An ongoing series of live-streamed concerts by Martin artists.
April 24, 2020
Martin Guitars is presenting a lineup of live-streamed concerts with its Jam in Place series. Streamed via Facebook Live, the series features Martin artists playing in their living rooms, home studios, and other spaces.
Recent participants have included Dashboard Confessional, John Oates, Molly Tuttle, Chris Woods, and many more.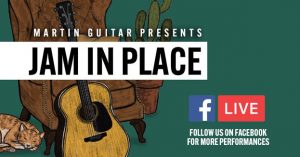 Currently scheduled artist include the following:
April 24: Ana and John Carter Cash
April 25: Matt Sucich
April 26: Eric Pulido
April 27: Matthew Szachetka
April 28: Jim and James
April 29: Joe Pisipia
April 30: Bobby Syvath
May 1: Mitchell Tenpenny
May 2: Elliot Easton
May 3: Darin and Brooke Aldridge
May 4: Chris Shiflett
May 5: Brandon Lancaster
May 7: Lauren Mascitti and Shawn Camp
May 8: Angella Petrilli
May 9: Brandy Clark
May 11: Dave Hause
May 12: Henry Jamison
May 13: Grayson Capps
May 14: Lyncs
May 15: Braison Cyrus
May 17: Corey Congillio
May 18: Jeff Slate
May 20: Hunter Hayes
May 22: Danny Schmidt
For more information and updates, please follow Martin's Facebook page at facebook.com/martinguitar.
Related Performances Posts
The Grammy-nominated singer-songwriter performs two of her popular original songs for Martin's Jam on the Road series.

Read More
The Deep Dark Woods leader performs on a pair of all-mahogany guitars as part of Martin's Jam on the Road series.

Read More
The songwriter and multi-instrumentalist performs an original song live in the Martin Museum, on a 1942 Martin D-45.

Read More
The songwriter plays his original song, which debuted at #1 on Billboard's Gospel Music chart.

Read More
The songwriter and multi-instrumentalist performs her Grammy-nominated song live in the Martin Museum, on a 1942 Martin D-45.

Read More
The guitarist for the pop/rock/soul band The New Respects plays a solo version of an original song live at Martin HQ.

Read More
Meet some of the artisans who are part of the 180-year history of building iconic American guitars by hand.

Read More
The songwriter and former frontman for Gaslight Anthem sings an original song in the Martin Guitar Museum.

Read More
The fingerstyle guitarist plays an original composition in the Martin Museum, on his Martin OM-21 Signature Guitar.

Read More
The Martin Ambassadors play an original song in the Martin museum during their visit to Nazareth, Pennsylvania.

Read More