Summer 2023 Releases | Martin Guitars
Martin introduces four new models, including two John Mayer signature OMs.
August 25, 2023
Martin Guitars is announcing the release of four new models, including two signature artist editions that celebrate the 20th anniversary of Grammy Award-winning artist John Mayer's popular OM-28JM model. The launch also includes an affordable addition to the popular SC lineup, and a new version of the D-15.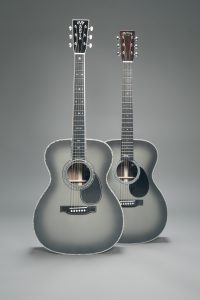 John Mayer 20th Anniversary Models
To commemorate the 20th anniversary of John Mayer's popular OM-28JM model, Martin collaborated again with Mayer to offer two stunning limited edition models. The OMJM John Mayer 20th Anniversary ($3,999) is based on the earlier style-28 signature model. Built with an Engelmann spruce top and Indian rosewood back and sides. Featuring modified style-45 appointments, the OM-45 John Mayer Anniversary ($18,499) is built with an Engelmann spruce top and Guatemalan rosewood back and sides. Like the original signature model, the guitar includes an aluminum border around the headplate and bridge, and the feature has been expanded to also include the fingerboard and pickguard. Both guitars include a Gray Sunburst finish, a narrow 1 11/16-inch nut, and a unique label with Mayer's electronic signature.
SC-10E-02
With its patented Sure Align neck system, low-profile velocity neck barrel, original body shape, etc. Martin's SC models have been popular with players looking for full access to all frets. The new SC-10E-02 ($999) now offers these features in an affordable package. Using sapele wood for its top, back, and sides, the guitar offers a new look and warm, yet crisp tone. The SC-10E-02 uses Richlite for its fingerboard and bridge, and it has a mother-of-pearl pattern inlay that is complemented by a rosewood pattern HPL headplate, and chrome enclosed gear tuners. The guitar includes a softshell case for ultimate portability.

D-15E
The D-15 has been a staple in Martin's lineup for years, and now the company is offering an updated version. Built with sapele back and sides and a mahogany top, the new D-15E ($1,299) dreadnought features non-scalloped bracing and Fishman E1 electronics.

Visit Martin Guitars!
Related New Products Posts
Martin introduces three new models to the innovative SC line of acoustic-electrics.

Read More
New limited editions and updates to standard models to be released at NAMM

Read More
Martin's new banjo strings use a long lasting nickel/steel alloy for its tonal qualities and smooth consistency, great for all styles of banjo playing.

Read More
A look at the design of the new Martin guitar strings and comparison to Martin's previous string models.

Read More
Martin releases a replica of their prewar 00 12-fret, with mahogany top, back, and sides, slotted peghead, and hide glue construction.

Read More
A replica of the soprano ukulele that was aboard Admiral Byrd's 1926 expedition to the North Pole, and also made a trip to the White House.

Read More
A trio of small-body acoustics with lightweight mahogany construction and two unique finish options.

Read More
Take a look at the D-28 John Prine, Dwight Yoakam DD28 Signature Edition, CS-CF Martin Outlaw-17, CEO 8.2, and the CEO 8.2E from Martin Guitar.

Read More
The new 16-Series guitars are built with sycamore or cherry back and sides, solid spruce top wood, and innovative silver binding.

Read More
A cool dreadnought design from Martin Guitars, built with solid woods and with a size that falls in between a Little Martin and a standard Martin dreadnought.

Read More