Northfield Mandolins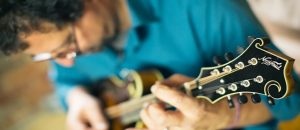 Our Story (and we're stickin' to it): In some ways, making these mandolins is about finding the way back home, for the instrument and for myself. For years I had been working with other companies making Gibson-style mandolins, based on the designs by Lloyd Loar during the 1920's, but had never been that satisfied with the outcome. I had spent several years running back and forth from the USA to China, Japan and Korea. At one point I relocated to China with my family to work as the product development manager for Saga Musical Instruments. I, as well as a couple members of The Northfield Workshop, developed hundreds of items for dozens of companies in dozens of countries. We contributed to the development of some fantastic instruments and learned a lot in regards to what we enjoy about instrument building as well as what we don't. What we enjoyed was the thrill of getting it right, and getting it right together. What we didn't like……well, let's just say that trying to get it right thousands and thousands of times ends up undermining "getting it right". We aspire to make the best instruments not the most.
Adrian Bagale
Design and R&D, Northfield Mandolins
Visit NorthfieldMandolins.com to learn more.
Northfield Mandolins's Blog
Adrian Bagale demonstrates the new electric octave mandolin's innovative electronics.

Read More
John Reischman demonstrates Northfield's new compact octave mandolin.

Read More
Jason Dennie plays a medley of "Cannonball Rag" and some Beatles tunes on Northfield's new archtop guitar.

Read More
Northfield's Adrian Bagale and Derek Smith discuss the company's new short-scale octave mandolin.

Read More
Peghead Nation instructor Joe K. Walsh plays Northfield's new electric octave mandolin in a duet with fiddler John Mailander.

Read More
The former Väsen guitarist plays one of his original tunes on a Northfield Flat Top octave mandolin.

Read More
Peghead Nation instructor demonstrates the Northfield F5S and other gear that he uses on tour.

Read More
A special one-off version of Northfield's popular 4th Gen F5 Model.

Read More
Peghead Nation instructor John Reischman plays an original tune at the 2019 Marshall Mandolin Summit.

Read More
An instrumental duet played on a pair of Northfield Archtop and Flattop Octave Mandolins.

Read More
Northfield's Derek Smith demonstrates three flattop octave mandolins with different wood combinations.

Read More
Northfield's Kjell Croce demonstrates the installation of the new Gilchrist-designed mandolin tailpiece.

Read More
Dan Bui demonstrates a Lloyd Loar-style F5 from Northfield Mandolins at the Music Emporium.

Read More
A great-sounding US-made flattop mandolin at an affordable price.

Read More
Ethan Setiawan demonstrates a cool octave mandolin at the Music Emporium.

Read More
Ethan Setiawan demonstrates a great F5 at the Music Emporium.

Read More
Elderly Instruments demonstrates a great option for a low-tuned eight-string.

Read More
The jazz mandolin great performs at the Marshall Mandolin Summit.

Read More
Sierra Hull plays a fiddle tune on her Northfield octave mandolin.

Read More
The making of Northfield's great flattop mandolin.

Read More
A great mandolin duet of Sarah Jarosz's original tune, recorded live at the Marshall Mandolin Summit.

Read More
The mandolin master plays a great version of the Jerome Kern classic with his trio, live at the Marshall Mandolin Summit.

Read More
Two Big Mon mandolins, one built with Engelmann, the other with an Adirondack spruce top, played back-to-back.

Read More
Two mandolin masters play a Puerto Rican tune that John learned from a recording of cuatro player Pedro Padilla.

Read More
The songwriter, singer, and multi-instrumentalist performs live at the Marshall Mandolin Summit.

Read More
Two mandolin masters play a great version of Charlie Parker's classic 1946 bebop composition, live at the Marshall Mandolin Summit.

Read More
Joe K. Walsh demonstrates his archtop guitar–inspired octave mandolin.

Read More
Each Northfield instrument is built with an exacting approach, with dedication and respect to the art of the premier designs of Lloyd Loar. We're here because he was and we know that.

Read More
Northfield's Adrian Beagle tells the story of the company's unique octave mandolin model. Demonstrated by Mike Marshall and Emory Lester.

Read More