Collings Guitars & Mandolins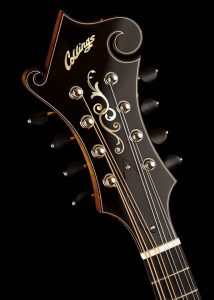 Bill Collings moved from Ohio to Houston, Texas in the mid-1970s. More interested in guitars and engineering than in medical school, he took a job at a machine shop and began building guitars on his kitchen table with just a few hand tools. Coming from a family of engineers, Bill's experience as a craftsman and his natural curiosity equipped him to experiment and quickly improve his craft. Before long his instruments were in the hands of local talents Rick Gordon and Lyle Lovett, which led more Texas players to seek out Bill for custom guitars. After building about fifty guitars and a few banjos in Houston, he headed west to pursue lutherie in southern California. Along the way, he befriended Austin luthiers Tom Ellis and Mike Stevens. Having found like-minded instrument makers, Bill decided to stay and share space in Tom's shop. By the mid-1980s, Bill was building flattop and archtop acoustic guitars in his own small shop. His reputation for outstanding quality and meticulous attention to detail quickly spread. In 1989, he rented a 1,000-square-foot space and hired two helpers.
That same year, George Gruhn, the acclaimed collector and purveyor of vintage fretted instruments and owner of Gruhn Guitars in Nashville, asked Bill to make 24 custom "Gruhn" guitars, giving the Austin luthier national exposure. In the spring of 1992, Bill moved his guitar-making operation into a 3,200-square-foot feed store he purchased on the outskirts of Austin. By this time musicians such as Pete Townshend, Joni Mitchell and Brian May were playing Collings instruments and demand con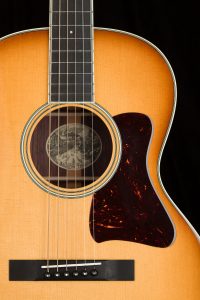 tinued to grow. The existing shop tripled in size and its staff increased to 50 full-time employees. By 2005, Bill broke ground for a new 27,000-square-foot shop featuring CNC technology that modernized machining processes and made parts production more consistent, accurate and safe. As the business grew and processes were refined, one thing remained the same: Bill Collings' commitment to build the finest stringed instruments available.
Fueled by his fascination with the construction and design of a variety of instruments, Bill soon began crafting more than just acoustic guitars. In 1999, he introduced the first Collings mandolins, which like his guitars, quickly set new standards for the industry. In 2006 his interest in carved top instruments led him to introduce a line of electric  guitars that players quickly embraced because of the instruments' exceptional craftsmanship and tone.In 2009, with a nod to the tradition of some other high-end acoustic guitar makers, Bill created a line of concert and tenor ukuleles that have been hugely popular with professional and hobbyist players alike.
In late 2014, Collings started production of Waterloo Guitars, a stand-alone line of vintage-inspired guitars designed to capture the tone and character of some of the best depression era instruments.
For the past 40 years, Collings Guitars have been the choice of musicians who seek the finest handmade instruments available. You owe it to yourself to try a Collings.
Visit us at CollingsGuitars.com
Collings Guitars & Mandolins's Blog
A great fingerstyle arrangement of the classic Beatles song played on a special Collings during the 2023 Fretboard Summit.

Read More
Moriah Ozberkmen demonstrates a great F-Style mandolin at the Music Emporium.

Read More
Julian Lage performs the title track to his latest album on his Collings OM-1 signature model.

Read More
Peghead Nation instructor Doug Young demonstrates the late fingerstyle star's signature model.

Read More
A spontaneous mandolin and guitar take on "Daybreak in Dixie."

Read More
Bob Minner, Josiah Nelson, and Jake Workman perform the bluegrass classic at IBMA 2022.

Read More
An updated version of Collings' L-00-inspired classic.

Read More
Acoustic guitar duo performs "Charlie Rich" on a pair of Collings instruments.

Read More
Lyle Lovett plays the title track of his brand-new album.

Read More
A mid-size flattop with a versatile sound and an original, yet familiar body shape.

Read More
Jazz guitarist Jim Kelly plays a stunning Collings 16-inch archtop at the Music Emporium.

Read More
The 2008 flatpicking champ plays a solo guitar version of the Tony Rice classic.

Read More
Collings Guitars's Mark Althans performs on a limited edition model that's inspired by a custom guitar ordered by Joe Henry.

Read More
Ethan Setiawan demonstrates a great A-Style mandolin at the Music Emporium.

Read More
A new slope-shoulder dreadnought with a vintage sound and feel.

Read More
Matt Read and Chris McQueen perform an original from their recently released album of duets.

Read More
Our Melodic Mandolin Tunes instructor plays a bluegrass classic with the 2020 IBMA Momentum Band Award winners.

Read More
A small-body 12-string with easy playability and a big sound.

Read More
The Austin-based acoustic guitar duo performs their original "So Long."

Read More
The singer-songwriter performs a stripped-down version of a song from her album Dark River.

Read More
The jazz guitar star plays an original tune on his Collings 470 JL signature model.

Read More
Flatpicker Bob Minner plays his composition "VanWart" on a new Collings CJ-45 T.

Read More
Collings adds a slope shouldered dreadnought to its Traditional series.

Read More
Collings and Waterloo artists Charlie Rauh and Benjamin Guillet are joined by Peghead Nation's Teja Gerken for a trio arrangement of the Finnish lullaby.

Read More
A great video visit produced by TexasMonthly.

Read More
A duo performance of Gillian Welch's "Winter's Come and Gone"

Read More
Collings Guitars' general manager discusses the company's instruments and his own background on the Fretboard Journal podcast.

Read More
Fingerstyle jazz guitarist Charlie Rauh performs an improvisation with Peghead Nation instructor Mark Goldenberg.

Read More
The songwriter plays one of his original compositions at the Collings Guitar and Mandolin shop.

Read More
The roots trio plays a one of their original compositions at the Collings Guitar and Mandolin shop.

Read More
The guitar master plays his arrangement of a traditional classic on a Collings 002H 14-Fret.

Read More
Collings Guitars' Steve McCreary, guitarist Chris Eldridge, and other team members talk about how they developed the popular Traditional Series.

Read More
The guitar master plays his arrangement of a bluegrass classic on a Collings D1 A T S.

Read More
The flatpicking master plays an original composition on a new Traditional series dreadnought.

Read More
The guitar master plays his arrangement of a bluegrass classic on a Collings 001 14-Fret.

Read More
The guitarist from We Banjo 3 and the guitarist from Mountain Heart play a bluegrass favorite.

Read More
The songwriter performs one of her originals on her new custom Collings guitar.

Read More
The roots trio plays a joyful version of the Curtis Mayfield classic live at the Collings Guitar and Mandolin shop.

Read More
A flattop mandolin inspired by budget instruments of the 1930s and '40s.

Read More
A fully acoustic, carved-top archtop guitar inspired by budget archtops of the 1930s and '40s.

Read More
The Italian fingerstyle guitarist plays an original composition from his latest album, "Dream," on a Collings OM2H.

Read More
A powerful slope-shoulder jumbo with a big sound and vintage feel.

Read More
The Spanish guitarist known as "El Twanguero" plays an original composition on a Collings OM1.

Read More
A great A-style mandolin built with premium woods.

Read More
The multi-instrumentalist and songwriter plays an original song on his Collings C100 at the Collings shop in Austin, Texas.

Read More
The guitarist from We Banjo 3 and the fiddle player from Cadillac Sky, Mumford and Sons, and others play an Irish music favorite at Collings headquarters in Austin, Texas.

Read More
A great oval soundhole F-style mandolin.

Read More
Critter plays a solo version of the Norman Blake classic, live at the Collings Guitars' IBMA Bluegrass Ramble showcase in Raleigh, North Carolina.

Read More
All-mahogany small-body inspired by prewar budget guitars.

Read More
Alex Rueb plays a rendition of the traditional favorite on a Collings MT featuring a torrefied Sitka spruce top.

Read More
Guitarist Carl Miner plays an original composition on the new all-mahogany WL-S Deluxe.

Read More
This short film pays homage to Bill Collings, who set out to raise the bar in our industry and impacted so many lives in the process.

Read More
A mahogany and spruce OM designed in collaboration with jazz guitar virtuoso Julian Lage.

Read More
Two guitar masters perform an original tune from their 2014 album, "Avalon."

Read More
Mark Goldenberg demonstrates his pair of Collings flattop guitars.

Read More
Guitarist Bob Minner plays his original composition "Liam's Lullaby" on his Collings D1 A T (Traditional Series).

Read More
A great vintage-style OM built with torrefied Sitka spruce and Honduran mahogany and delivered in Collings' custom case.

Read More
Guitarist Carl Miner plays an original composition on a Collings OM1 A T (Traditional Series).

Read More
Julian Lage introduces his Collings OM1 JL signature model and explains how the development of the T-Series paved the way for its creation.

Read More
Two guitar masters perform perform an original tune from their latest album "Mount Royal."

Read More
A vintage-style parlor guitar with a big sound.

Read More
Multi-instrumentalist Kym Warner of The Greencards plays his original composition "After The Victory" on his Collings MT2 V mandolin.

Read More
Bill Collings, Jeff Tweedy, Rodney Crowell, and other guitar experts talk about Waterloo Guitars, inspired by historic guitars of the 1920's and 1930's.

Read More
Julian Lage performs his original composition on his prototype Collings signature model featuring an optional Adirondack spruce top.

Read More
This short film examines Bill Collings' new line of custom hand-made, vintage-inspired guitar and mandolin cases.

Read More
Mini-documentary provides a view of the Collings workshop.

Read More
Peghead Nation Guitar Theory instructor plays an original fingerstyle piece.

Read More
Jim D'Addario flew to Austin, Texas to meet with old friend Bill Collings, tour the Collings Guitars factory, and talk instruments and music.

Read More
This short film examines acoustic guitar building at Collings Guitars and the focus on quality that has come to define the company culture.

Read More
Take an inside look at the art of crafting fine mandolins at Collings Guitars in Austin, Texas.

Read More
Founded by Bill Collings and built exclusively in Austin, Texas, Waterloo Guitars is a new line of vintage-inspired instruments designed to capture the voice and character of some of the very best depression-era guitars. www.waterlooguitars.com

Read More
Filmmaker Tim Edwards takes an inside look at Collings Guitars with his documentary "Instrumental."

Read More
Peghead Nation's Dan Gabel demos his 2007 Collings mandolin

Read More