Premium Capo Giveaway | Shubb Capos
Enter for a chance to win a capo, T-shirt, and hat!
July 21, 2022
Shubb is running a giveaway promotion for a chance to win a Fine Tune capo, logo T-shirt, and an embroidered logo cap, with an overall package value of more than $100. Enter by subscribing to the Shubb newsletter, following Shubb on Instagram, or subscribing to the Shubb YouTube channel by August 1.
Click to enter the Shubb Capos Premium Giveaway!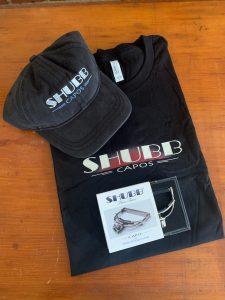 Using a U-shaped, screw-operated design, the Fine Tune capo uses a different mechanical design than Shubb's standard capo. Allowing for precise pressure adjustments, the Fine Tune capo can also be stored behind the guitar's nut when not in use.
Visit Shubb.com!
Related Inside Look Posts
For more than 40 years, Shubb's standard design has been a favorite choice for pickers everywhere.

Read More
The classic Shubb design in lightweight aluminum.

Read More
Get the flagship Shubb Capo Royale models at a 30% discount for a limited time!

Read More
Rick Shubb reflects on more than 40 years of making his namesake capos.

Read More
The Shubb Capo Royale's high-tech titanium finish has all the beauty of real gold, but is incredibly durable.

Read More
The songwriter talks about using a partial capo to open up new songwriting ideas.

Read More
The six-time Grammy-winning Hawaiian musician talks about the reliability of Shubb capos.

Read More
The fingerstyle guitarist talks about Shubb Capos and shows his capo-drop move.

Read More
A close-up look at the capo of choice for millions of musicians worldwide.

Read More
Rick Shubb tells the story of watching Chet Atkins use a Shubb Capo on national television.

Read More