Preston Thompson Guitars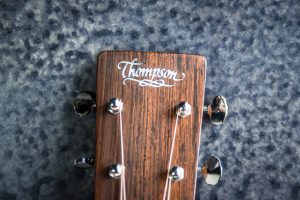 Noted for their power and immediate, responsive voice, Preston Thompson Guitars pay tribute to the best American made instruments from the 1930s. Master guitar luthier Preston Thompson and his small team of highly skilled craftsman produce custom acoustic guitars that have the look, playing feel and above all, the sound of the best instruments from that original Golden Era of guitar making.
Thompson Guitars are built strong and light with time tested designs and construction methods, providing a lifetime of enjoyment. Our instruments are handmade every step of the way, from the finest woods available, including Brazilian Rosewood, Honduran Mahogany, Oregon Myrtlewood, Honduran Rosewood, Adirondack Spruce, Lutz Spruce, Sitka Spruce and European Spruce.
It's no accident that we're situated in Sisters, Oregon, a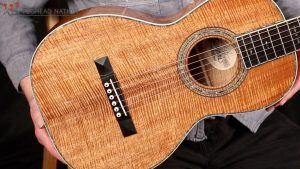 town with a national reputation for Americana and roots music. Our shop is located right next door to The Belfry, an iconic music venue that also happens to be a converted church built in 1914. Each fall, the annual Sisters Folk Festival celebrates American music from folk to bluegrass to blues, drawing people from every corner of the country. The Sisters Starry Nights concert series has also put Sisters on the map with recording artists and music lovers from Nashville to Los Angeles. We're proud to be part of this exciting music scene, so come by for a visit and stop by to say hello.
If you'd like to schedule a tour of our shop, please email us at contact@pktguitars.com.
Visit pktguitars.com to learn more.
Preston Thompson Guitars's Blog
A contemporary take on an all-mahogany classic.

Read More
The songwriter and guitarist plays an original fingerstyle tune on a Thompson OM.

Read More
Billy Strings covers the classic Jimmie Rodgers song using a Thompson OM guitar.

Read More
A great Madagascar rosewood OM with some creative additions.

Read More
The flatpicking guitarist demonstrates a custom OM at the Thompson workshop.

Read More
Peter Rowan demonstrates his 0000-size Brazilian rosewood Thompson signature model.

Read More
Thompson's Simon Haycraft discusses a new custom guitar with a rattlesnake theme.

Read More
A great Preston Thompson dreadnought built in 2020.

Read More
Thompson employee Olivia Elia stops by the Peghead Nation studio to show her personal walnut dreadnought and discuss the Thompson building process.

Read More
Flatpicking guitar virtuoso introduces his new album of guitar duets at the Thompson Guitars workshop.

Read More
The flatpicking star visits Thompson Guitars' shop in Sisters, Oregon.

Read More
A straight-forward 14-fret 000 built with mahogany and spruce.

Read More
A great mahogany-and-spruce 12-fret guitar with custom inlay.

Read More
A great dreadnought made with "sinker" mahogany and Adirondack spruce and featuring a custom sunburst finish.

Read More
Acoustic quartet performs "Meet Me Where the Crow Don't Fly."

Read More
Thompson luthier Olivia Elia walks through the process of installing binding on a 0000 guitar.

Read More
The talented singer-songwriter plays an original song live in the Thompson Guitars shop.

Read More
Americana songwriter performs a song from her brand-new debut album.

Read More
A great orchestra model built with sinker mahogany.

Read More
Molly Tuttle collaborates with Iron and Wine for a high-energy cover of the Phantogram song.

Read More
The flatpicking master demonstrates his brand new dreadnought from Thompson Guitars.

Read More
A Brazilian rosewood dreadnought built for the bluegrass star.

Read More
Thompson setup specialist Ryan Ediger demonstrates a brand-new dreadnought.

Read More
The late Preston Thompson discussed the Style-42 dreadnought he built in 1986.

Read More
A classic dreadnought built with Madagascar rosewood and Adirondack spruce.

Read More
The country singer-songwriter plays a stripped-down version of the title track from his current EP.

Read More
An all-mahogany Orchestra Model with custom inlay.

Read More
The fingerstyle guitarist talks about his custom Thompson 12-fret and plays "The Mama Bear Rag."

Read More
The guitarist, singer, and songwriter plays and talks about her beautiful new signature model guitar.

Read More
A great rosewood dreadnought with a few custom touches.

Read More
A look at a koi fish-themed Thompson Masterpiece guitar.

Read More
Slack-key guitarist plays "Missing You" on his Thompson Size 2.

Read More
The songwriter, singer, and guitarist took over the Thompson Guitars Facebook page to play a few songs on her Thompson OM-28.

Read More
A custom long-scale 00 built with mahogany and Adirondack spruce.

Read More
The flatpicking master recently took over the Thompson Guitars Facebook page to play a song and talk about his Thompson dreadnought.

Read More
The songwriter, singer, and multi-instrumentalist plays a live set from her home in Nashville, Tennessee.

Read More
The 2019 Winfield Flatpicking champion plays his Thompson guitar with his friend and owner of The Violin Shoppe in Charlotte, North Carolina.

Read More
The guitarist plays one a traditional favorite with Maddie Whitler and Max Johnson, live in the Peghead Nation studio.

Read More
Molly and her band play an original song featuring her powerful clawhammer guitar technique, live at the Bluegrass Music Hall of Fame.

Read More
The guitarist plays one of his original songs from his debut solo album, "The Way I View the World," live at the Peghead Nation studio.

Read More
Molly and her band play an original song featuring her powerful clawhammer guitar technique, live at the Bluegrass Music Hall of Fame.

Read More
Members of the Thompson Guitar crew talk about the heart and passion that goes into the instruments they make.

Read More
The guitarist and songwriter surprises his father with the first Billy Strings signature model Thompson DBS-EIA.

Read More
An understated dreadnought built with granadillo and Adirondack spruce.

Read More
A signature model dreadnought for rising flatpicking star Chris Luquette.

Read More
One Sky Films visited the Preston Thompson Guitars shop to film an upcoming video, and here is a taste of what they filmed, with music by Peter Rowan.

Read More
The guitarist plays an extended version of an original tune from his debut solo album, with mandolinist Maddie Witler and bassist Max Johnson.

Read More
An extended jam on the Americana band's tune, live at the Grey Fox Bluegrass Festival.

Read More
The two powerhouses play The Mississippi Sheiks song live at the Grey Fox Bluegrass Festival.

Read More
A few minutes from the roots music icon's set at the venerable festival.

Read More
The winner of the prestigious guitar contest tries out his grand prize guitar, a Thompson D-MA dreadnought.

Read More
Watch Molly and her band play the old-time ballad backstage at the Grand Ole Opry.

Read More
The songwriter and roots music icon talks about buying the second guitar Preston Thompson built, and plays a few songs on that 000-42 style instrument.

Read More
The guitarist and songwriter talks about his Thompson D-BA at the 4 Peaks Music Festival in Bend, Oregon.

Read More
The songwriter and guitarist plays an original song during his debut on the Grand Ole Opry.

Read More
Watch the official video for this original song from Molly's latest album "When You're Ready," featuring her powerful clawhammer guitar technique.

Read More
Watch an informal picking session with two of the most influential pickers of their respective generations, live at Wintergrass 2019.

Read More
Flatpickers take two Thompson guitars for a fun spin during the Sisters Folk Festival Concert.

Read More
Guitarists Steve Blanchard, Don Share, Tim Stafford, Dale Adkins, Billy Strings, and Josh Rinkel talk about and play their Preston Thompson guitars for a live audience at Wintergrass 2019.

Read More
The songwriter and guitarist plays a Grateful Dead favorite with his band at YarmonyGrass.

Read More
The blues guitarist and songwriter discusses and plays his Preston Thompson during a stop in Seattle, Washington.

Read More
A powerful sounding style-18 dreadnought made with "sinker" mahogany and Adirondack spruce.

Read More
The Grammy Award winning songwriter plays an original song with Tom Rozum and Nina Gerber, live at the Preston Thompson shop.

Read More
The guitarist and songwriter plays an original song at Sisters High School in Oregon.

Read More
The songwriter and guitarist talks with Preston Thompson Guitars about tracking down the Martin guitar his father had to sell because the family was short on money.

Read More
The two flatpickers play the traditional tune "Gold Rush" on their Preston Thompson dreadnoughts, at Carter Vintage Guitars in Nashville.

Read More
Luthier Preston Thompson shows the guitar he built for the great flatpicker in 1986, modeled after Sawtelle's 1937 Martin.

Read More
The singer-songwriter plays his popular song "Panama Red," with an interlude of the classic Elizabeth Cotten song, "Freight Train."

Read More
Guitarist, songwriter, and singer Molly Tuttle plays her brand new Preston Thompson dreadnought.

Read More
A look at the beautiful sunburst finishes created in the Thompson Guitars shop.

Read More
Luthier Preston Thompson talks about the new Thompson dreadnought built for guitarist, songwriter, and singer Molly Tuttle.

Read More
Luthier Kaleb Klein shows the process of binding a custom Preston Thompson Guitar with Brazilian rosewood for Dream Guitars.

Read More
Bluegrass guitarist Jake Workman talks about his guitar playing path, gig with Ricky Skaggs and Kentucky Thunder, and his signature model Thompson Guitar.

Read More
Guitarist Trey Hensley takes a Thompson dreadnought for a backstage spin.

Read More
The great guitarist and songwriter plays a song he wrote about Charles Sawtelle and talks about Charles introducing him to Preston Thompson.

Read More
Guitarist Chris Luquette plays with Nick Dumas and Connor Hutteball at the Thompson Guitars workshop.

Read More
Take a look at luthier Simon Haycraft adding a sunburst in the Preston Thompson Guitars workshop.

Read More
Music City Roots presents Billy Strings playing the title track to his latest album on his Thompson Mahogany Dreadnought.

Read More
Billy Strings stops by Preston Thompson Guitars in Sisters, Oregon, to pick up his second Thompson Guitar.

Read More
Take a behind-the-scenes tour of the Thompson Guitars shop in Sisters, Oregon, with Preston Thompson, Peter Rowan, and members of the Thompson Guitars team.

Read More
Grammy Award-winning guitarist reviews his new Preston Thompson Sunburst 12-Fret 000 guitar.

Read More
Master guitar luthier Preston Thompson and his small team of highly skilled craftsman produce custom acoustic guitars that have the look, playing feel and above all, the sound of the best instruments from that original Golden Era of guitar making.

Read More