Preston Thompson Guitars | Sunbursts
A look at the beautiful sunburst finishes created in the Thompson Guitars shop.
May 19, 2018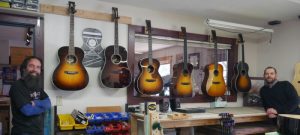 Preston Thompson Guitar luthiers Jason Hardesty and Simon Haycraft have been hard at work creating some amazing sunburst finishes here at Thompson. Their skill has been honed over years of working with nitrocellulose lacquer and hundreds of guitars, and they have learned just how much lacquer is needed to create the thin, high-quality finishes that Thompson is know for.
Here at Thompson our sunbursts come in a variety of colors and styles such as teardrops, full body and neck bursts, soft fades or heavy bands, or semi-distressed vintage. We create bursts in tones of amber, shades of red, or smoky brown. We can customize the colors, making each one unique and each one a piece of art.
Related Inside Look Posts
The flatpicking guitarist demonstrates a custom OM at the Thompson workshop.

Read More
Thompson's Simon Haycraft discusses a new custom guitar with a rattlesnake theme.

Read More
A great Preston Thompson dreadnought built in 2020.

Read More
Flatpicking guitar virtuoso introduces his new album of guitar duets at the Thompson Guitars workshop.

Read More
The flatpicking star visits Thompson Guitars' shop in Sisters, Oregon.

Read More
Thompson luthier Olivia Elia walks through the process of installing binding on a 0000 guitar.

Read More
The flatpicking master demonstrates his brand new dreadnought from Thompson Guitars.

Read More
The late Preston Thompson discussed the Style-42 dreadnought he built in 1986.

Read More
The guitarist, singer, and songwriter plays and talks about her beautiful new signature model guitar.

Read More
A look at a koi fish-themed Thompson Masterpiece guitar.

Read More