Huss & Dalton Guitars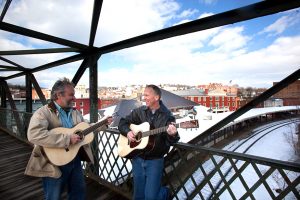 Huss and Dalton Guitar Company, Inc. took root in the fertile soil of the Shenandoah Valley, late in the summer of 1995, when Jeff Huss and Mark Dalton's friendship and mutual interests inspired them to envision eminently playable, mellifluous, and attractive guitars that were true to their sense of aesthetics and tone. While the luthiers appreciated traditional design, they imagined a guitar that paid homage to tradition and also incorporated improvements to the structure and cosmetics of the distinctly American steel-string guitar.
Jeff Huss left North Dakota for Virginia, in 1984, to pursue his interest in bluegrass and traditional music. It was this interest and a Staunton law firm's decision to purchase a computer that led him to Stelling Banjo Works where, for nine years, he honed his skills as an instrument maker. While Huss was still working for Stelling, he began building guitars in his home shop.
Native Virginian and equine aficionado Mark Dalton grew up in the South Central part of the state, where his family always enjoyed traditional music in the home and community. He began playing guitar at age 13 and banjo by 18. At a jam session in the early '90s, he met Jeff Huss. Dalton, with years of experience working with finish processes, was hired by Stelling in 1994 and began his career in instrument building.
During a visit to Huss's shop that fateful summer, the two began brainstorming ideas that sparked the evolution of Huss & Dalton Guitar Company.
For more, visit hussanddalton.com.
Huss & Dalton Guitars's Blog
Hiroya Tsukamoto demonstrates Huss & Dalton's fingerstyle model.

Read More
The Virginia custom instrument makers are celebrating their 6,000th guitar.

Read More
A single-cut electric made from supreme materials.

Read More
The singer-songwriter pair presents an acoustic duo version of "Holy Hymn."

Read More
Fingerstylist Dustin Furlow demonstrates a great OM built with Brazilian rosewood.

Read More
A great rosewood OM that combines vintage and modern features.

Read More
The singer-songwriter pair presents a song from their soon-to-be-released new album.

Read More
A tribute to a recently departed member of the Huss & Dalton Guitar family of artists.

Read More
A mid-size flattop that's perfect for fingerstyle.

Read More
Daniel "Mojo" Parker performs an original song on a pair of Huss & Dalton guitars.

Read More
A video tour of the guitar and banjo maker's Staunton, Virginia, shop.

Read More
Jeff Huss and Mark Dalton discuss their company's new electric guitar

Read More
A vintage-style dreadnought built with a thermo-cured red spruce top and Indian rosewood back and sides.

Read More
A short film about the creation of a meticulously crafted commemorative guitar, made with wood from a tulip poplar that stood on Thomas Jefferson's estate at Monticello since 1808.

Read More
San Francisco multi-instrumentalist Rik Elswit demonstrates his 11-inch open-back Huss and Dalton banjo.

Read More
Former Dr. Hook and the Medicine Show guitarist Rik Elswit demonstrates a Huss and Dalton dreadnought that was a surprise gift from the band's lead singer.

Read More
A great mahogany dreadnought with a custom thermo-cured red spruce top.

Read More
A stunning maple jumbo built to country picker Albert Lee's specs.

Read More
The songwriter, guitarist, and singer in the official video for an original song from her album "Rise."

Read More
An elegant fingerstyle machine built with an Italian spruce top and sapele back and sides.

Read More
Nimblefingers Music presents a beautiful guitar and banjo duet.

Read More
The guitarist and songwriter flatpicks an old-time tune on a Huss & Dalton Crossroads Deluxe at Gryphon Stringed Instruments.

Read More
Jeff Huss and Mark Dalton talk with WVPT Public Television about the history of their company and show the process of making fine custom guitars.

Read More
The songwriter, guitarist, and singer plays an original song from her new album "Rise."

Read More
A contemporary take on the 12-fret 00 built with beautiful sinker mahogany.

Read More
The songwriter, guitarist, and singer plays an original song from her forthcoming album "Rise."

Read More
The songwriter, guitarist, and singer plays the traditional favorite with John Mailander on fiddle, Hasee Ciaccio on bass, and Wes Corbett on banjo.

Read More
The songwriter, guitarist, and singer plays her original song with Sam Grisman on bass and John Mailander on fiddle.

Read More
Jeff Huss and Mark Dalton have been hand crafting beautiful guitars for over 20 years. Here's an inside look at their shop.

Read More
Virginia guitar makers celebrate their 20th anniversary with a special series.

Read More
Mark Dalton talks about Huss & Dalton's building philosophy, their series built with poplar from Monticello, and more. Molly Tuttle joins Mark to demonstrate guitars.

Read More
Huss & Dalton Guitar Company presents The Honey Dewdrops playing an original song on Music City Roots.

Read More
The husband-and-wife duo perform their original song on "A Prairie Home Companion."

Read More
Huss & Dalton Guitar Company shows the process of applying, affixing, and trimming the binding on the guitar body during assembly.

Read More
Huss & Dalton Guitar Company shows how they complete the guitar body during assembly.

Read More
Huss & Dalton Guitar Company shows how they prepare the top of the guitar for a perfect fit on the back and sides of the instrument.

Read More
Huss & Dalton shows how they create the sides of a guitar, from bending the wood to placing the end block, kerfing, bracing, and more.

Read More
The influential guitarist plays his song "Country Boy" on his custom Huss & Dalton T-0014.

Read More
Mary Chapin Carpenter plays her custom Huss & Dalton OO-SP in the studio in this take on her song from the album "The Age of Miracles."

Read More
Blue Light Studio Review Sessions presents a comparison of Huss & Dalton's CM Series 12-fret rosewood and CM Series 14-fret mahogany guitars.

Read More
Huss & Dalton gives us a look at how they prepare and fit he back, top, and sides of their guitars.

Read More