Guitar Number 6,000 | Huss & Dalton
The Virginia custom instrument makers are celebrating their 6,000th guitar.
May 17, 2023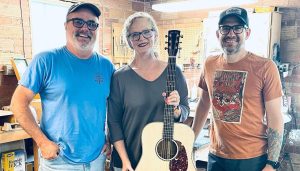 Based in Staunton, Virginia, the Huss & Dalton Guitar Company was founded almost 28 years ago. Highly respected as a premier maker of flattop steel-string guitars, electric guitars, and banjos, the company recently completed its 6000th guitar. A custom-ordered DM model with a Sitka spruce top, figured sinker mahogany back and sides, and short-pattern fretboard inlay, the guitar will be available at The Fretted Buffalo, in Buffalo, New York. Peghead Nation congratulates Huss & Dalton on this major milestone!
Visit Huss & Dalton!
Related Inside Look Posts
Hiroya Tsukamoto demonstrates Huss & Dalton's fingerstyle model.

Read More
Fingerstylist Dustin Furlow demonstrates a great OM built with Brazilian rosewood.

Read More
A tribute to a recently departed member of the Huss & Dalton Guitar family of artists.

Read More
A video tour of the guitar and banjo maker's Staunton, Virginia, shop.

Read More
Jeff Huss and Mark Dalton discuss their company's new electric guitar

Read More
A short film about the creation of a meticulously crafted commemorative guitar, made with wood from a tulip poplar that stood on Thomas Jefferson's estate at Monticello since 1808.

Read More
Jeff Huss and Mark Dalton talk with WVPT Public Television about the history of their company and show the process of making fine custom guitars.

Read More
Jeff Huss and Mark Dalton have been hand crafting beautiful guitars for over 20 years. Here's an inside look at their shop.

Read More
Mark Dalton talks about Huss & Dalton's building philosophy, their series built with poplar from Monticello, and more. Molly Tuttle joins Mark to demonstrate guitars.

Read More
Huss & Dalton Guitar Company shows the process of applying, affixing, and trimming the binding on the guitar body during assembly.

Read More