Ellis Mandolins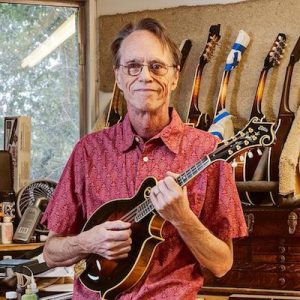 Tom Ellis grew up near Houston and enjoyed woodworking in his teens – mostly building surfboards. He built his first mandolin in 1972, which began the course of his career as a luthier.
Soon after he completed his first instrument, he moved to Austin, TX and established his workshop on 3 acres and started building mandolins as a business. He showed his second mandolin, a from-scratch F-5, to Ricky Skaggs who thought that it sounded pretty darn good.
The unique voice of Ellis mandolins was praised by David Grisman in a February '81 Frets Magazine article where he identied Tom as one of the top 5 mandolin builders alive. Tom and his shop were soon soon featured in the April '86 issue of Frets Magazine during the build of Ricky Skaggs' second Ellis F-5. That mandolin was also featured in Fine Woodworking Design Book Four.
Tom continued building mandolins for his customers through the early 90's, when the recession made it clear that custom building, which takes hundreds of hours per instrument wasn't going to pay the bills alone.
As a way to carry on through the recession, he started Precision Pearl Inlay, which allowed him to leverage CNC technology to manufacture consistent and precice pearl inlays for the guitar industry. Since 1993, Precision Pearl Inc. has grown to include nearly a dozen employees and customers from many fine custom guitar makers and major guitar manufacturers all over the world.
In 2004, it occurred to Tom that he could leverage his experience with CNC manufacturing to streamline the repetitive parts building for his mandolins, as well as fixtures and jigs to aid in assembly. Even with all of the technology involved, building mandolins requires an incredible amount of hand work–and none of this would be possible without Tom's team and the help of master luthier Pava Knezevic.
Once specifications for a build are complete, tonewoods are selected and parts are made. Tom then begins the journey of turning those parts into a mandolin, hand crafting them all into their final shapes and configurations. Tom does all of the top voicing, graduating, and tone bar installation, along with graduating the backs and shaping the necks of each instrument. Pava lends her expertise to help with body assembly, and with her incredibe binding work that frames all of Tom's final carving. In the end, every mandolin returns to Tom's bench for final setup and inspection before it begins its journey to a new home.
The resulting instruments are beautiful, wonderful sounding works of art, enjoyed and played by musicians around the world.
Visit EllisMandolins.com to learn more.
Ellis Mandolins's Blog
A-Style mandolin built in Austin, Texas.

Read More
Peghead Nation instructor Ian Coury plays Brazilian choros on an A-style Ellis at the Music Emporium.

Read More
A great A-style mandolin presented by Elderly Instruments.

Read More
A video walk-through showing several operations in Tom Ellis' mandolin shop.

Read More
Tristan Scroggins plays a beautiful F-style mandolin at Carter Vintage Guitars.

Read More
Jake Workman plays a F-style Ellis mandolin at Carter Vintage Guitars.

Read More
Matt Flinner plays a beautiful F-style Pava mandolin at Carter Vintage Guitars.

Read More
An artful short film of Josh Lutrell going through the finishing process on a custom A-style Ellis Mandolin, shot on a RED Gemini 5K camera.

Read More
Ellis Mandolins are built by Tom Ellis and small team of craftspeople, who create beautiful, wonderful sounding works of art that are enjoyed and played by musicians around the world.

Read More