Elderly Instruments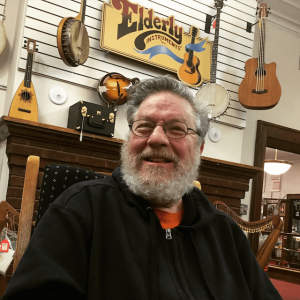 Elderly Instruments is a family-owned and operated music store. With our staff of experienced musicians, we can help you out in many ways that others cannot.  Our in-depth knowledge of musical instruments (vintage and new) informs us so we can provide the best to you. No other distractions for us – music and instruments are what we do.
It started back in 1971, in Ann Arbor, Michigan. Sharon McInturff and I had both finished college, and we figured that if we searched for older fretted instruments then we could probably sell them, make a little profit, and have fun doing it. Within a year we had moved into a small (8'x10′) space in the basement of a retail building in East Lansing. The shop opened on July 5, 1972 with about 15 or 20 used instruments. We called ourselves Elderly Instruments because we planned to carry only vintage instruments.
We wanted a store where people could feel comfortable, be allowed to play the instruments (a rarity in those days) and have great prices and great customer service. Before we knew it we were carrying strings, some accessories and (much to our surprise) new instruments, too. Fast forward to 1975, and we had a 100+ page mail order catalog, plus a much expanded space in the building where we started. Who knew?
By 1983 we had outgrown the original building, so we bought and renovated an old lodge hall in nearby Lansing. My partnership with Sharon ended in 1986. By the 1990's our experience in mail order paid off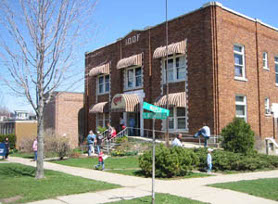 when we created our first web site, and very recently, we've launched a newly designed site that you should check out!
The important things, haven't changed. We're still a family business, with my wife Sandy joining the Elderly staff in 1990 and  our daughter Lillian in 2014. The rest of the Elderly family includes over 70 stellar employees, many of whom have been here for well over 20 years. We want you to feel like you are walking into our living room.  
We have great new and vintage instruments, accessories, instructional materials, and even a few wacky things, all at great prices. We offer free advice, or we can write an appraisal that your insurance company will gladly accept. Our world renowned eleven man Repair Shop offers top-notch restoration services plus expert setup to keep your instruments playing and sounding their best. The shop is also widely known for its professional restorations on any age acoustic or electric guitar, bass, banjo, mandolin, ukulele and more.
We want to be the music store that does it all for you, and our thousands of customers will tell you that we succeed. Plus, we're still learning, and it's still fun!
Visit us at Elderly.com and in person in Lansing, Michigan!
Stan Werbin
Founder, Elderly Instruments
Elderly Instruments's Blog
Repair tech Steve Olson shows how to install a new set of nylon strings.

Read More
A look at the oldest known example of a Martin with an X-braced top.

Read More
Repair tech Steve Olson gives tips on how to change strings on a steel-string guitar with a slotted peghead.

Read More
Joe Konkoly demonstrates cutting the saddle slot on a replacement bridge for a vintage Martin.

Read More
A limited edition Martin that pays homage to the special grains made famous for their use in beer making.

Read More
Joe Konkoly shows the finished result of performing extensive repairs on a vintage Martin.

Read More
A great A-style mandolin presented by Elderly Instruments.

Read More
Joe Konkoly discusses extensive repairs to a vintage J-185 with multiple issues.

Read More
Joe Konkoly fine-tunes his replacement bracing in a vintage Martin D-28.

Read More
Joe Konkoly makes and installs replacement bracing in a vintage Martin D-28.

Read More
Joe Konkoly demonstrates using a go-bar deck as he installs replacement bracing in a vintage Martin D-28.

Read More
Joe Konkoly discusses repairs on four great vintage Martins.

Read More
Joe Konkoly discusses the steps he took to optimize a 1926 Martin 000-28.

Read More
Elderly's Joe Konkoly discusses a great trio of vintage Martins.

Read More
Joe Konkoly shows a completed restoration of a 1948 Martin D-28.

Read More
Elderly Instruments demonstrates a great option for a low-tuned eight-string.

Read More
Joe Konkoly gives a video tour of the repair workshop.

Read More
Peghead Nation instructor and multi-instrumentalist performs for Elderly's Living Room Sessions.

Read More
Elderly Instruments' repair shop manager Joe Konkoly puts the final touches on a recent vintage guitar restoration.

Read More
Elderly Instruments is open for business online, and founder Stan Werbin gives you the lowdown on how you can get your instruments, accessories, and more.

Read More
Elderly's Chris Rietz demonstrates a Nyberg Short Scale Cittern, and discusses the instrument's history and playability, and how to best use it in folk music.

Read More
The American Songster plays three songs from his new album, "Dom Flemons Presents Black Cowboys," live at Elderly Instruments.

Read More
A special edition copy of White's modified 1935 D-28, with an Adirondack spruce top, Brazilian rosewood back and sides, large soundhole, and more.

Read More
A beautiful octave mandolin with a traditional F-style body, and a big, sweet sound.

Read More
Elderly Instruments owner Stan Werbin demonstrates a beautifully designed open-back banjo built in the 1890s.

Read More
Ken Perlman, Alan Munde, Greg Cahill and Michael J. Miles play tunes and talk about the history of the banjo, different styles, and more, live at Elderly Instruments.

Read More
A look at a pre-war guitar built by the Larson Bros. in Chicago, with a 12-fret neck, Brazilian rosewood back and sides, and abalone trim.

Read More
A look at a powerful new sunburst dreadnought from Preston Thompson Guitars.

Read More
A look at some of the unique instruments in Elderly's extensive collection including a Gibson harp guitar, a fretless upright bass made from a bass drum, and more.

Read More
Hiroya Tsukamoto plays "Another Great Day To Be Alive" on the Martin OM-45GE Golden Era Brazilian (2003) at Elderly Instruments.

Read More
Jens Kruger demonstrates a special Deering Custom Sierra Banjo, the company's 100,000th instrument.

Read More
Elderly's Chris Rietz discusses and plays the new 000-17 and 00-17 guitars from Martin.

Read More
Elderly's Chris Rietz explores three common sizes of Martin guitars, playing mahogany and rosewood versions of each size.

Read More
A demo of one of Deering's most popular banjos, with a radiused fingerboard, violin-grade 3-ply maple rim, and a bronze tone ring.

Read More
Mark Lavengood of Lindsay Lou & the Flatbellys demonstrates a National wooden-body tricone from National Guitars.

Read More
Great-sounding affordable small-body guitar with vintage vibe.

Read More
Mark Lavengood of Lindsay Lou & the Flatbellys demonstrates an F-Style mandolin from Eastman.

Read More
The new Deering Goodtime Artisan series banjos replace the Classic Goodtime banjos and include a brown satin finish, planatary tuners, and a midnight maple fingerboard.

Read More
A cool dreadnought design from Martin Guitars, built with solid woods and with a size that falls in between a Little Martin and a standard Martin dreadnought.

Read More
Mark Lavengood of Lindsay Lou & the Flatbellys demonstrates a beautiful Iseman Style-1 Hawaiian lap steel guitar made of curly Hawaiian koa.

Read More
Elderly's Elden Kelly talks about the 6-string banjo and plays examples from Vega, Deering, Gold Tone, and Gretsch.

Read More
Elderly Instruments is a family owned and operated music store. With our staff of experienced musicians we can help you out in many ways that others cannot. Our in-depth knowledge of musical instruments (vintage and new) informs us so we can provide the best to you. No other distractions for us – music and instruments are what we do.

Read More
Watch Elderly Instruments' Robert McCloy demonstrate this great entry-level F-style mandolin from Eastman Strings.

Read More
Deering's Sierra model is one of their most popular professional banjos, and the maple resonator gives this model a bright, crisp tone.

Read More