Taylor Guitars Launches Urban Wood Initiative
Builder's Edition 324ce is first to use wood sourced from end-of-life California city trees.
April 30, 2020
Taylor Guitars is proud to announce the launch of an exciting new Urban Wood guitar initiative. Developed in partnership with West Coast Arborists, Inc., the initiative gives select trees in need of removal from California cities a second life as high-value instruments. The first urban wood species to be featured in the Taylor guitar line is Urban Ash, used for the back and sides of Taylor's new Builder's Edition 324ce guitar (check out Peghead Nation's Teja Gerken demoing of the instrument here!).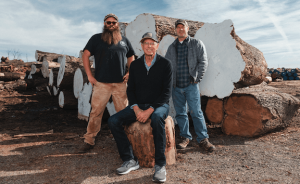 While Taylor has been recognized for its industry-leading sourcing and replanting initiatives in other parts of the world—most notably the Ebony Project in Cameroon—this urban wood program marries the idea of sustainability with local sourcing in Taylor's home state of California, bringing attention to an entirely new concept: the "urban forest." This refers to the planned and managed tree canopies that provide the green infrastructure of cities and neighborhoods.
There are an estimated 173 million trees in California's urban tree canopy, covering 15 percent of its urban areas. These trees provide many benefits to communities — shade, sound absorption, wind breaks, wildlife habitat, and carbon sequestration, not to mention aesthetic appeal.
As beautiful and beneficial as urban trees are, they don't live forever, and after years of maintenance, they eventually need to be removed due to old age, weather or disease damage, or other reasons. Historically, the trees have either been turned into low-value products like firewood or mulch or taken to a landfill.
In 2017, Taylor co-founder Bob Taylor, along with Taylor's Director of Natural Resource Sustainability, Scott Paul, and master guitar designer Andy Powers, began to explore the idea of making guitars from end-of-life urban wood as another expression of Taylor's commitment to responsible sourcing practices. As Powers has noted, historically, makers of string instruments used materials that were locally available.
Taylor's exploration led to a relationship with Anaheim, California-based West Coast Arborists, Inc. (WCA), an established company that provides tree services to more than 300 municipalities and public agencies across California and Arizona—including Taylor's home base of El Cajon, California. The company's ability to manage tree inventories across the regions they service is remarkably advanced, thanks to proprietary software that incorporates GPS tracking and other data integration. Currently, they have more than 10 million tree sites inventoried in their computer database, and they have a mobile app that their network of arborists and clients can use to schedule and track tree service.
As part of its range of services, each year WCA plants between 18,000 to 20,000 new trees. They also remove trees when requested by a city, transporting them to their strategically located log yards across the state to facilitate disposal. To offset rising disposal costs and develop socially responsible market alternatives to keep trees out of landfills, 25 years ago, WCA launched a pilot urban wood recycling initiative with the California Department of Forestry and Fire Protection (CDF); it has since evolved into what WCA has dubbed their Street Tree Revival program.
The company also invited Taylor to evaluate its inventory of urban wood species from their log yards to determine if any would make instrument-grade tonewoods. After building prototype guitars with a handful of species, Powers identified one that excited him: Shamel ash, better known as tropical or evergreen ash. It's a tree that was widely planted across parts of Southern California after World War II. Some 70 years later, some of those trees reached their end-of-life cycle and needed to be removed.
"This ash species happens to be a great mix of the right weight, density, dimensional stability and drying attributes, and responds well to sawing, sanding and finishing," noted Powers. "In almost every physical way I can measure it, it's reminiscent of really good Honduran mahogany."
This ash's characteristics make it a strong contender as a high-grade guitar wood of the future, which is why Powers decided to use it on the new Builder's Edition 324ce—part of Taylor's premium Builder's Edition collection, which marries elevated playing comfort and aesthetic appeal with Taylor's award-winning V-Class bracing to deliver an extraordinary playing experience. To help draw attention to the idea of using available urban timbers, Taylor is calling the wood Urban Ash.
Within the Builder's Edition collection, the Builder's Edition 324ce was designed with the versatility to appeal to a broad range of players, including working musicians looking for a premium performance tool. Together with a mahogany top and V-Class bracing, this makes one of Taylor's most player- and stage-friendly guitars.
"Through perception and mindful solutions, Taylor Guitars has helped us redefine 'waste' into something that strums cool," said Arlene Biscan, Marketing Manager at WCA. "This partnership has given us a platform to showcase just one of the many creative ways we can upcycle and utilize urban wood. We hope this project prompts awareness amongst our communities too; as we encourage more forward thinking when choosing the tree species we plant for our future."
Both Taylor and WCA view this new Urban Wood guitar initiative as a new paradigm of responsible urban forest management with the potential to not only create a new, high-value market for end-of-life wood that has traditionally been part of the urban waste stream, but to bring more attention and resources to re-greening projects and expand the urban forest canopy in communities throughout Southern California and beyond. Powers also sees the broader benefits of embracing other urban woods for guitars.
"Using some of these available woods can help take some of the pressure off other tonewoods in other tropical areas of the world," he said.
For more information about Taylor's Urban Wood initiative, please visit taylorguitars.com. You may follow the company on Facebook, Instagram, YouTube and Twitter. You can also read Scott Paul's article about urban forests here.
Related Inside Look Posts
A trio of new guitars in Grand Theater, Grand Concert, and Grand Pacific sizes, featuring sunburst finishes.

Read More
GS Mini-e Rosewood Plus and GS Mini-e Special Edition Caramel Burst deliver a new variation on Taylor's compact GS Mini platform.

Read More
Taylor artists react to trying out the company's new Urban Red Ironbark 500 series guitars for the first time.

Read More
A demo of one the best-selling 12-string on the market.

Read More
Guitarist and Taylor artist Nick Veinoglou demonstrates how to play with good posture.

Read More
Bob Taylor, Kurt Listug, and Andy Powers talk about Andy's new role as President and CEO, the new koa 700 series, and more on the Taylor Primetime podcast.

Read More
Taylor's chief guitar designer to lead the company, with co-founders Bob Taylor and Kurt Listug staying on as senior advisers.

Read More
One of Taylor's most established lines of guitars now features Hawaiian koa wood construction.

Read More
Get a discounted Baby Taylor or GS Mini with the purchase of a full-size Taylor!

Read More
Taylor's Aaron Dablow and Daniel Fraire discuss three of the company's nylon-string models.

Read More