Taylor 814ce Builder's Edition | Taylor Guitars
Taylor elevates its flagship model with an artfully-crafted Adirondack spruce top and upgraded aesthetic touches.
April 10, 2023
Taylor Guitars has announced the release of a new Builder's Edition 814ce. This eye-catching new model enhances the performance virtues of Taylor's most acclaimed guitar, the 814ce, with an emphasis on ultra-premium feel and sound. The new Builder's Edition 814ce features a solid Adirondack spruce top paired with solid Indian rosewood back and sides for a rich, versatile tone that's perfect for players of any style. Peghead Nation co-founder Teja Gerken got a preview of the guitar during a visit to the Taylor factory in El Cajon, California, last November, and in this exclusive video, he and Taylor CEO, President, and Chief Guitar Designer Andy Powers discuss the instrument. Watch for a Peghead Nation demo of the guitar in the near future!
"The Builder's Edition collection offers players an aesthetically beautiful and extremely ergonomic playing experience," says Powers. "We're happy to finally welcome Taylor's beloved flagship model, the 814ce, to new heights of craftsmanship and performance."
Comfort-enhancing woodworking details set the Builder's Edition 814ce apart from its standard-model counterpart. A beautifully sculpted beveled cutaway ensures effortless high-register access, while a beveled mahogany armrest provides a smooth surface for the player's strumming arm. The guitar is voiced with a specially modified V-Class bracing pattern and includes slight alterations in the taper of the body. It's also the only model in the Builder's Edition collection to feature a gloss-finish body, an aesthetic touch that visually highlights the elegant body contouring and craftsmanship.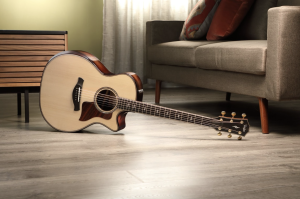 The new Builder's Edition 814ce also boasts an upgrade to its soundboard material, from solid Sitka spruce to a meticulously crafted four-piece top made of solid Adirondack spruce. Acknowledging the changing availability of tonewoods and the need to adapt, this approach relies on skilled woodworking techniques to utilize smaller-size pieces in instrument building. The result is a high-quality soundboard that delivers the sonic benefits of Adirondack spruce—enhanced complexity and a higher volume ceiling—along with visually pleasing grain symmetry.
Premium appointments include Gotoh 510 tuners in antique gold for a precise 21:1 gear ratio, a contoured Curve Wing bridge (exclusive to Builder's Edition models), and a Kona edgeburst on the back and sides, accented with maple and black purfling. The guitar is also adorned with an alternating maple and black top purfling with rosewood edge trim, a rosewood pickguard, and the same Element inlays and abalone/rosewood/maple rosette featured on the standard 814ce. The Builder's Edition 814ce starts at $4,499 and comes equipped with ES2 electronics and a deluxe brown hardshell case.
Visit Taylor Guitars!
Related Inside Look Posts
Singer-songwriter performs a solo version of a song from her album "Clarity."

Read More
Bob Taylor, Andy Powers, and Jim D'Addario discuss a new collaboration between their companies.

Read More
The Fretboard Journal mastermind talks about his career in music journalism, the Fretboard Summit, and more on Taylor's Primetime podcast.

Read More
A trio of new guitars in Grand Theater, Grand Concert, and Grand Pacific sizes, featuring sunburst finishes.

Read More
GS Mini-e Rosewood Plus and GS Mini-e Special Edition Caramel Burst deliver a new variation on Taylor's compact GS Mini platform.

Read More
Taylor artists react to trying out the company's new Urban Red Ironbark 500 series guitars for the first time.

Read More
A demo of one the best-selling 12-string on the market.

Read More
Guitarist and Taylor artist Nick Veinoglou demonstrates how to play with good posture.

Read More
Bob Taylor, Kurt Listug, and Andy Powers talk about Andy's new role as President and CEO, the new koa 700 series, and more on the Taylor Primetime podcast.

Read More
Taylor's chief guitar designer to lead the company, with co-founders Bob Taylor and Kurt Listug staying on as senior advisers.

Read More