REVIEW: Jayme Stone's Lomax Project
Canadian progressive banjo player creates traditional music gem.
March 3, 2015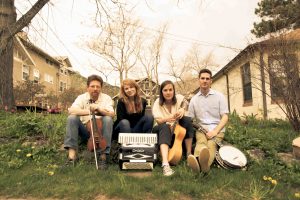 The dean of American folk field recorders, Alan Lomax, was born just over 100 years ago, on January 31, 1915. As folklorist, ethnomusicologist, writer, scholar, oral historian, and filmmaker, Lomax helped introduce a world of "music with the bark on" to music lovers outside the traditions he and his father John Lomax documented. He could have no better centennial tribute to his life and work than this sumptuous recording by Canadian banjo player Jayme Stone and his stellar band of interpreters.
Stone is known more as a "progressive" bluegrass banjo player, peer to Béla Fleck, Noam Pikelny, Jens Kruger, and others who imagine no musical boundaries for the banjo. On previous recordings he's explored music from around the world, including West Africa, Sweden, Bulgaria, Brazil, and others, and his last recording, 2013's The Other Side of the Air, includes a Concerto for Banjo and Chamber Symphony. To create the Lomax Project, which also includes a series of concerts with some of the key players, Stone gathered musicians deeply rooted in traditional American music, including legends Tim O'Brien and Bruce Molsky, whose credentials as folk interpreters are unparalleled, as well as relative newcomers Brittany Haas, Margaret Glaspy, Eli West, Greg Garrison, and Moira Smiley, whose music is most often heard at the progressive end of the trad roots spectrum.
Although Stone's banjo is a key component of nearly every track (except the "a capella with body percussion" tracks), this is not a banjo record, but a group project mostly centered around the singers and the songs. The material spans a wide range of the songs Lomax collected, from Georgia Sea Island gospel to old-time fiddle tunes to Trinidadian calypso to Scottish folk ballads, and more. The material is all traditional but the arrangements are not. Stone and company (perhaps inspired by the dictum of Estil Ball, quoted by Stephen Wade in his liner notes, "We just picked it up here and yonder. We just played every which way.") bring their own vast musical experience to the music, and are inspired not constrained by tradition. The arrangements here may be "played every which way" but they unfold naturally from the singer's interpretations rather than being imposed from outside intellectually. Some of these songs have chord progressions and virtuosic instrumental treatments their sources couldn't have dreamed of, but the arrangements never sound forced or inauthentic, and the music is delivered with a loving vigor and passion.
While most of the musicians here are well known to roots music fans, and many of them give inspired performances (Tim O'Brien positively rocks "Before This Time Another Year" and Peghead Nation instructors Bruce Molsky and Brittany Haas's fiddling on "Old Christmas" and "Julie and Joe" should inspire a whole new generation of old-time fiddlers), the revelation here for many will be Margaret Glaspy, whose gorgeous, passionate, nuanced singing on "Lazy John," "Goodbye Old Paint," "Shenandoah," "I Want to Hear Somebody Pray," "What Is the Soul of Man," "Maids When You're Young," and "Lambs on the Green Hills" makes these songs sound as if they had sprung directly from her subconscious.
It's hard to pick a standout among all these songs, but the arrangement of "Shenandoah," probably the best-known song here, illustrates the depth, power, and complexity of the whole record. Starting with Glaspy haltingly delivering the forlorn lyric above an embellished set of chords simply accompanied by wispy strings (Haas and bass player Joe Phillips), before gaining momentum with a progressive bluegrass groove featuring Stone's Fleck-like banjo, a heartbreakingly soaring fiddle solo by Haas, and a blistering solo by jazz guitar ringer Julian Lage, the arrangement embodies the conflicting sense of tentative hope and bleak despair that Glaspy brings to the lyric "I'm bound away."
Most of the songs here, besides "Shenandoah," are not well known, and only a few ("Susan Anna Gal," "Wake Up John," "Goodbye Old Paint") are heard very often in the traditional scene. The goal with some collaborative tributes like this is to introduce a rich musical tradition to a new audience, and while Jayme Stone's Lomax Project will undoubtedly do that, it is in itself one of the most compelling and rich roots music recordings of recent years. (Borealis Records, borealisrecords.com, jaymestone.com)
Related Recordings Posts
On "and Laurie Lewis," the Berkeley-based multi-instrumentalist mines a career's worth of friendships for a brilliant collection of duets.

Read More
Tyler Grant and Robin Kessinger infuse their acoustic guitar flatpicking duets with unbridled joy.

Read More