Derk's Discoveries: Pete Don't Sing the Blues, But He Sure Can Pick 'Em
On his new album, guitarist Pete Madsen yields the lead vocals to Celeste Kopel as they travel the blues highway from Mississippi to Chicago.
By: Derk Richardson
September 11, 2018
All of us sing the blues, one way or another, at one time or another in our lives. Some of us know better than to sing them in public.
Not all of us can play the blues with anything like the virtuosity, authority, and raw feeling guitarist Pete Madsen brings to a genre that never seems to grow old and certainly won't die.  But even Madsen—a performer, recording artist, and teacher, whose instructional website is called Learn Blues Guitar Now—says he knows the limitations of his singing enough that he thought it wise to enlist someone else to sing the 13 songs on his latest album.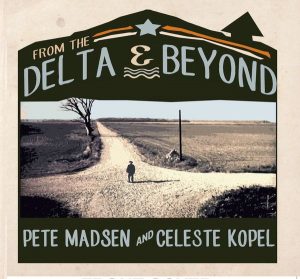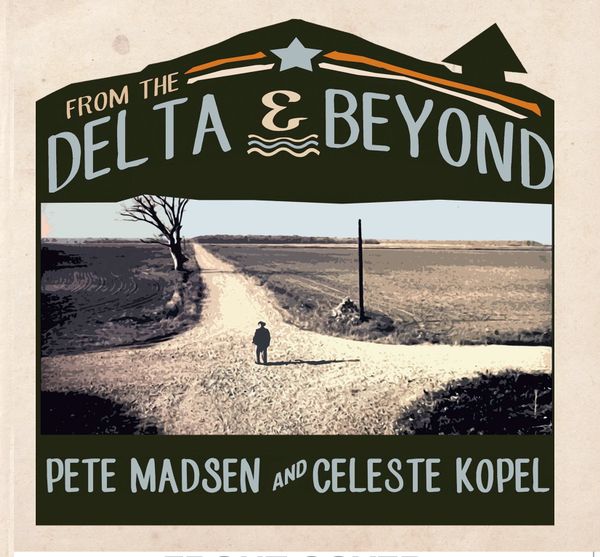 From the Delta & Beyond is therefore credited to Pete Madsen and Celeste Kopel. Guitarists and aficionados will focus on Madsen's subtle, precise, sometimes measured, sometimes abandoned picking, as well they should. There's much to be learned as well as enjoyed. But Kopel, whose velvet tone and gently aching vocal slides and bends call to mind Rory Block, not only holds her own through the 45-minute program but takes absolute ownership of many performances, notably the trio version of T-Bone Walker's "Stormy Monday," which she mines for all the emotion in the lyrics before stepping back as Madsen plucks an urgent acoustic solo against Chuck Ervin's acoustic bass.
The album opens as showcase for acoustic guitar/vocal treatments of blues classics as they arose from the Mississippi Delta in the 1920s and '30s—Tommy Johnson's "Big Road Blues," Skip James's "Hard Time Killing Floor," Robert Johnson's "Come on in My Kitchen." Gradually, other instruments are introduced: Ervin's bass, Max Cowan's piano and Hammond B3 organ, and Nelson B. Santos's drums.
Although the proceedings may not trace an exact historical timeline, by track 10, "Trouble in Mind," we are fully immersed in the modern electric era of Chicago blues. Madsen plugs in, the rhythm section (with Ervin adding harmonica) grows assertive, and Kopel invests even more energy in her full-throated vocals on Willie Dixon's "My Babe," "Born Under a Bad Sign" (made famous by Albert King), and the oft-covered K.C. Douglas vehicle "Mercury Blues." By the end, we're rolling down the road with the top down, cruising with the radio at full blast, with Madsen tearing off gritty, high-velocity electric slide solos. In the rearview mirror we see Big Bill Broonzy, Sam Cooke, John Mayall, the Rolling Stones, Cream, David Lindley, and Ry Cooder merging into a mirage that dissolves into the distance. It's a ride you will want to take.
Related Recordings Posts
The roots singer/songwriter/guitarist's rollicking debut for Rounder Records.

Read More