REVIEW: Chris Smither, "Still on the Levee"
By: Dan Gabel
September 8, 2014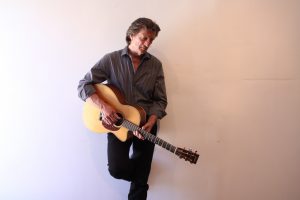 This is a big year for Chris Smither. He's marking 50 years of writing and performing and turning 70. He's being honored on record, with Link of Chain, a tribute album that includes luminaries like Dave Alvin, Bonnie Raitt, Tim O'Brien, Aoife O'Donovan, and others playing 15 of his songs; and in print, with the coffee-table book Chris Smither Lyrics 1966–2012 that gives his admirers a worthy document of his thoughtful, sometimes humorous, and always poetic writing.
But nothing really captures the milestone like Smither playing and singing his own songs. He returned to his native New Orleans last year to rerecord and, in some cases, reinterpret 24 songs from his catalog, from the '70s to the present day, and the result is the two-disc set Still On the Levee, released this summer on Mighty Albert/Signature Sounds (signaturesounds.com)
Smither has always been able to powerfully deliver his songs with nothing but his driving, fluid fingerpicking on acoustic guitar and both of his feet (tapping toes and heels), a tasteful and locked-in rhythm section unto itself. Fans of Smither's solo performances and recordings get plenty of his signature accompaniment style throughout Still on the Levee, as on the slow, gravelly "No More Cane on the Brazos," "Slow Surprise," and "Can't Shake These Blues."  He surrounds himself with friends, family, and appreciative collaborators on many of the tracks, too, and they deliver their parts with the understanding that Smither could really do this all by himself, and they need only support and follow his lead.
The sound and feel of New Orleans music infuses this record more palpably than in Smither's recent work, with the legendary Allen Toussaint bringing barrelhouse piano to the wonderfully reinterpreted tracks "Train Home" and "No Love Today," and the Ever-Expanding Waste Band (featuring members of Morphine) adding saxophone and swampy swagger to "Shillin' for the Blues" and "Small Revelations." The trio Rusty Belle plays on several tracks, adding tasteful bass, drums, and occasional electric guitars. And Loudon Wainwright III makes an appearance, dueting with Smither on "What They Say," which is all the more entertaining given the line "There's nothing like laying in the graveyard / To teach you to hold your tongue" (when Wainwright performs, he really does wag his tongue).
The real beauty here is found in Smither's ease and comfort with these songs, as if his five decades of performing have revealed to him what some of his songs really mean. I get the sense that Smither isn't only looking back fondly, but also celebrating how his music continues to evolve, happy to let us in on his continuing discoveries. In what seems like an overt nod to the future, two wonderfully different takes on the song "Leave the Light On" close each disc. Fittingly, the song includes the line: "I've got plenty left I've set my sight on / Don't wait up, leave the light on / I'll be home soon." I can't wait to see what Chris Smither has in his sights next.
Related Recordings Posts
On his new album, guitarist Pete Madsen yields the lead vocals to Celeste Kopel as they travel the blues highway from Mississippi to Chicago.

Read More
The Carolyn Sills Combo revisits and reinvents the Marty Robbins classic.

Read More