Derk's Discoveries: Oops! He Did It Again
Richard Thompson walks a high wire in his requests-only shows
By: Derk Richardson
December 19, 2016
Thirty-three years ago, when Richard Thompson first stepped out on his own as a touring musician—after his stint as a founding member of Fairport Convention and his legendary "tour from hell" with his soon-to-be-ex-wife Linda Thompson—it would have been impossible to imagine him someday opening a show with a version of Britney Spears' hit, "Oops! I Did It Again."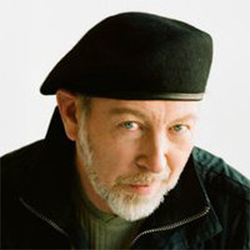 But that was then, when the English folk-rocker was just getting his bearings as a front man and beginning to conquer an innate shyness and tap into an interior drollness to balance the "doom and gloom" that seemed to manifest so naturally in his songs. And this is now, when the 67-year-old Thompson can do four consecutive nights of requests-only solo concerts and command the stage with aplomb as folk music's most complete entertainer, as he recently did at the Freight and Salvage Coffeehouse in Berkeley, California.
Although I can't compete with the number of shows logged by some other RT fanatics ("nerds," he called us from the Freight stage on opening night, Dec. 14), Thompson is the musician I've seen in concert more than any other in my lifetime. I first saw him with Fairport Convention (after Sandy Denny's departure) in a free outdoor concert at UCLA, in 1970, if my memory serves. I saw him with Linda at the Great American Music Hall in San Francisco in 1982 (such moments of marital acrimony and musical ecstasy!), and I first met and interviewed him during the 1983 Hand of Kindness tour (it was my first big music-magazine payday, the proceeds spent on an outdoor table-and-chairs set we named after him and still use today). I've seen him with just about every electric band he's ever put together, and I've heard him solo acoustic more times than I can count.
I've had privileged access, too, thanks to sketchy credentials and my friendships with his collaborator Henry Kaiser and wife, Nancy Covey; I've watched him play Scrabble in a backstage RV, heard him jam at a Louisiana crawfish boil with Marc and Ann Savoy and Michael Doucet, and introduced him onstage at the Hardly Strictly Bluegrass Festival in San Francisco.
But first and foremost, I'm a fan, a "nerd," and it's great to know that Thompson can still surprise me, as he did repeatedly on the first night of his solo acoustic run at the Freight. For these requests-only shows, which he said he does only in the US because Brits wouldn't tolerate them, audience members write down their requests, which are put into a bucket that sits onstage and from which Thompson draws. He plays—or attempts to play—every randomly drawn song,
It's a high-wire act, to be sure. When he didn't know a song thoroughly, or couldn't remember all the words to one of his own, Thompson handed off the slip of paper to his assistant, Robin, who used the Internet to print out a cheat sheet. On Wednesday night, he stumbled through the lyrics of "Blackbird" and "I've Just Seen a Face" ("the Beatles!" he smirked, with eyebrows arched), "Friday on My Mind," and Gordon Lightfoot's "The Way I Feel" while nailing the guitar parts with startling accuracy and creativity, and he let the sold-out audience lead him through an a cappella "America the Beautiful" with ascending energy.
Once in a while, he had to have lyrics to his own songs printed out, if he hadn't played them in a long time. Thanks to the nerds' knowledge of his deep catalog, we got to hear such relatively seldom-revisited tunes as "Jet Plane in a Rocking Chair," "Dad's Gonna Kill Me" (sung from the perspective of a solider in Baghdad), "Painted Ladies" (from Thompson's 1972 solo debut Henry the Human Fly), "I Ride in Your Slipstream," "The Ghost of You Walks," "For Shame of Doing Wrong," and "Uninhabited Man." (In fact, none of the songs he pulled from the bucket, except for "Oops," which he drew twice, dated from after 1996.)
Thompson can be confident that certain concert staples will be requested, and he flexed his vocal chops and phenomenal guitar virtuosity on "Dimming of the Day," "When the Spell Is Broken," "From Galway to Graceland," "Wall of Death," and "1952 Vincent Black Lightning," songs that provided a kind of safety net amid all the risky business.
The most poignant moments came when Thompson played two Fairport songs, "Crazy Man Michael," from Liege & Lief, and "Who Knows Where the Time Goes," from Unhalfbricking. He dedicated the former to its co-writer, fiddler Dave Swarbrick, who died last June, and the latter to its writer and singer, the late Sandy Denny.
At one point, Thompson remarked that he'd expected to field requests for songs by the recently deceased Leonard Cohen and Mose Allison. I had requested Thunderclap Newman's "Something in the Air," both because I'd love to hear Thompson sing the revolutionary anthem and because Andy "Thunderclap" Newman died last March. It didn't get drawn, but probably because Thompson's sound engineer and tour manager, Simon Tassano, saw it among the slips of paper as he filled the bucket, the original 1969 version played over the Freight PA as we exited, a perfect capper for what my friend Paul, a fellow Thompson fan and total record nerd, would call a "top night out."
Related Recordings Posts
Discover Canadian singer-songwriter Noah Zacharin, who's within six degrees of Leonard Cohen, Joni Mitchell, Ralph Carney, and me.

Read More
Loudon Wainwright III leads his audience into the promised land of aging.

Read More