Derk's Discoveries: Getting to Know Noah
Discover Canadian singer-songwriter Noah Zacharin, who's within six degrees of Leonard Cohen, Joni Mitchell, Ralph Carney, and me.
By: Derk Richardson
August 7, 2018
He had recorded seven albums, appeared on scores more, opened shows for Odetta, David Lindley, Dave Van Ronk, Jesse Winchester, Alex de Grassi, and Fairport Convention, and won significant prizes for his poetry. But when Noah Zacharin contacted me last fall, proposing to appear on my radio show on KPFA in Berkeley, I had never heard of him. I didn't know his music.
But I have an excuse. Most of the guitarist/singer-songwriter/poet's career has taken place well north of my radar, in Canada, and under the pop music radar of the United States. Moreover, the Montreal-born Toronto resident didn't commit to a full-time career in music until the end of 2015. (He had supported himself as a part-time public health dentist.)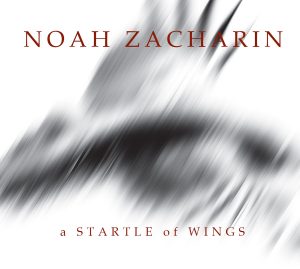 But something about his name was familiar. When Zacharin sent me his elaborately produced 2016 album, Strange Rider, I noticed that Ralph Carney played horns on two tracks. Carney, an old friend and a longtime San Francisco resident well known for his musical relationship with Tom Waits, had been married to Zacharin's cousin, attorney Deena Zacharin. (Carney died in December 2017 from injuries sustained in a fall at his home in Portland, Oregon.)
Puzzles pieces were falling into place, but I still didn't know much about Zacharin as a musician. Then, he did appear on my radio show, playing four songs live, solo with his acoustic guitar. And just like that I became a fan, riveted to the meticulous craftsmanship of his lyrics—my attention held tight by the melodic rasp of his voice—and startled by the easy virtuosity of his strumming and fingerpicking. What a great delight it was to be given the gift of a "new" artist to appreciate, and a body of work to investigate in depth.
Recently, Zacharin sent me his new album, A Startle of Wings. Recorded at home, self-produced, and self-released last May, the album is a simple affair of solo acoustic guitars (with a few minimal overdubs) and voice. Its 14 songs have been in Zacharin's portfolio for some years. They address the usual subjects of popular song—love, longing, loss, the natural world—but in uncommon language ("stains in the memory" / "I can speak for the flames licking my ankles like waves") that might remind you of other great Canadian song poets—ones named Leonard and Joni.
The intimate ambience of A Startle of Wings, mixed and mastered with subtle rawness by Taras Petryk, is all emotional ache and urgency. For some, the ghost of Nick Drake might move through these colonnades of song, shadowed perhaps by Tim Buckley or Fred Neil. For me, the chord changes, Zacharin's superb guitar playing—complex but wholly subservient to the song—and his jazzily phrased singing bring to mind the late John Martyn. But in the end, Zacharin's musical personality is its own creature, a feral heart in civilized attire, and I feel like I'm beginning to know this guy.
Related Recordings Posts
Loudon Wainwright III leads his audience into the promised land of aging.

Read More
Two new compilations offer different and revealing perspectives on the tragic folk-rock figure's complex songs

Read More