New Noctambule Album: "The Waking"
Marla Fibish and Bruce Victor release their second album as Noctambule. Listen to the title track and "Out of Time" here.
By: Dan Gabel
July 15, 2015
Noctambule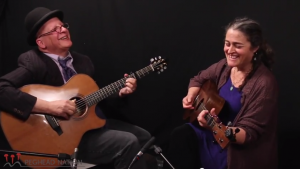 has just released its second album, The Waking, which includes selections of poetry set to original music, as well as original instrumentals written by Marla Fibish and Bruce Victor. As with their innovative first album, Fibish and Victor weave their voices together with acoustic instruments including mandolin, mandola, bouzouki, cittern, and six-, ten-, and 12-string acoustic guitars. They are joined by guests Aryeh Frankfurter, Jeri Jones, Nuala Kennedy, Tom Neylan, and Athena Tergis who contribute violin, viola, cello, flute, whistle, slide guitar, and harmony vocals on selected tracks.
The central theme of the album is time, and our different orientations to and musings about its passage. Noctambule has interpreted poetry by Ted Hughes, Sylvia Plath, and others on The Waking, including the title track by Theodore Roethke. Listen to "The Waking" below, along with the original slow air "Out of Time."
For more information and to order The Waking and Noctambule's first album, Travel in the Shadows, visit NoctambuleMusic.com.
Related Recordings Posts
The string quartet Hawktail soars above the New Acoustic Music plain.

Read More
John Reischman and the Jaybirds soar through gospel, old-time, bluegrass, and Beatles songs on their latest recording.

Read More