Derk's Discoveries: Stunning Formations
The string quartet Hawktail soars above the New Acoustic Music plain.
By: Derk Richardson
January 31, 2020
There comes a time when a once useful musical category loses its descriptive power. Take World Music. Please. In December 2019, Public Radio International's influential The World program listed its seven most significant "global music trends from the past decade." Ranking number three: "The term 'world music' becomes obsolete."
In that spirit, I nominate New Acoustic Music for retirement. To support my case I enter into evidence Formations, the new sophomore album by the acoustic string quartet Hawktail. Forty-plus years ago, Hawktail would have been a prototypical example of New Acoustic Music, the genre that was coming into shape through the hybrid experiments of David Grisman, Tony Rice, Béla Fleck, Darol Anger, Mike Marshall, and others. Wikipedia defines New Acoustic as "a music genre that blends influences from folk, bluegrass, jazz and world music and uses only acoustic instruments." Allmusic calls it "an exhilarating mix of bluegrass and jazz," adding that "virtuosity is the name of the game as the musicians stretch the boundaries of their traditional roles with heated improvisations and complex jazz harmonies."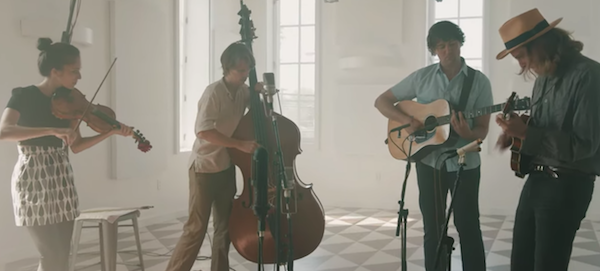 Hawktail does fit those bills. Moreover, its lineup—Brittany Haas, violin; Paul Kowert, bass; Dominick Leslie, mandolin; Jordan Tice, guitar—exactly parallels that of a quintessential New Acoustic band from 1980, the Tim Ware Group, with Ware on mandolin and guitar, Bob Alekno on guitar and mandolin, John Tenney on violin, Sharon O'Connor on cello, and Kenneth Miller on acoustic bass.
Hawktail might also be called a neo string band. That category came into vogue around the recent turn of the century, when such groups as Nickel Creek, the Mammals, Crooked Still, Uncle Earl, the Duhks, Old Crow Medicine Show, and the Foghorn Stringband were commanding attention in mainstream media. In fact, Hawktail is intimately connected to Crooked Still, the quintet of Haas, vocalist Aoife O'Donovan, banjo player Gregory Liszt, bassist Corey DiMario, and cellist Tristan Clarridge. And the 33-year-old Haas's New Acoustic and string band roots can be traced to her membership, as a 14-year-old fiddler, in Darol Anger's Republic of Strings.
At the risk of getting too deep in the weeds of historical contextualization, let me just add that Hawktail's immediate antecedent was Haas Kowert Tice, the trio that recorded nine original tunes on 2014's You Got This. In 2018, after three years of work, Hawktail, having added mandolinist Leslie late in the process, released its debut, Unless. In stark contrast, Formations (Padiddle Records) took only two months to write—six of the seven tunes are credited to the group, the seventh being a piece by Mikael Marin and Roger Tallroth of the Swedish group Väsen—and four days to record. Hass (a regular performer on Minnesota Public Radio's charmingly eclectic Live from Here with Chris Thile) told The Bluegrass Situation that the quartet's process is "very collaborative, very democratic." And you can hear it throughout the 37 minutes of Formations, on which virtuosity is a given but not a priority.
All the elements identified with New Acoustic Music are present, but you'd be hard pressed to parse out the bluegrass, folk, and jazz. Rather, it's the integrated ensemble sound, punctuated by moments of individual brilliance—cannily brought into sonic focus by co-producer Chris "Critter" Eldridge, recording engineer Dave Sinko, and mixer Jacquire King—that commands attention. The album's bookends are the opening "Annbjørg," inspired by the brilliant Norwegian fiddler Annbjørg Lien, and the closing "One Hour in Hungary," the Väsen tune. They testify to a Nordic harmonic influence that slithers into the mood and sonority of other pieces. But there's also Celtic and swing band jauntiness, lots of sublime picking, strumming, bowing, and chopping, and abundant bittersweet melodicism in this deeply affecting and entertaining music—a 21st-century string quartet chamber music without borders or easy definition.
Photo by Shelby M'lynn Mick at Carolina in the Fall
Related Recordings Posts
John Reischman and the Jaybirds soar through gospel, old-time, bluegrass, and Beatles songs on their latest recording.

Read More
May I introduce you to SF String Trio's Lonely Hearts Club Band?

Read More