Derk's Discoveries: The New Cosmic Cowboy
Bluegrass and honky-tonk star Marty Stuart takes a Left Coast turn and goes on a vision quest Way Out West.
By: Derk Richardson
May 12, 2017
With his Nudie suits and his Rod Stewart–top-this blow-dry hair, Marty Stuart is, as touted by NPR, the "Keeper of Country Music's Cowboy Couture." But his sense of music history goes beyond style and the more than 20,000 artifacts he has collected (guitars, wardrobes, hand-written manuscripts, letters), his six-term stint as president of the Country Music Foundation, and his documentarian books (American Ballads: The Photographs of Marty Stuart, Pilgrims, Sinners, Saints, and Prophets: A Book Of Words and Photographs, Country Music: The Masters), to the music he plays. And his new album, Way Out West, on his own Superlatone Records label, is definitive evidence.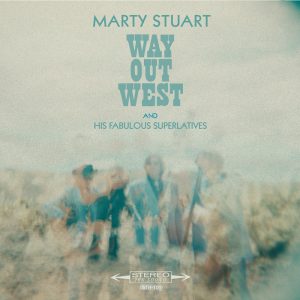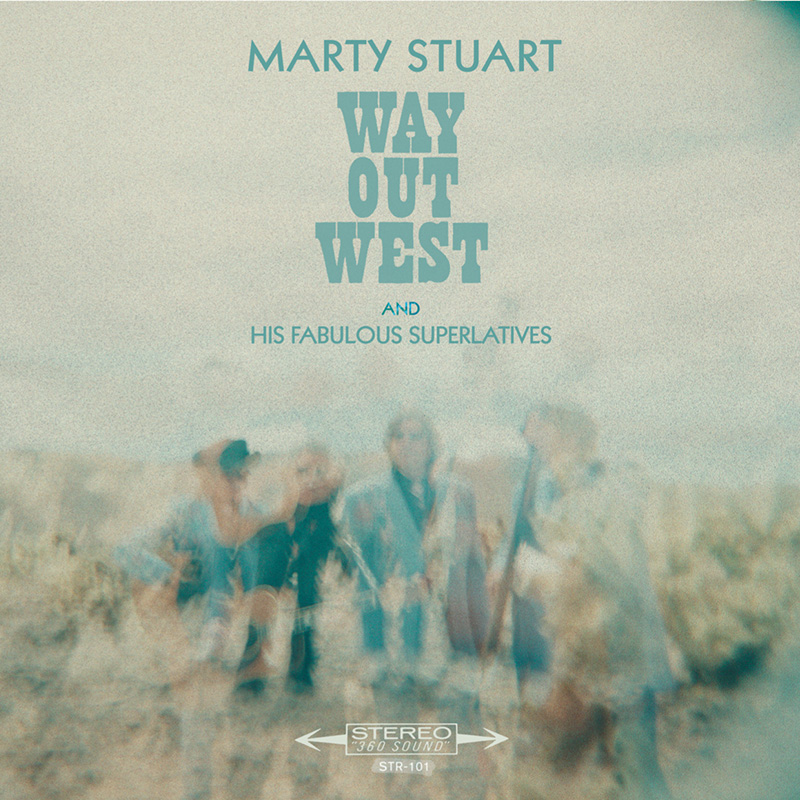 You might think of the 58-year-old native of Philadelphia, Mississippi, as a bluegrass musician—he played with Lester Flatt in the 1970s (introduced to the master by Nashville Grass's Roland White), and with fiddler Vassar Clements after that—or as a member of Johnny Cash's band in the late 1980s, or as a good-rockin' honky-tonker, thanks to his 1996 album Honky Tonkin's What I Do Best.
Despite my awareness of Stuart as a superb instrumentalist on guitar and mandolin, and a fine songwriter, and my possession of a half dozen or so of his albums, I've lately been a step or two behind his career developments. Until recently, I didn't even know he produced and hosted 156 30-minute episodes of his own TV show on the RFD cable network, with WSM disc jockey and Grand Ole Opry announcer Eddie Stubbs as emcee.
But I've caught up with Stuart in the West—Way Out West, to be exact, an album I've been listening to almost religiously over the past month or so.
For 40 minutes, Stuart and his Fabulous Superlatives band wander in the desert, perhaps Joshua Tree?, calling on the ghosts of Marty Robbins and Johnny Cash as their guides, taking musical cues from them and, most surprisingly, on five guitar-drenched instrumentals, from such surf-guitar gods as Dick Dale and the Ventures, producer Joe Meek, and spaghetti-Western maestro Ennio Morricone.
With six- and 12-string wiz and Fabulous Superlatives mainstay Kenny Vaughan joining Stuart on guitars, and Mick Conley, Harry Stinson (Spanish guitars), Chris Scruggs (steel), Gary Carter (steel), and Mike Campbell adding to the twang, Way Out West is a guitar lover's dream. (Stuart's guitar love has been acknowledged with a Signature Martin HD-40MS and a Fender Custom Shop Tribute Telecaster). The glorious sound owes to Campbell's production and the classic audio of Hollywood's Capitol Studios, as well.
The album opens with a cosmic snippet of Native American chanting and rumbles through the reverb of the instrumental "Mojave" before getting to the first songs with lyrics: "Lost on the Desert," a tune by Buddy Mize and Dallas Frazier that Johnny Cash released in 1962, and "Way Out West," a five-and-a-half-minute series of spoken-word hallucinations and dizzy "round and round and round and round and round" choruses, triggered in the narrative by too much pill popping. It's a dreamscape akin to Neil Young's "The Last Trip to Tulsa" and the Byrds' "Chestnut Mare."
The Marty Robbins connection is most explicit in "Old Mexico"; the influence of the Byrds and Mike Campbell's time with Tom Petty (Stuart and Campbell met when they worked on Cash's 1996 Unchained) powers the heavily strummed country-rocker "Time Don't Wait"; Jim and Jesse's bluegrass song "Air Mail Special" is recast as honky-tonk rockabilly; and in addition to the instrumental interludes that punctuate the proceedings, Stuart and his cohorts further broaden the palette of their Western panorama with a string-quartet-enhanced love song, a loping truckers road song, an a cappella vocal trio, an understated going-home redemption song, and a chiming, swirling, mostly instrumental reprise of the title track, graced by a touch of sitar.
Stuart's vivid reimagining of the human condition in Western landscape is old school in many ways—it's an homage to his heroes, a throwback to '70s California country rock, a flirtation with West Coast psychedelia, and a concept album of cinematic proportions. But it's also the best new country record I've heard so far this year.
Marty Stuart and His Fabulous Superlatives are currently on tour in support of Way Out West; check the dates here.
Related Recordings Posts
Tyler Grant and Robin Kessinger infuse their acoustic guitar flatpicking duets with unbridled joy.

Read More
Nell Robinson and Jim Nunally blaze news trails to indie success

Read More