Derk's Discoveries: Five Songs for Five Bucks
Nell Robinson and Jim Nunally blaze news trails to indie success
By: Derk Richardson
May 20, 2016
Major pop artists have been experimenting with creative ways to release their albums for several years: U2 released one for free in 2014 and Apple loaded it into the libraries of 500 million iTunes users; Wilco also dropped one for free last year by complete surprise; and last month, Beyoncé released Lemonade, briefly as a free download, in conjunction with a one-hour film of the "visual album" that ran on HBO.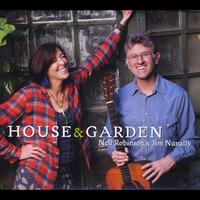 Independent musicians have to be just as, if not more, innovative to get their recorded music out to potential listeners, even if mass popularity is not their goal. Singer Nell Robinson and guitarist Jim Nunally, roots musicians whose songs blur the boundaries of country, folk, and bluegrass, have come up with something novel to keep their fans' attention and perhaps rope in some new ones. In April, the gorgeously harmonizing duo released a five-song EP by the Nell Robinson & Jim Nunally Band. In June, they'll release another five-songs, and then five more in August and again in September. Each CD, identified by the four points on a compass, sells for $5.
"It was Jim's idea," Robinson said during an interview and in-studio performance on "The Hear and Now" on the Berkeley radio station KPFA. "Five by five by four: five songs for five bucks, and four albums."
The first EP, West, opens with the George Jones–Melba Montgomery classic "Jump the Mississippi" and includes four Robinson and Nunally originals, recorded live in concert at the Big Room in the Sierra-Nevada Brewery in Chico, California. "We did a one-hour show that is going to be part of the public television series Music Gone Public," Nunally explained. "We were listening to the rough cut of the show and we went, 'Whoa, we like that audio a lot! We think that might be an album."
Nunally, who performs with the David Grisman Bluegrass Experience, John Reischman and the Jaybirds, Dix Bruce, and others, produced half of Robinson's first album, Loango, seven years ago. A late bloomer, in public at least, Robinson—she's known to friends as Hilary Perkins but sings under her grandmother's name—was in her late 40s. "Well, I did sing for 25 years in my car," Robinson said. "I had a pickup with no radio."
When Nunally produced Robinson's second album, On the Brooklyn Road, the two discovered that their voices harmonized naturally, in the vein of the Everly Brothers or Carter Family. They made a duet record, House & Garden, and eventually put together a band to tour Robinson's The Rose of No-Man's Land, a collection of songs that came out of "Soldier Stories," a benefit project Robinson created to bring attention to the plight of veterans returning home from recent wars.
Joe Henry produced The Rose of No-Man's Land in his Garfield House home studio, bringing guitarist Greg Leisz and bassist David Piltch into the project, and Ramblin' Jack Elliott, Kris Kristofferson, John Doe, and poet Maxine Hong Kingston made guest appearances. A filmed version of The Rose of No-Man's Land will be included in the PBS series Stories of Service that will pave the way for the upcoming Ken Burn's ten-part The Vietnam War, airing next year.
Meanwhile, Robinson and Nunally will continue to tour and record with the all-star musicians who gelled into a band during that project: pedal steel player Pete Grant, (who played with the Grateful Dead and the Dillards), upright bassist Jim Kerwin (with David Grisman since 1985), and drummer/percussionist Jon Arkin (a jazz veteran who's played with Fareed Haque, Julian Lage, Lee Konitz, and others).
"This band sort of plays a hodgepodge," Nunally explained. "When we write material, there's a lot that doesn't sound like the standard country music or folk music that's coming out these days, or bluegrass." Underscoring that assertion, Nunally and Robinson performed the Beatles' "Blackbird," Johnny Cash's "Folsom Prison Blues," and Buck Owens's "Together Again" in the radio studio, along with their own jazzy "Complicated."
"It's different," Robinson said.
"It's unique," Nunally added.
"We are creating it together," Robinson concluded.
And they are creating original ways to get themselves heard.
Related Recordings Posts
On "and Laurie Lewis," the Berkeley-based multi-instrumentalist mines a career's worth of friendships for a brilliant collection of duets.

Read More
Tyler Grant and Robin Kessinger infuse their acoustic guitar flatpicking duets with unbridled joy.

Read More