Derk's Discoveries: The Late Blooming of Richard Osborn
Now in his late sixties, "free raga" fingerstylist Richard Osborn ascends into the pantheon of American primitive guitar players.
By: Derk Richardson
February 9, 2017
Forty-five years after he started playing guitar, Richard Olson made his first recording—a track for the Beyond Berkeley Guitar compilation released in 2010 by the Tompkins Square label. Two years later, at age 65, Olson issued his first complete album, Giving Voice: Guitar Explorations, on his own Free Range Raga Records label. A second, Freehand, followed in 2015, and at the end of January 2017, Tompkins Square released Endless, with a repertoire of original compositions and variations on "Streets of Laredo," the old English round "Hey, Ho, Nobody Home," the "Breton Fisherman's Prayer," and Raga Misra Mand (Olson's title, "The Open Road").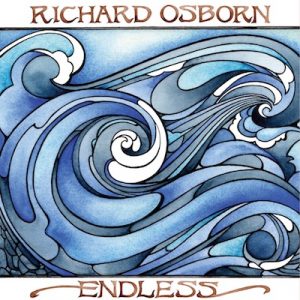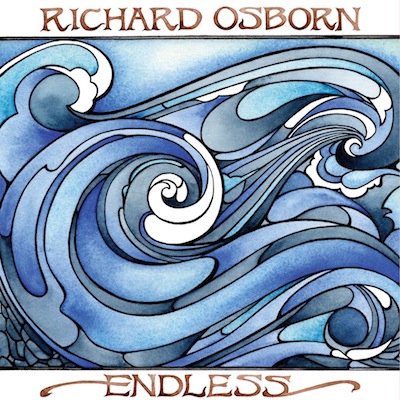 This small body of work, which also includes a track on last year's Robbie Basho tribute anthology, Basket Full of Dragons (Obsolete Recordings), establishes Olson as one of the masters of what is known, somewhat misleadingly, as American primitive guitar—the fingerstyle approach that bloomed in the 1960s in the hands of Basho, John Fahey, and others. What makes Osborn's current status even more remarkable is that he, a Northern California native and resident, didn't even play guitar during the 1980s and much of the '90s.
"In 1980, I seriously injured my left hand, seriously enough that I thought I would not have an opposable thumb the rest of my life," Osborn told me during a recent radio interview on KPFA in Berkeley. "A year later, a surgeon was able to hook the nerve back up, so I was able to have an opposable thumb but not any strength. It was a tremendous psychic blow." Osborn had already been ambivalent about a career as a performing guitarist, but accident sealed the deal. It was the music world's—and guitar-music lovers'—loss.
A baby boomer coming of age in the '60s, Osborn was already a devoted listener to world music, and especially Hindu classical music and the sarod playing of Ali Akbar Khan, when he discovered the music of John Fahey around 1966. "I became one of those many clones, playing his pieces," he said. "But I never found any personal freedom in the style. Then I heard Robbie in concert, and he had managed to find a way to bring that raga approach to the guitar."
This was 1968, and the day after the concert, Osborn called Basho, who lived in Berkeley, and asked to be taken on as student. He recalled his studies as life changing, and not only musically. "On the phone," Osborn recounted, "he asked me, 'By the way, you don't do any drugs, do you?' And I will always remember looking down at the watch on my hand, and watching the second hand sweep through the next minute, and I said, 'No, I don't.' I stopped doing any kind of drugs, and he enabled me to get my feet back on the spiritual path, as well." Osborn opened a few concerts for Basho in the early '70s, but at the end of the decade, his guitar-playing days were put on hold.
In 1995, after having poured all his creative energies into painting, Osborn took the first tentative steps to return to playing. "After 15 years, I thought I might have the strength to play the guitar again," he said. "It took a good 10 years to build the strength and rebuild the chops to get back into playing fitness." He spent much of those 10 years working on classical technique, partly because a classical guitar has less tension on the strings than a steel-string, and partly because it pushed him to develop "the full tool kit of technique."
"When I realized I could get back to playing steel-string and play in the raga style, it was like a huge gift," Osborn said. "It was like a homecoming." The raga style, he explained, is about "getting into a particular place and exploring its resonance with the soul." Even when he wasn't playing guitar, Osborn "kept paying attention to the whole realm of acoustic guitar exploration. It was a passion. I kept waiting for someone to pick up the torch that Robbie Basho had lit, that kind of raga style, the kind of higher vision of what music can do and where it should be going. … I feel gifted to be able to try to bring that raga vision of music, and its relationship to the soul, into the guitar."
Osborn's initiation to recording and return to performing began when he heard the Tompkins Square Imaginational Anthem series of American primitive guitar anthologies. He sent an email to TSQ founder Josh Rosenthal, and before he knew it, Bay Area guitarist Sean Smith contacted him and invited him to contribute to Beyond Berkeley Guitar. The rest is 21st-century history.
Osborn plays his "free raga style" on a 1915 Vincenzo DiLuccia six-string, a Tony Yamamoto multi-scale 12-string, and his most recent acquisition, a new Lowden O35-C. If Robbie Basho were still alive—he died on February 28, 1986, at the age of 45—he might be proud. During a concert in 1974, Basho remarked from the stage: "Pardon me, did a fellow by the name of Osborn make it here tonight? He didn't? All right. He was a student of mine, and he's a better guitar[ist], technically, than me or Fahey. He really is. He's incredible, and he hides somewhere, and doesn't like to be seen. I try to get him out in public every now and then, because he's incredible." Now we can hear for ourselves.
Related Recordings Posts
Walter Strauss explores the melodies of iconic singer-songwriters.

Read More
On his new all-instrumental album, the 2017 Canadian Songwriters Hall of Fame inductee lets his guitars do the talking.

Read More