Derk's Discoveries: Melodic Fingerstyle Guitar
Walter Strauss explores the melodies of iconic singer-songwriters.
By: Derk Richardson
August 23, 2022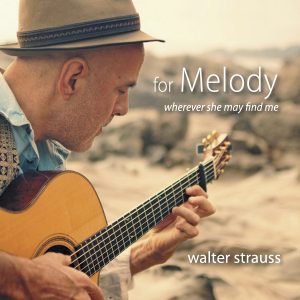 When many of us think about the songcraft of Paul Simon, Randy Newman, Stevie Wonder, and John Hartford, we likely tilt toward the lyrics. After all, these are the baby-boom composers who gave us the memorable words to "I Am a Rock," "Lonely at the Top," "Superstition," "Gentle on My Mind," and countless other classics. When guitarist Walter Strauss considers their works, however, it's their melodies that captivate him, at least judging by his new solo acoustic project, For Melody, Wherever She May Find Me. On this album of fingerstyle guitar pieces, released on Redstone Records, Strauss discovers myriad possibilities for improvised extrapolations in Simon's "Born at the Right Time" (from 1990's Rhythm of the Saints), Newman's "Dixie Flyer" (1988's Land of Dreams), Wonder's "If It's Magic" (1976's In the Key of Life), and Hartford's "Presbyterian Guitar" (1971's  Aereo-Plain), as well as A.J. Roach's "Barrio Moon" (wedded to the Robert Burns poem "Afton Water"), a traditional West African tune, and a Sheffield Christmas carol. Three Strauss originals fill out the ten-track set.
A Wyoming native who now lives in Northern California, Strauss has released only two previous albums under his own name; For Melody, Wherever She May Find Me is his first recording of solo guitar instrumentals. It's also a departure from his propensity for global collaborations. His partners in music have included Malian kora players Mamadou Diabate and Sidiki Diabate, guitarist Alex de Grassi, and Malian Wassoulou ngoni (hunter's harp) player Mamadou Sidibe (in a duo as Fula Brothers and in the trio Mamajowali with multi-instrumentalist Joe Craven).
Not surprisingly, West African idioms influence the sound of For Melody . . ., from the balafon-inspired opening track "Fabara" to Strauss's approach to rhythm and even the often kora-like tones and timbres that emanate from his strings.
"I recorded with medium-gauge Elixir Polyweb strings," Strauss wrote in an email. "Not the most brilliant sound, but I generally use them—I like their slick feel and warmth." They are strung on the one guitar Strauss played on the album, his Pernambuco JB-16 built by Petaluma, California luthier Bruce Sexauer. The final tune on the CD, "Bruce's Chimes," is a melody Strauss plucked out the night he brought the guitar home. The tunings he used on For Melody . . .  are DADGBD (double dropped D), DADGCD (double dropped D with an added C), and DADGBE (dropped D).
As pivotal as those technical details might be, the beauty of the album derives from the way it is suffused with melody—the way Strauss creates complex and lustrous patterns from the melodies that he finds—or that find him—over the course of 45 entrancing minutes.
Related Recordings Posts
On his new all-instrumental album, the 2017 Canadian Songwriters Hall of Fame inductee lets his guitars do the talking.

Read More
Now in his late sixties, "free raga" fingerstylist Richard Osborn ascends into the pantheon of American primitive guitar players.

Read More