John Renbourn, "The Attic Tapes"
An album of early 1960s recordings by the fingerstyle pioneer offers a glimpse at his developing style.
October 2, 2015
When John Renbourn passed away earlier this year, folk-baroque guitar fans everywhere went into mourning. With fellow guitar masters Davy Graham's and Bert Jansch's deaths still in much-too-recent memory (Graham passed in 2008, Jansch in 2011), it became apparent that we were witnessing the end of an enormously important school of British acoustic fingerstyle players, who shaped a genre and influenced a generation of young players (read my memory of John, written shortly after his passing, here).
I was happy to hear that a new John Renbourn album of casual recordings from the early 1960s had been released, but I can't say that I wasn't also worried about someone "scraping the bottom of the barrel," as can happen with posthumous releases of "newly discovered" material. However, after several spins through The Attic Tapes, I'm pleased to say that this is an album that any serious fan of John's should have.
The joy of listening to The Attic Tapes comes less from surprises about the repertoire—the majority of tunes will be familiar to most fans—but in the sheer delight evident in his playing. Although the exact dates and locations of most of the recordings are unknown, most came from tapes recently found by a friend of John's, fellow guitarist Mac MacLeod. Mac and John had done some casual recording, and the dates scribbled on some of the tapes indicate the material was recorded as early as 1962 (placing them well before John's self-titled debut album, which was released in 1965). As such, The Attic Tapes' version of Davy Graham's "Anji" may predate the release of Davy's own version later that same year.
The Attic Tapes shows that during this time John was still attempting to play like his guitar heroes (on tunes like "Candyman," "Cocaine," and "Can't Keep from Crying") even while he had developed a fully-formed original style on pieces such as "Train Tune" and "Judy," both of which are taken from live recordings. Among the more surprising cuts on the CD are a version of Derroll Adams' "Portland Town" and a lovely duet on "Nobody Knows You When You're Down and Out" with Davy Graham, in which John's lead guitar has a much jazzier quality than is typically heard in his playing.
Plans to release The Attic Tapes were set in motion before John's passing, and, John's liner notes make the album even more special, since they are some of his final writings. Besides tracing the origins of the recordings as well as he can remember some 50 years later, John's ever-present humor and reverence for Big Bill Broonzy, Ramblin' Jack Elliott, and Davy Graham, is evident throughout, making The Attic Tapes worth owning as a physical CD. worldmusic.net.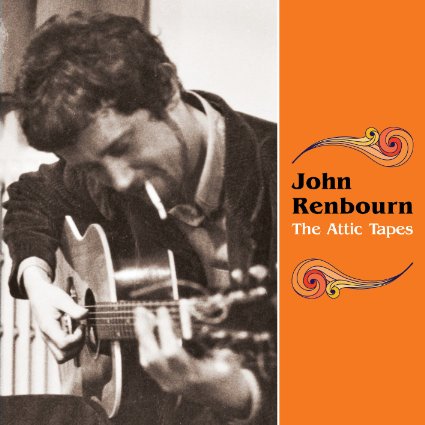 Related Recordings Posts
Walter Strauss explores the melodies of iconic singer-songwriters.

Read More
On his new all-instrumental album, the 2017 Canadian Songwriters Hall of Fame inductee lets his guitars do the talking.

Read More