Derk's Discoveries: Hear that Train A-Comin'
Joe Henry and Billy Bragg ride the rails and make them sing.
By: Derk Richardson
September 21, 2016
When Bonnie Simmons and I wanted to put together some radio-playlist sets with songs about trains, we needed an anchor. Our station, KPFA in Berkeley, was in fund drive mode, and we were on the hunt for a good "thank you" premium for which subscribers could pledge. There was no better choice than the new Billy Bragg and Joe Henry collaboration, Shine a Light: Field Recordings from the Great American Railroad (Cooking Vinyl). Listeners snapped it up almost as fast as we could play it, for good reasons.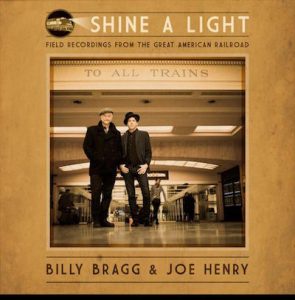 First, consider the songs: 13 folk, country, and Americana classics including "Rock Island Line," "The L&N Don't Stop Here Anymore," "The Midnight Special," "Railroad Bill," "Waiting for a Train," "John Henry," "Hobo's Lullaby," and a couple of exquisite wild cards, John Hartford's "Gentle on My Mind" and Gordon Lightfoot's "Early Morning Rain."
Then, consider the back-story: Bragg and Henry got on a train, the Texas Eagle, out of Chicago, with their acoustic guitars, a set of songs, and a recording engineer. In San Antonio, the Eagle joined the Sunset Limited and continued on to Los Angeles, and along the way the traveling companions broke out their axes, set up microphones, and made their selfie versions of Alan Lomax field recordings—in the Great Hall of Chicago's Union Station, at Track 4 of the St. Louis Gateway Station, Depot 2 of the Sunset Station in San Antonio, and so on. (They talk about the project here and here.)
The 58-year-old Bragg may be a native of England, rooted in punk and labor protest music, but he knows American folk music well, as best evidenced by his multiple Mermaid Avenue collaborations with Wilco, putting new music to Woody Guthrie lyrics.
Henry, 55, is a North Carolina native raised near Detroit, and is steeped in American music to a staggering degree—recording his own music and bringing in such guests as jazz musicians Don Byron, Ornette Coleman, and Bill Frisell, and working as a producer with Allen Toussaint, Bettye LaVette, Solomon Burke, Teddy Thompson, Aimee Mann, Bonnie Raitt, Rodney Crowell, Ramblin' Jack Elliott, Loudon Wainwright III, and others. (He is also an eloquent Facebook poster and a fine, stylistic writer; I've had the pleasure of editing a bit of his magazine writing.)
On Shine a Light, with Ryland Freeland capturing all sorts of ambient sounds (as he did for Henry's brilliant home-recorded Reverie) from the stations and the tracks, the recordings are too intimate to be called performances. They are more like sepia postcards come to life through gentle picking and strumming, achingly heartfelt vocals (Henry and Bragg trade leads), and brotherly harmonies that reference historical precedents in country and bluegrass but really sound like no one else.
Paul Simon sang, "Everybody loves the sound of a train in the distance / Everybody thinks it's true." When it comes to capturing the spirit of railroad songs, an endangered but resilient thread in American music, Shine a Light is as true as it gets. Here's hoping Bragg and Henry are planning a few more road trips together.
Related Recordings Posts
Kronos Quartet's new collaborative album pays tribute to the folksinging activist.

Read More
Discover Canadian singer-songwriter Noah Zacharin, who's within six degrees of Leonard Cohen, Joni Mitchell, Ralph Carney, and me.

Read More