Derk's Discoveries: Scott Nygaard Flies Again
On his new album, Flown South, the Peghead Nation co-founder and instructor exposes his jazz side
By: Derk Richardson
September 24, 2022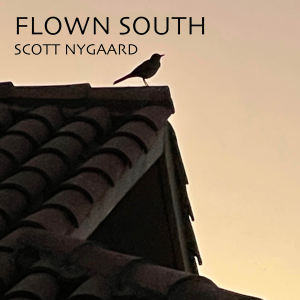 To paraphrase Walt Whitman (and Bob Dylan), we all contain multitudes. We all have sides that not all people see. Which makes it exciting when a musician reveals aspects of his art that hadn't been widely recognized. In the case of guitarist Scott Nygaard, Peghead Nation subscribers know him as co-founder and editor of this online compendium of stringed-instrument lessons, gear demonstrations, and news; and as a flatpicking wiz who teaches a variety of Peghead courses. Those who have dug a little deeper may know his work in the bluegrass-rooted bands of Tim O'Brien and Laurie Lewis, and perhaps his extensive collaborations—with Joan Baez, Chris Thile, Darol Anger, Jerry Douglas, Bill Evans, Sharon Gilchrist, Roger Tallroth, Chris and Cassie Webster, Crow Molly, and others.
On his new album, Flown South, Nygaard reveals a facet of his musical personality that has been rather obscured over the past 30-plus years: his penchant for jazz, which was manifested in the late 1980s in an electric power trio (guitar, bass, and drums) and an acoustic string jazz band, and which has been informed by such decidedly non-bluegrass artists as Henry Threadgill, Ornette Coleman, Paul Bley, Duke Ellington, and Eric Dolphy, as well as by guitarists Charlie Christian, Amos Garrett, James Blood Ulmer, John Scofield, Bill Frisell, and Prince.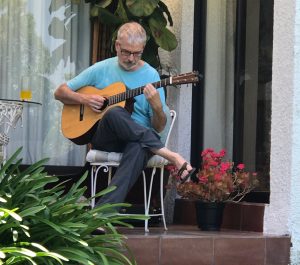 That Nygaard recorded Flown South is remarkable if not miraculous. Four years ago, he put his performing career on hold, uncertain of what musical direction he wanted to take. The COVID pandemic changed all our lives, and Nygaard found himself with even more time to reflect on his creative life. In February 2021, he began recording improvised solo acoustic guitar pieces at home. Then, at the end of March that year, a bike accident left him with a fractured clavicle, two broken ribs, and a badly lacerated index finger on his left hand. Stringed-instrument players can imagine the ramifications.
But, after much rehabilitation and diligent practice, Nygaard gives us Flown South, the title of which comes from the fact that Scott and his wife, Claudia, have moved to Santiago, Chile. It's a diverse and absorbing collection of 14 original pieces. Four were written in the 1980s, three between 1989 and 2021, and three in 2021; four come from the February '21 kitchen solo-improv sessions. Nygaard plays his 1948 Gibson J-45 and his 2017 custom Creston electric guitars, sometimes solo, sometimes overdubbed against each other and/or programmed bass and drums, and sometimes joined by mandolinist Joe K. Walsh and/or fiddler Alisa Rose.
Although he doesn't entirely shed his progressive bluegrass (or "newgrass") identity, Nygaard pulls from too many inspirations to allow any easy categorization. The opening title track finds him answering the musical question, "what would have happened if Bill Frisell had visited Bill Monroe on his trip to Nashville and the two of them had written a tune together?" There are "spooky, horror-movie" sounds, African influences (pianist Abdullah Ibrahim, the Bhundu Boys, Congolese guitarist Diblo Dibala), "an attempt to write an Ornette Coleman tune," a folk tune in 12/8 dedicated to Swedish guitarist Roger Tallroth, avant-garde blues, surprising free-form passages and dollops of skronky noise, and more.
Flown South never fails to fascinate. And, in addition to its myriad musical pleasures, it delivers a stirring lesson in self-expression and perseverance, and serves as an inspiring example of how an innovative record can be put together during a challenging period of isolation and transition.
Related Recordings Posts