REVIEW: Julian Lage and Chris Eldridge, "Avalon"
October 9, 2014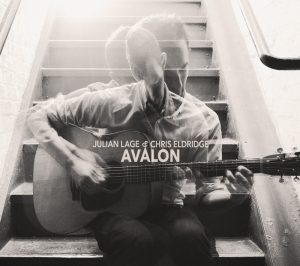 The jazz and bluegrass/country worlds have been meeting on a regular basis for quite some time, with sometimes mixed but always intriguing results. The entire genre of western swing, with Bob Wills and the Texas Playboys the most well-known representative, may be the most obvious merging of the styles, but other jazz/country meetings include Homer and Jethro's swingin' novelty takes on country songs, jazz guitarist Hank Garland's work on Nashville fiddle sessions in the '50s, David Grisman's Dawg music, Bill Frisell's Nashville album and ongoing duet relationship with roots slide guitarist Greg Leisz, and folk chanteuse Aoife O'Donovan's recent work with trumpeter Dave Douglas, to name just a few. This guitar duo recording featuring two of the hottest young guitarists in jazz and progressive bluegrass is the latest, and one that should also get added to anyone's list of great guitar-duo recordings.
Julian Lage is a jazz guitar prodigy who was playing with jazz icon Gary Burton when he was still in his teens and has played with Mark O'Connor, Joshua Bell, Nels Cline, Jim Hall, Eric Harland, and many other jazz and contemporary artists. His album Sounding Point was nominated for a Best Contemporary Jazz Album Grammy in 2010. Chris "Critter" Eldridge grew up in a bluegrass household (his father is Seldom Scene banjoist Ben Eldridge) but has primarily been drawn to the leading edge of acoustic roots music, studying with Tony Rice while in college and helping found both the Infamous Stringdusters and Punch Brothers (his current main gig).
Most guitar duos that work well tend to combine players with easily identifiable styles (Eddie Lang and Lonnie Johnson or Tony Rice and Norman Blake, for example), and you would think that with such different backgrounds Lage and Eldridge would be the same. But, while there are certainly times when it's clear who's playing lead (the Gypsy jazz licks tend to be Lage's and the Doc Watson licks tend to be Eldridge's), the tones of their guitars (both 1930s mahogany-body Martins; Lage's a 1939 000-18 and Eldridge's a 1937 D-18) are so similar and their entwined lines so complementary, it's often difficult to know who's playing which part. This may be because both guitarists are such complete, virtuosic players they can kind of play anything they want, so that they don't have a batch of signature licks at their disposal, and are thus more apt to play melodies in response to the other's playing. In addition, unlike most jazz guitarists having a go at bluegrass, Lage gets the feel right, matching Eldridge's sense of time (who grew up with bluegrass time in his genes/jeans) perfectly. The opening track, "Stone Cross" is proof of that: an original newgrass-ish tune by Lage, who plays the melody first, followed by alternating, wildly inventive solos from each guitarist, and the underlying bluegrass-oriented pulse never flags.
This is not just an instrumental recording, however. Eldridge sings six songs, three of which seem to be homages to the Seldom Scene (John Starling's "Mean Mother Blues," Paul Craft's "Keep Me from Blowing Away," and Phil Rosenthal's "Open Up the Window, Noah"), as well as Norman Blake's "Ginseng Sullivan," Jimmie Rodgers' "Any Old Time," and George and Ira Gershwin's "Someone to Watch Over Me."  Eldridge has a pleasant, unvarnished singing voice, and it's nice to see it showcased so much here, although it doesn't always work. "Someone to Watch Over Me" is a bit of a stretch for him. He's more comfortable on the more old-time/bluesy songs, particularly "Any Old Time" and "Mean Mother Blues," but his voice is also just right for Craft's world-weary "Blowing Away."
Lage's instrumental originals are where the more exploratory interplay happens: "Steady Proof," "Butter and Eggs," and especially the nine-minute "Wilson's Waltz." But each piece on the recording (lovingly produced/recorded by Kenneth Pattengale of the Milk Carton Kids) has some section where structured roles fade and Lage and Eldridge react without preconceptions to the other's playing. These moments make this much more than just a meeting of two virtuosic pickers from different, yet complementary, worlds. Lage and Eldridge both have plenty of musical opportunities (and commitments) to keep them busy, but let's hope this is a long-lasting partnership. I won't get tired of spinning this disc any time soon, but I do eagerly await a follow up. And if you're east of the Mississippi, you may be able to catch them in person in the next month. Check out their website, lageeldridge.com, for details.
Related Recordings Posts
On his new album, Flown South, the Peghead Nation co-founder and instructor exposes his jazz side

Read More
Walter Strauss explores the melodies of iconic singer-songwriters.

Read More