Derk's Discoveries: Bob Is Back
Forty-five years after their release and disappearance, singer-songwriter Bob Brown's first two albums deserve your attention.
By: Derk Richardson
July 6, 2016
Bob Brown knows a lot about the hospitality business. You might say he wrote the book. In fact he did—The Little Brown Book of Restaurant Success. Brown knows quite a bit about the record business too, enough to have gotten out of it the 1980s after recording a handful of albums, touring with Richie Havens, and opening shows for Bonnie Raitt, James Taylor, Neil Young, Linda Ronstadt, and Emmy Lou Harris.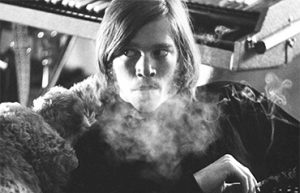 Listening today to Brown's first two records, 1970's The Wall I Built Myself and 1971's Willoughby's Lament, which you can do because Tompkins Square reissued them in May, you hear how much the music was of a piece with the ornate folk-rock of the era and resonant with the alternative, mystical freak-folk of recent years.
I'd never heard of Bob Brown, as either a musician or as a successful consultant and inspirational speaker. But after Tompkins Square's Josh Rosenthal sent me the newly issued CDs, with a note that said, "I think you might like these," my first listen was shot through with the shock of recognition. The blend of acoustic and electric guitars, piano, organ, acoustic or electric bass, and drums, augmented with chamber-like string arrangements, was reminiscent of my favorite early albums by Neil Young, Tim Hardin, Nick Drake, Joni Mitchell, Tim Buckley, and ex-Zombie Colin Blunstone. Most striking about these cosmic love songs was the quaver and vulnerability in Brown's high voice, which hovers in that eerie space seemingly unique to Young. Many of the key Maryland-Washington-area musicians' names (such as pianist/percussionist Joe Clark) weren't familiar to me, but on Willoughby's Lament, jazz giant Eddie Gomez plays bass, Bill Keith plays pedal steel, and Richie Havens adds background vocals.
It was Havens who shepherded Brown into his brief recording career. Brown grew up in Clinton, Maryland, playing classical piano and turning to folk music in the 1960s and performing in Washington D.C. coffeehouses. He first crossed paths with Havens at the Newport Folk Festival. Later, when a major label was courting Brown, he sought advice from Havens, who promptly signed Brown to his MGM-distributed Stormy Forest label and produced his two LPs in New York City. The albums weren't commercially successful, but for a moment Brown seemed to have a chance become the next Young, Buckley, Hardin, or Fred Neil. However, a deal with Clive Davis at Columbia Records was aborted when Davis was fired from the label. Brown, who had moved to Los Angeles with his then-partner, singer Aleta Green (with whom he recorded a pair of albums) knocked around the L.A. scene on an off into the early '80s. By 1987 he was back in D.C., where he rose quickly from waiting tables to loftier heights in the hospitality industry.
Although the 67-year-old Brown has returned to performing—playing with Ryley Walker's band on the Tompkins Square 10th Anniversary show at Rough Trade Records in New York City last fall, co-headlining a gig in April at Red Onion Records in D.C with Rosenthal, who read from his idiosyncratic and compelling musical memoir, The Record Store of the Mind, and doing a record-release show at Joe's Pub in Manhattan at the end of June—there's been no indication that he intends to record again after a four-decade hiatus, a la Vashti Bunyan, Ruthann Friedman, and Linda Perhacs. And since he's alive and thriving, it's unlikely he'll achieve Nick Drake–like cult icon status. But The Wall I Built Myself and Willoughby's Lament deserve to find their ways into the collections of listeners keen on Young, Hardin, Buckley, Iain Matthews, Judy Collins's Wildflowers, Donovan's A Gift from a Flower to a Garden, and the dreamiest country-rock of Gene Clark and Gram Parsons. You can find them here.
Related Recordings Posts
Discover Canadian singer-songwriter Noah Zacharin, who's within six degrees of Leonard Cohen, Joni Mitchell, Ralph Carney, and me.

Read More
Loudon Wainwright III leads his audience into the promised land of aging.

Read More