Bill Evans "The Banjo in America" New CD and DVD
Peghead Nation banjo instructor explores 250 years of the banjo on beautiful new DVD/CD set from Tiki Parlour Recordings.
By: Dan Gabel
July 12, 2022
Bill Evans has collaborated with Tiki Parlour Recordings to create a DVD and CD set based on Bill's long-running show of the same name, The Banjo in America. For years, Bill has played a series of concerts that trace 250 years of music performed on the banjos of the day, from the Haitian-inspired banza to the Gibson Mastertone and eight other historical instruments in between.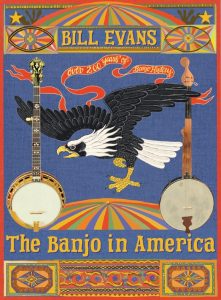 In the Tiki Parlor Recordings project, Bill plays 19 pieces recorded in high-quality audio and beautiful video, highlighting Bill playing multiple American banjo styles including 19th-century stroke style, old-time finger styles, classic banjo of the ragtime era, Scruggs-style bluegrass and beyond, including some of his own compositions. Bill created extensive liner notes that provide the background and context for each piece, making this a full historical document of the instrument's history.
Check out the overview video on this page, and get an autographed copy of The Banjo in America by going to Bill's store (click here). 
Learn banjo with Bill Evans in his Beginning Banjo, Bluegrass Banjo, Earl Scruggs: A Player's Guide, and Melodic and Single-String Banjo courses on Peghead Nation.
Related Recordings Posts
John Reischman and the Jaybirds soar through gospel, old-time, bluegrass, and Beatles songs on their latest recording.

Read More
Famously eccentric banjo player Danny Barnes releases an earnest and stunning acoustic bluegrass album

Read More