Derk's Discoveries: Flying Home
John Reischman and the Jaybirds soar through gospel, old-time, bluegrass, and Beatles songs on their latest recording.
By: Derk Richardson
August 28, 2017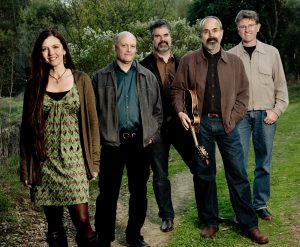 It's been nearly 17 years since the film O Brother, Where Art Thou? and its chart-topping, Grammy-winning, multimillion-copies-selling soundtrack were released. By then, late 2000, mandolinist John Reischman had been playing bluegrass and new acoustic music for more than 30 years—with Tony Rice, Kathy Kallick, Laurie Lewis, Scott Nygaard, Sally Van Meter, Good Ol' Persons, and others—and he had released three albums under his own name (including one with guitarist John Miller).
The high-profile boost that O Brother gave bluegrass and old-time music was certainly a boon; it revived a few careers and elevated a handful artists to semi-stardom, and it has been maintained in part by San Francisco's annual Hardly Strictly Bluegrass festival, which was launched in 2001 and takes place in early October. But the real momentum is sustained day in and day out at the grass roots level by the post-O Brother survivors, in folk clubs and on albums like the new On that Other Green Shore, the seventh by Reischman and the Jaybirds, an acoustic quintet that's been playing together and making recordings since 2002.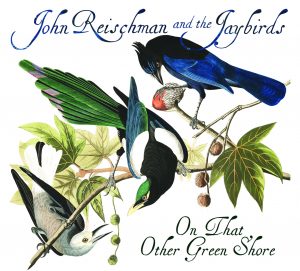 Reischman, a Peghead Nation instructor, and his predominately British Columbia-and-Washington state-based Jaybirds—Nick Hornbuckle (banjo, vocals), Greg Spatz (fiddle), Trisha Gagnon (bass, vocals), and Jim Nunally (guitar, vocals)—may fly under the radar that tracks the likes of Old Crow Medicine Show, Alison Krauss, Yonder Mountain String Band, and Sarah Jarosz. But they do get significant Americana and roots radio airplay and chart coverage. And they make effortless-sounding music that strikes its own balance of technical virtuosity and emotional honesty, and finds its own relaxed voice in a repertoire that comfortably embraces bluegrass and old-time classics, blues, gospel, original instrumentals and songs, and the Beatles.
On that Other Green Shore, one of the most beguiling bluegrass-rooted recordings of 2017, opens with the Hornbuckle composition "Wellesley Station" taken at a medium clip, with banjo, guitar, mandolin, and fiddle rotating through the melody and investigating various permutations. Nothing feels rushed. That sense of ease comes through on the other instrumentals, including "Red Diamond," "Thistletown," and "Katie Bar the Door," whether the pace is slow or brisk. And it shapes the lead vocals (mostly by Gagnon and Nunally) and the tight-knit harmonies, as well, on such songs a "Don't You Hear the Lambs A-Crying," "Home Is Where I Long to Be," "I Don't Want to Say Goodbye," and "Today Is a Lonesome Day." The elastic space between instruments allows your ears to swing from to another and delight in each.
The musical vision that propels the Jaybirds may be Reischman's, but there is no singular star here that outshines the others.
The Beatles cover, "Two of Us" (from Let It Be), is a perfect choice for a jaunty bluegrass interpretation by the Jaybirds. The structure of its verses and bridge allow for pithy solo improvisations, and its lyrics crystalize a "then and now" sentiment that lies at the heart of this music: "You and I have memories / Longer than the road / That stretches out ahead."
"We're on our way home," indeed.
Photo by Mike Melnyk
Related Recordings Posts
Bluegrass mandolin star explores a range of musical styles with guest stars and family.

Read More
The string quartet Hawktail soars above the New Acoustic Music plain.

Read More