REVIEW: Alison Brown, "Song of the Banjo"
The Compass Records founder makes a case for banjo as a pop instrument.
By: David McCarty
December 21, 2015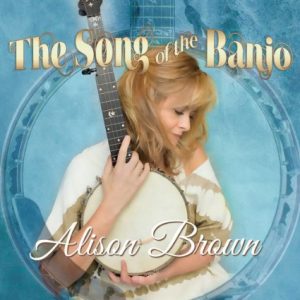 The banjo, that most American of stringed instruments, has had a long and illustrious history. From minstrel shows and vaudeville, to old-time string bands, to Scruggs, Reno, and Crowe, and then to Fleck, Trischka, and Pikelny, the instrument has evolved and matured from its plunky origins into a robust, multifaceted voice capable of musical expression in genres ranging from jazz and pop to classical.
One artist who has steadfastly remained at the forefront of that musical journey is Alison Brown. Founder of Compass Records, Brown has championed a limitless musical vision for the banjo—ranging from progressive bluegrass to ensemble jazz—that never sounds forced or strained.
Her latest release, Song of the Banjo, deftly merges all those skills and influences. "Carolina in the Pines" takes a true-blue bluegrass classic and adds the folk harmonies of the Indigo Girls. A proponent of repurposing pop tunes into stellar instrumentals, Brown reimagines "Time After Time" as a banjo ballad flush with piano and organ support. "Stuff Happens" sounds like she was hired to back up a Steely Dan session with Larry Carlton. And magic happens when she joins ukulele maestro Jake Shimabukuro on Chuck Mangione's languid jazz ballad "Feels So Good." And the closer, with Keb Mo singing Marvin Gaye's immortal "What's Going On?", underscores how well Brown assimilates music from disparate styles and finds a way to make banjo sound like it should have been on the original recording.
Visit AlisonBrown.com.

Related Recordings Posts
Peghead Nation banjo instructor explores 250 years of the banjo on beautiful new DVD/CD set from Tiki Parlour Recordings.

Read More
John Reischman and the Jaybirds soar through gospel, old-time, bluegrass, and Beatles songs on their latest recording.

Read More