REVIEW: Adrian Legg, "Dead Bankers"
October 31, 2014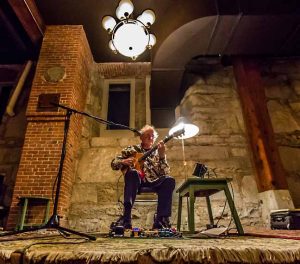 British guitarist Adrian Legg is one of the most identifiable solo fingerstylists around. Although he started releasing albums in the 1970s, his 1990 recording Guitars and Other Cathedrals catapulted him to the forefront of the contemporary fingerstyle scene. Making full use of his Ovation acoustic-electric guitar's plugged-in capabilities, Legg found an unlikely home on Relativity Records, a label mostly known for high-speed, high-volume electric shredders. But since Legg's style is impossible to classify, it made sense that he would end up far from his folky roots. Four more albums for Relativity established Legg as a quirky player whose style borrows heavily from electric country players and banjo styles, packaged with a heavy dose of virtuoso chops.
Legg (who was named "Best Acoustic Fingerstyle Guitarist" by the readers of Guitar Player several years in a row) was not a true acoustic guitarist to begin with, but his new, self-released Dead Bankers is probably his strongest electric statement to date. Recorded using the chambered guitar built by UK luthier Bill Puplett that Legg has been touring with for the last few years, the album starts with the title tune, a slightly distorted shuffle featuring Legg's trademark pedal-steel-style string bends, which he accomplishes by using banjo tuners to change the pitch of open strings.
By the time I reached the album's fifth cut, "A Toot-Toot (A Nasty Incident in Montrose)," I realized that Dead Bankers is at its core an instrumental country-rock album played on solo guitar. Sure, tunes like "Waltz for Leah" (first recorded on 2004's Inheritance) display a Celtic tinge (with beautiful harp-style lines achieved by alternating fretted and open strings), and "The Oily Gull" could be part of a spy-movie soundtrack, but there's a foot-stomping vibe throughout, with fuzzy, tremolo-laden tones and power-chord-fueled rhythms laying a foundation for sneaky licks and hummable melodies.
Dead Bankers clearly shows that Legg is comfortable with his strengths. He found his voice on the guitar long ago, but by moving even further away from a pseudo-acoustic approach to the instrument, he has created one of his most distinctive pieces of work to date. adrianlegg.com
Related Recordings Posts
Walter Strauss explores the melodies of iconic singer-songwriters.

Read More
On his new all-instrumental album, the 2017 Canadian Songwriters Hall of Fame inductee lets his guitars do the talking.

Read More