Join Flynn Cohen's Facebook Live Event on St. Patrick's Day
Our Irish Backup Guitar instructor is taking questions and talking about playing Irish music live on Facebook, Tuesday, March 17 at 6pm Eastern Time. Join us!
By: Dan Gabel
March 1, 2020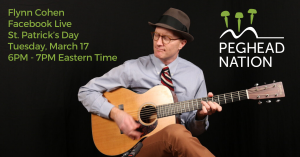 Join our Irish Backup Guitar instructor Flynn Cohen on St. Patrick's Day, Tuesday, March 17, from 6-7 PM Eastern Time for Flynn's Facebook Live guitar workshop, where he will be demonstrating the jig rhythm, answering questions, and presenting some of the material that he covers in his Peghead Nation guitar course.
If you have something you'd like Flynn to address during this Facebook Live event, just email your questions to Flynn at deadstring(at)gmail.com. While he may not get to all the questions during the event, he will definitely consider everything that gets submitted.
Please join us on Tuesday for a fun hour, and be sure to follow Peghead Nation on Facebook for event updates.
We will also have a virtual tip jar out for Flynn, and you can contribute to that at any time!
Related Events Posts
Join a new festival featuring Peghead Nation instructors Joe K. Walsh and Bruce Molsky, and a full day's lineup of great musicians.

Read More
Peghead Nation is sponsoring Porch Pride 2021 and a special all-levels virtual jam.

Read More