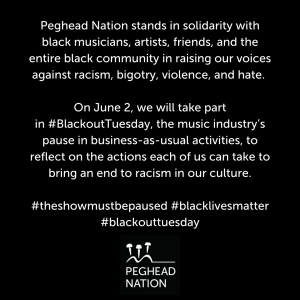 The music we all celebrate on Peghead Nation has deep roots in African and African-American culture, from the origins of the banjo to the blues that is at the heart of bluegrass, old-time, and all roots music to the original American art form, jazz, to the rock music that has become part of our life's soundtrack. For that, at the very least, we owe a debt of gratitude to black musicians throughout the ages. And it is impossible to separate the experience of those musicians, and their art that inspires us, from the inequality, bigotry, and pain that has been a part of their lives stretching back to the first days they were brought to this country and continues in many forms that we're witnessing today.
Peghead Nation stands in solidarity with black musicians, artists, friends, and the entire black community in raising our voices against racism, bigotry, violence. and hate. On June 2, we will take part in #BlackoutTuesday, the music industry's pause in business-as-usual activities on social media, to reflect on the actions each of us can take to bring an end to racism in our culture.
It can be hard to know what to do to be a better ally on an ongoing basis, certainly for me. But listening and trying to educate myself more is a place to start. One helpful article, I think, is published in Medium with a list of 75 things to do for racial justice. There are so many more, and we'll keep finding them.
Thanks for being with us.
If you care to donate to causes to support racial justice and other equality causes, here are a few resources for you to explore:
The George Floyd Memorial Fund