Remembering Bill Keith
The musical genius and generosity of the bluegrass banjo legend.
October 25, 2015
As is the case for many of us, we first get acquainted with our banjo heroes through their recordings and, when available, banjo tabs. This was the case for me with Bill Keith. By the time that I found myself in a Greenwich Village coffee shop with him in the late 1970s, I had been familiar with his music and his technical breakthroughs for a few years. However, it was something else to get to know the person behind the recordings.
Here we were, on a Sunday afternoon, just before he was to play Gerde's Folk City with the Music from Mud Acres revue, sitting in the window seat in a busy coffee shop, and Bill is mapping out the circle of fifths for me on a napkin. He got many refills of that coffee that afternoon.
I was just barely out of college at the time, maybe 23, and I was too young at that time to fully appreciate his generosity of spirit: that someone of his stature would be so generous spending time with a younger player, just before a gig, expounding on one or another aspects of the mystical depths of music theory.
I hung on every word pretty well that day, as I had been spending time pouring over theory and jazz books on my own. Our relationship deepened when I invited him in 1979 down to Charlottesville, Virginia, where I lived at the time, to teach a weekend of workshops to my students. I got the full dose of Bill's depth of knowledge that weekend, and my head truly was spinning. He signed for me a copy of banjo tab – in French – to the Something Auld Rounder LP. I had already tried to learn every break on this recording by ear and while I was grateful to see what I had gotten correct and what I had gotten wrong, I was struck by the elegance of his note choices and the powerful logic of his fretboard moves.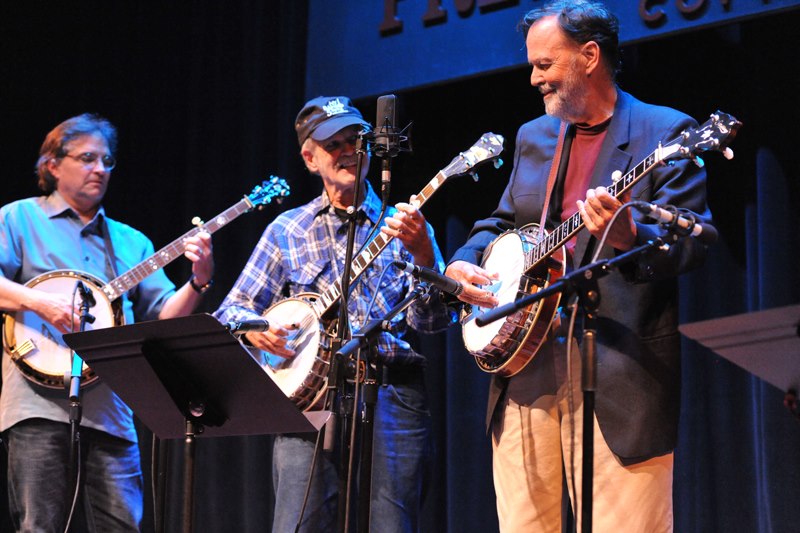 In subsequent years, we shared many weekends at banjo camps from Massachusetts to Washington and he would frequently be the last banjo player standing, jamming with anyone and everyone and taking time to show something to anyone who asked. A cup of coffee would always be nearby, and usually a cigarette. His fashion sense at these banjo camps was always something that would attract attention. Whether he was wearing his "Sex, Drugs & Flatt & Scruggs" or his Warhol-ish "Wonder Bread" t-shirt, Bill's hipness was of a stature that eclipsed all other hipness. He was the coolest of the cool.
More recently, he flew into San Francisco from his home in New York to be a part of the 2012 California Banjo Extravaganza. His flight arrived at around 11 p.m. and it was close to midnight before we had arrived close to my home in the San Francisco East Bay. Before pulling up to the door, he asked if we could get a bite to eat. We soon found ourselves at a upscale tapas joint, the only place I could find open on a weeknight at 12:30 a.m., discussing music and devouring steak tacos, Bill sipping a cappuccino.
We arrived back at my house at about 1:15 a.m. and I showed off to him my own espresso maker, promising to make him a cup in the morning. Bill got a gleam in is eye and expressed interest in having a cup – right now. So I made him a cup and went to bed, knowing that my own household would spring to life as early as 5:15 a.m.
At around 3 a.m., I stirred in my bed, hearing the low volume of the television emanating from our adjacent living room. I got up out of bed and found Bill on our couch, facing the television, delicately holding the cappuccino saucer and cup in his hand – and he was sound asleep. This posed a quandary. I was worried that if I suddenly stirred him, the cappuccino would go flying across the room. However, I wouldn't be a very good host if I left him in this suspended state between sleep and wakefulness.
I gently spoke his name and thankfully he opened his eyes without upsetting the cup. He apologized – and then asked if I could make him another cup, indicating that he enjoyed watching television late at night and that the cappuccino sure was good.
I handed him another cup at 3 a.m. I think he finally climbed into bed around five in the morning but was soon up with my wife, drinking cappuccino! When I awoke some hours later we were both hungry. He wondered if we had the fixings to make omelets and I proceeded to rummage through the bottomless pit of the refrigerator finding eggs, onions, mushrooms and peppers. I admitted to him that I wasn't the best egg cook in the world, and he proceeded to show me his method of making an omelet, drinking another cup of cappuccino as he worked – and taught.
Like his music, it was a well-thought out cooking approach that resulted in one of the most perfect omelets I had ever eaten. I am proud to say that while Bill has taught thousands of banjo players, I might be the only banjo player who learned how to cook from him.
Related Breaking News Posts
Peghead Nation banjo instructor receives the prestigious award recognizing masters of the banjo for their contributions to the instrument and the community.

Read More
We're honored to be recognized by bluegrass music's leading industry organization and our community!

Read More