Peghead Nation Receives a 2022 IBMA Distinguished Achievement Award
We're honored to be recognized by bluegrass music's leading industry organization and our community!
By: Dan Gabel
September 26, 2022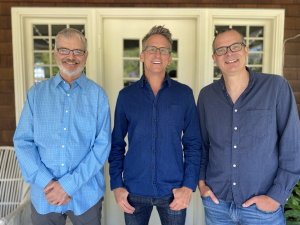 San Rafael, California – September 29, 2022 | Peghead Nation is honored that we have been chosen to receive a 2022 International Bluegrass Music Association Distinguished Achievement Award at the IBMA World of Bluegrass Conference and Festival in September 2022.
The IBMA issues the Distinguished Achievement Award to individuals and organizations in bluegrass music who have proven to be forerunners in their field and foster bluegrass music's image and broaden the music's recognition and accessibility. Recipients are nominated each year in four categories (Music, Media, Business, and General) by IBMA members and then chosen by the Distinguished Achievement Awards Selection Committee.
Peghead Nation has been a leader in online education for the bluegrass community since its founding in 2014 by three friends and colleagues who had worked together in music magazine and media publishing for nearly 20 years. Co-founders Dan Gabel (President), Scott Nygaard (Editor), and Teja Gerken (Producer) are each passionate musicians with deep professional experience in acoustic music instruction, journalism, and business. When launching Peghead Nation, their vision was to create an inspiring, accessible, and cost-effective community for students of acoustic instruments to learn from the best instructors in roots music. In short, to help passionate musicians at all levels progress on their instruments and have more fun playing the music they love.
Past recipients of the IBMA Distinguished Achievement Award include musicians Chris Thile, Norman Blake, Darol Anger, John Hartford, Alison Brown; businesses including Martin Guitars, Deering Banjos, Homespun (Happy and Jane Traum); and media outlets and organizations including Bluegrass Unlimited, SiriusXM's Bluegrass Junction, International Bluegrass Music Museum, and many others. Peghead Nation is thrilled to be in the company of so many leaders in the bluegrass community.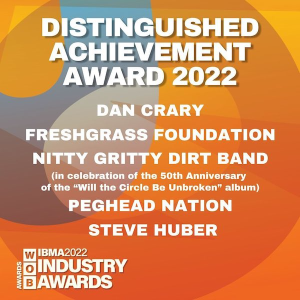 "What an exciting honor to have Peghead Nation recognized by IBMA!" Gabel says. "We set out to inspire more people to connect with and play the music in this vibrant bluegrass and roots music community, so it is gratifying to know that our work is touching people's lives and helping them tap into their passion, which we fully share. We're so thankful to IBMA for this recognition. And to our amazing instructors, dedicated students, talented team, and Pegheads worldwide, a genuine thank you for helping to create Peghead Nation."
"I've been playing and teaching bluegrass and roots music for 50 years, first inspired as a teenager in Southern California by local concerts by Doc Watson, The Dillards, Country Gazette, and others," Nygaard says. "And I first became aware of the great work IBMA was doing to support bluegrass music and musicians at the annual conference in 1989, where I showcased with Laurie Lewis's band, whose album was nominated for Album of the Year that year. It's a tremendous honor for me to see Peghead Nation recognized in this way by such an amazing organization of friends, peers, and colleagues."
"Thank you, IBMA, for such special recognition. We are very fortunate to work closely with such talented musicians who are central to the bluegrass community," Gerken says, "and it is inspiring to hear them play and teach at such a high level. It is also fun to hear them talk about the instruments that they use to make this music, many of those tools built by leading manufacturers and instrument builders who we also work with closely. It is all part of being immersed in the roots music world, and we hope that our sharing of this access adds to the inspiration that bluegrass players find through Peghead Nation. Thank you for this honor, IBMA!"
About Peghead Nation
With over 50 streaming video courses and live workshops in acoustic guitar, mandolin, banjo, fiddle, dobro, ukulele, and upright bass, Peghead Nation is now a primary destination for passionate players of bluegrass, old-time, and other roots styles.  The courses feature multi-angle HD video lessons, accurate notation and tablature, a library of Play-Along Tracks, and much more, with instructors who unlock practical musical secrets in each lesson and teach tunes called in jams the world over. All of this with the goal of increasing students' skills and confidence when they pick up their instruments. Join us at PegheadNation.com!
Our Instructors
In any context, our instructor roster is an impressive group of musicians and one that we are eternally grateful to have flying the Peghead Nation flag.
These master players have contributed a body of musical expertise that is unique, deep, and unmatched, sharing years of hard-won knowledge about their instruments and about the art of making music. They share both practical, hands-on skills that help us learn a tune or understand music theory, and the more elusive and esoteric sides of what it means to create unique music, find your own voice, and feel confident in your own musical expression. Taking their courses, we all benefit from this sharing, and we consider it a huge privilege that they choose to contribute their skills to Peghead Nation as part of their many musical endeavors. So, Peghead Nation instructors, a genuine thank you for what you do and for working with us!
Your Peghead Nation instructors are:
Guitar:
Scott Nygaard
, Adrianne Serna, Stevie Coyle,
Teja Gerken
, Flynn Cohen,
Stash Wyslouch
,
Tony McManus
, Orville Johnson, Mark Goldenberg Music, Matt Munisteri,
Doug Young
, Steve Baughman
On the contributing writer side,
Derk Richardson
has brought his decades-long music journalism and profound knowledge of all genres of music to the blogs of Peghead Nation, sharing his astute impressions of recordings and projects by many musicians in the Peghead sphere.
Tristan Scroggins
has written about bluegrass history on Peghead Nation, sharing stories of the origins of some of Bill Monroe's tunes in our blogs, and writing stories like his feature interview on
MandolinCafe.com
with Sharon Gilchrist, which covered a lot of Peghead Nation ground. Tristan also won the 2021 IBMA Writer of the Year Award, and we're happy to have him contribute to Peghead Nation.
And David McCarty has also contributed insightful blogs about instruments and recordings to Peghead Nation over the years.
We also want to specifically acknowledge some talented folks who have worked hard behind the scenes to help us build a Nation! Let's celebrate them a bit, too!
These people include folks who have made the site and our associated materials look great, like Barbara Gelfand Summer, who designed the first version of Peghead Nation and many of the related marketing pieces and graphics; Lisa Gabel, who designed the awesome logo and many ads, postcards, flyers, and a series of fun logo animations; Ellen Tobe, who has done great work on the look and feel of ads, postcards, and more.
Daron Shupe was our front-end developer for the first version of PegheadNation.com, rendering the designs into a functional site that had never existed before. Kelsey Sheely did much of the heavy lifting on the back-end development before we first launched and continues to help us keep the complicated digital rivers flowing smoothly.
Scott Ruttencutter and the team at IQ Foundry took on the herculean task of redesigning and reprogramming the entire Peghead Nation platform in 2020, with a new user interface and look (thoughtfully designed by Paul Ester), and new navigation automation that makes it easier to get to your lessons. They designed an entire new back-end to the site that does way more complex stuff than we could have done alone! Scott and crew are fast and responsive and total pros, and have helped Peghead Nation evolve at a critical time.
Kristine and the team at PMSI Marketing Group continue to help us reach more musicians who need to hear about Peghead Nation. They get our story and have long helped plan and implement much of our strategy for search and social advertising, SEO, analytics tracking, and data measurement, bringing it to a much more sophisticated and effective place.
From the very beginning, one of Jan and Tom Perry's deep Peghead supporter roles involved allowing us to take over their living room for days, setting up our studio to shoot lessons with visiting instructors in a consistent and comfortable space, and hosting all of us in kind fashion. Between that and the ceaseless moral support and belief in what we're trying to do, they are key Peghead ambassadors.
Greg Maloney and 32Ten Studios have helped us find a perfect home for our video studio, in a state-of-the-art room in the middle of a building that holds so much history from Industrial Light and Magic, Star Wars, and other iconic productions. We're so happy to stage our current and future chapters there!
And with endless support for the co-founders in ways very tangible and less-so, our families and loved ones including, but not limited, to Claudia Campazzo and Joey Nygaard, Heather Gould and Sabine Gerken, Michelle Gabel and Ellen Gabel, and the Peghead pups, Mora and Shyla. Could do this, or life, without you!
Turns out it takes a village to build a Nation, and we are fortunate to have one populated with immense talent both in front of the camera and behind the scenes. Thanks to all, from co-founders Dan Gabel, Scott Nygaard, and Teja Gerken.
Peghead Nation Co-founder and President, Accepting the IBMA Distinguished Achievement Award, during the IBMA Industry Awards ceremony, September 2022 in Raliegh, North Carolina.
Peghead Nation's mandolin instructor Sharon Gilchrist Sharon Gilchrist presents the IBMA Distinguished Achievement Award during the IBMA Industry Awards ceremony, September 2022 in Raliegh, North Carolina.
Related Breaking News Posts
Explore new lessons, tunes, and techniques from Peghead Nation's expert instructors.

Read More
Check out new lessons, tunes, and techniques from Peghead Nation instructors.

Read More