Bill Evans Wins the 2022 Steve Martin Banjo Prize
Peghead Nation banjo instructor receives the prestigious award recognizing masters of the banjo for their contributions to the instrument and the community.
By: Dan Gabel
November 10, 2022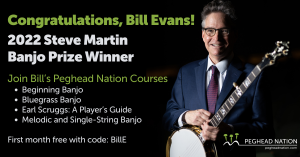 The Freshgrass Foundation announced that Peghead Nation banjo instructor Bill Evans is one of two winners of the 2022 Steve Martin Banjo Prize, a prestigious award that recognizes master bluegrass, old-time, and roots music banjo players each year. Congratulations on this well-deserved recognition, Bill! Also awarded this year is the great Irish tenor banjo player, Enda Scahill of We Banjo 3 fame. Two amazing players joining the ranks of past winners of this special award.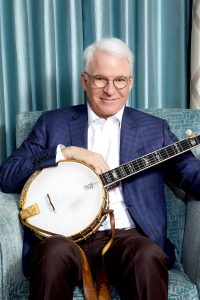 Comedy legend and banjo player Steve Martin launched the Banjo Prize in 2010, awarding $25,000 to $50,000 each year to one or more players. Bill and Enda join past winners including Rhiannon Giddens, Noam Pikelny, Jens Kruger, and Kristin Scott Benson. The Freshgrass Foundation got involved in 2019 to guide the Banjo Prize into its next ten years, with a new vision and infrastructure steeped in the roots music community.
Bill Evans is an internationally recognized five-string banjo life force. As a performer, teacher, writer, and composer, he brings a deep knowledge, intense virtuosity, and contagious passion to all things banjo, with thousands of music fans and banjo students all over the world, the product of a music career that spans more than 35 years and includes appearances with David Grisman, Peter Rowan, Tony Trischka, Dry Branch Fire Squad, Mike Seeger, Hazel Dickens and Alice Gerrard, Laurie Lewis, Jody Stecher, and many others. Bill has a master's degree in music from the University of California, Berkeley, with a specialization in American music history and he has been a scholar/artist in residence at many universities across the United States. He is also the author of Banjo for Dummies, the most popular banjo book in the world.
Bill has taught at over 200 banjo and bluegrass camps and he has helped thousands of people to find joy in the banjo through his books, online courses and videos, workshops, and one-on-one lessons. A true ambassador of the banjo, we offer sincere congratulations to Bill on this well-deserved recognition.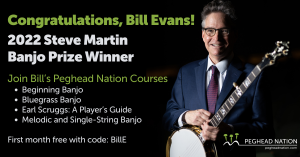 Learn banjo with Bill Evans in his Beginning Banjo, Bluegrass Banjo, Earl Scruggs: A Player's Guide, and Melodic and Single-String Banjo courses on Peghead Nation.
First month free with promo code BillE
Related Breaking News Posts
We're honored to be recognized by bluegrass music's leading industry organization and our community!

Read More
Join Bill Evans for a deep dive into the two bluegrass banjo techniques that were added to Scruggs-style to create exciting bluegrass music.

Read More