Joe K. Walsh and Grant Gordy: "Little White Lies"
Peghead Nation mandolin instructor plays a great standard with his long-time musical collaborator in the Peghead Nation studio.
By: Dan Gabel
August 18, 2023
Peghead Nation instructor Joe K. Walsh and guitarist Grant Gordy are longtime musical collaborators. They have recently marked 20 years of creating music together in configurations including their own duo, members of  Mr Sun (with Darol Anger and Adrian O'Donnell), and many other bands and projects. They were recently in the Peghead Nation studio shooting lessons for Joe's new course Swing and Jazz Mandolin and during that shoot, they treated us to this take of "Little White Lies," written in 1930 by Walter Donaldson, and recorded by Ella Fitzgerald, Dick Haymes, and many others.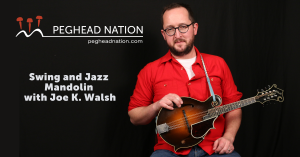 In Swing and Jazz Mandolin, you'll learn to play swing and jazz melodies and classic solos from jazz legends like Lester Young, Miles Davis, and Django Reinhardt, as well as swing mandolinists like Tiny Moore and Jethro Burns. For each song, you'll learn the melody and a solo, along with tips on technique, phrasing, and improvisation. Joe will be adding new material to this course each month. Check out his course introduction video on the main Swing and Jazz Mandolin page.
To learn mandolin from Joe, enroll in his Advancing Mandolinist, Bluegrass Mandolin Jam Favorites, Octave Mandolin, Improvising for Mandolin and Fiddle, or Swing and Jazz Mandolin courses, and use promo code JoeLand at checkout and get your first month free!
Related In The Studio Posts
Mandolin master plays a Civil War-era tune that he also teaches in his Old-Time Mandolin course.

Read More
Peghead Nation Irish Guitar and Irish Mandolin instructors play a great set of reels live in the studio.

Read More
Peghead Nation mandolin and guitar instructors play a David Grisman and Jerry Garcia tune.

Read More
Peghead Nation's Roots of Jazz Guitar instructor plays a solo version of the great Eddie Lang showpiece.

Read More
Peghead Nation's Irish Mandolin instructor and her duo partner play an original tune from their recently released album.

Read More
The old-time duo plays the Joe Newberry original that won IBMA's Gospel Recorded Performance of the Year for 2012, live in the Peghead Nation studio.

Read More
Mandolin master plays a new original tune that he recorded for his new album "New Time and Old Acoustic."

Read More
Peghead Nation's Monroe-Style Mandolin instructor plays a smoking version of a Bill Monroe classic with our co-founder.

Read More
Peghead Nation's Monroe-Style Mandolin instructor and his duo partner play a classic banjo tune from Virginia old-time musician Hobart Smith.

Read More
Peghead Nation mandolin and guitar instructors play classic Bill Monroe boogie-woogie tune.

Read More