Flynn Cohen, Marla Fibish, and Liz Simmons: Fred Finn's and Sailing Into Walpole's Marsh
Peghead Nation Irish Guitar and Irish Mandolin instructors play a great set of reels live in the studio.
By: Dan Gabel
April 13, 2023
We've recently released Flynn Cohen's new Irish Flatpicking Guitar course on Peghead Nation, and while Flynn was in the studio shooting the first lessons for that course, he brought guitarist and songwriter Liz Simmons, who is also his partner in Low Lilly and other musical adventures, into the studio, along with Peghead Nation's Irish Mandolin instructor, Marla Fibish. The trio played a great set of "Fred Finn's" and "Sailing Into Walpole's Marsh," with Flynn on guitar, Marla on mandolin, and Liz on the Shruti Box.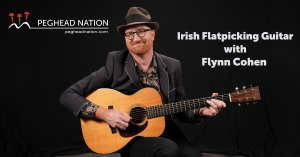 In Irish Flatpicking Guitar, Flynn teaches you to play traditional Irish dance tunes such as reels, jigs, and hornpipes on the guitar in the style of Paul Brady, John Doyle, Arty McGlynn, and others. The course includes lessons on jig picking, triplets, and other techniques derived from traditional Irish tenor banjo playing and applied to guitar. All lessons include accurate notation and tablature for the tunes and techniques that Flynn presents, and Flynn will be adding new lessons to the course every month, so the lesson library grows as you progress.
Flynn also teaches Peghead Nation's Irish Backup Guitar course. where he teaches you how to accompany jigs, reels, and other forms.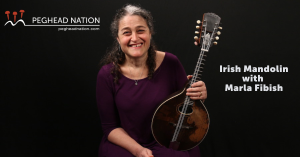 Sign up for Irish Mandolin with Marla Fibish now. You'll learn traditional Irish mandolin, with an emphasis on playing the dance music of Ireland with an authentic Irish feel and rhythm. Marla is the best there is in this style!
Related In The Studio Posts
Peghead Nation's Irish Backup Guitar instructor flatpicks a set of reels with our Irish Mandolin instructor.

Read More
Peghead Nation Irish Mandolin instructor Marla Fibish and Bruce Victor play the title track from their recently released Noctambule album.

Read More
Peghead Nation mandolin instructor plays a great standard with his long-time musical collaborator in the Peghead Nation studio.

Read More
Peghead Nation Irish Guitar instructor plays a set of jigs live in the studio with guitarist Liz Simmons.

Read More
Mandolin master plays a Civil War-era tune that he also teaches in his Old-Time Mandolin course.

Read More
Peghead Nation mandolin and guitar instructors play a David Grisman and Jerry Garcia tune.

Read More
Peghead Nation's Irish Mandolin instructor and her duo partner play an original tune from their recently released album.

Read More
The old-time duo plays the Joe Newberry original that won IBMA's Gospel Recorded Performance of the Year for 2012, live in the Peghead Nation studio.

Read More
Mandolin master plays a new original tune that he recorded for his new album "New Time and Old Acoustic."

Read More
Peghead Nation's Monroe-Style Mandolin instructor plays a smoking version of a Bill Monroe classic with our co-founder.

Read More