Ian Coury e Estação do Choro: "Gostosinho" (Jacob do Bandolim)
Peghead Nation Choro Mandolin instructor plays a Jacob do Bandolim tune with a virtuosic Brazilian band.
By: Dan Gabel
October 7, 2022
"Gostosinho" is a popular Brazilian choro written by the great Jacob do Bandolim. Ian Coury, who teaches Brazilian Choro Mandolin on Peghead Nation, joined a virtual session with the band Estação do Choro to play a great version of the tune. Joining Ian, who plays his signature Pedro Santos ten-string bandolim, are Vinicius Vianna on seven-string guitar, George Costa on six-string guitar, Nelsinho Serra on cavaquinho, and Gabriel Carneiro on pandeiro.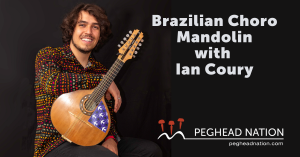 In Brazilian Choro Mandolin with Ian Coury, you'll learn to play Brazilian choro music on the mandolin, from the classic sounds of Jacob do Bandolim to the modern style of Hamilton Holanda. The course includes detailed notation/tablature, new lessons every month, and play-along tracks with Ian's stellar Brazilian backing band.
Ian Coury has been accruing professional awards and accolades since 2014, when he shared a stage with Brazilian choro legends Armandinho and Hamilton de Holanda at the age of 12. Today, he's one of Brazil's most-respected virtuosos of the ten-string mandolin. As he continues to push the boundaries of the instrument and of the choro genre, he has performed with such luminaries as Paquito D'Rivera, Claudio Roditi, and Toninho Horta, and has recently received two important awards: "Best Instrumentalist" in the National FM Radio Festival (2020), and second place (by popular vote) in Brazil's eFestival (2021), both for performances of original compositions.
Ian comes from Brazil's capital city, Brasília, where he began playing mandolin at age eight, studying with Marcelo Lima at the Raphael Rabello School of Choro. In 2019 Ian received a scholarship to study at Berklee College of Music in Boston, where, in his second year, he received the String Department Award, and has already taught a choro workshop at Harvard University. Before coming to the US to study, Ian had already made the journey to perform at NAMM (2017, 2018), but his professional trajectory in Brazil began much earlier: in 2014 he played both solo and with Armandinho at the Club do Choro in Brasília; in 2014 and 2015, he was recognized for his merits by the Brazilian Academy of Sciences, Arts, History, and Literature; and in 2016 he appeared on the cover of Choro Magazine, and received a culture award from Brazil's House of Representatives.
Take a look at Ian's course introduction video on the main Brazilian Choro Mandolin page, and join us today! Use promo code IanLand at checkout to get your first month free!
Related In The Studio Posts
Peghead Nation Brazilian Choro Mandolin instructor plays a beautiful choro/samba with a stellar band.

Read More
Our Brazilian Choro Mandolin instructor plays a joyful duo version of a Jacob do Bandolim choro with his fellow Peghead Nation mandolin teacher.

Read More
Peghead Nation's new Brazilian Choro Mandolin instructor plays a traditional two-part choro written by the great choro mandolinist Jacob do Bandolim.

Read More
Peghead Nation mandolin instructor plays a solo version of a tune by 1930s string band Narmour and Smith.

Read More
Peghead Nation mandolin instructor plays a great standard with his long-time musical collaborator in the Peghead Nation studio.

Read More
Mandolin master plays a Civil War-era tune that he also teaches in his Old-Time Mandolin course.

Read More
Peghead Nation Irish Guitar and Irish Mandolin instructors play a great set of reels live in the studio.

Read More
Peghead Nation mandolin and guitar instructors play a David Grisman and Jerry Garcia tune.

Read More
Alisa Rose and Tristan Scroggins explore the possibilities of a bluegrass and Irish music favorite.

Read More
Our Chord Melody Mandolin instructor plays the jazz standard introduced by Bing Crosby in 1936.

Read More