Flynn Cohen and Liz Simmons: The Hag's Purse, Bryan O'Lynn, Miss McDevitt's
Peghead Nation Irish Guitar instructor plays a set of jigs live in the studio with guitarist Liz Simmons.
By: Dan Gabel
July 28, 2023
In Flynn Cohen's Irish Flatpicking Guitar course on Peghead Nation, he teaches you to play traditional Irish dance tunes such as reels, jigs, and hornpipes on the guitar in the style of Paul Brady, John Doyle, Arty McGlynn, and others. While Flynn was in the studio shooting lessons for that course, guitarist and songwriter Liz Simmons, who is also his partner in Low Lilly, joined him and they played a great set of jigs: "The Hag's Purse," "Bryan O'Lynn," and "Miss McDevitt's."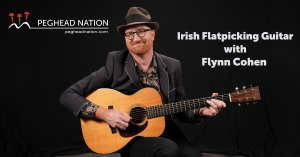 In Irish Flatpicking Guitar, Flynn teaches lessons on jig picking, triplets, and other techniques derived from traditional Irish tenor banjo playing and applied to guitar. All lessons include accurate notation and tablature for the tunes and techniques that Flynn presents, and Flynn is adding new lessons to the course every month, so the lesson library grows as you progress.
Flynn also teaches Peghead Nation's Irish Backup Guitar course. where he teaches you how to accompany jigs, reels, and other forms.
Join us, and use the promo code "FlynnLand" at checkout to get your first month free! 
Related In The Studio Posts
Peghead Nation Irish Guitar and Irish Mandolin instructors play a great set of reels live in the studio.

Read More
Peghead Nation's Irish Backup Guitar instructor flatpicks a set of reels with our Irish Mandolin instructor.

Read More
Peghead Nation Irish Mandolin instructor Marla Fibish and Bruce Victor play the title track from their recently released Noctambule album.

Read More
Peghead Nation mandolin instructor plays a great standard with his long-time musical collaborator in the Peghead Nation studio.

Read More
Peghead Nation's Bluegrass Guitar Fingerboard Mastery instructor plays a classic American folksong that Bill Monroe recorded in 1959.

Read More
Mandolin master plays a Civil War-era tune that he also teaches in his Old-Time Mandolin course.

Read More
Peghead Nation mandolin and guitar instructors play a David Grisman and Jerry Garcia tune.

Read More
The bluegrass guitarist, singer, songwriter, and new Peghead Nation instructor plays a traditional gospel song.

Read More
Peghead Nation's Roots of Jazz Guitar instructor plays a solo version of the great Eddie Lang showpiece.

Read More
Peghead Nation's dobro instructor plays an old-time favorite with our co-founder and guitar instructor.

Read More