Stash Wyslouch: "Gotta Travel On"
Peghead Nation's Bluegrass Guitar Fingerboard Mastery instructor plays a classic American folksong that Bill Monroe recorded in 1959.
By: Dan Gabel
July 10, 2023
Guitarist, singer, and songwriter Stash Wyslouch teaches the popular Bluegrass Guitar Fingerboard Mastery, course on Peghead Nation, in which he shows you his step-by-step approach to decoding the mysteries of the guitar neck through the lens of bluegrass, old-time, and country music.
In this video, Stash plays the classic song "Gotta Travel On" in the Peghead Nation studio. The song is credited to The Weavers, Paul Clayton, Larry Ehrlich, and Dave Lazer as songwriters. Bill Monroe recorded a classic version of this song in 1959, and it was first recorded by Pete Seeger in 1958. Stash gives it his own great twist in this version.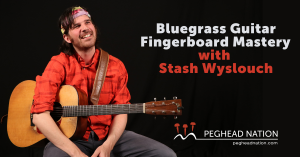 Bluegrass has been central to Stash's life for the past 15 years touring and recording with groups such as the Deadly Gentlemen, Bruce Molsky's Mountain Drifters, the Jacob Jolliff Band, and Tony Trischka's Early Roman Kings. He has recorded four albums, the latest of which, Plays and Sings Bluegrass Vol. II, was released in 2021. Conceived as a gift back to the music that has framed his career, Plays and Sings Bluegrass Vol. II is a collection of zanily deconstructed bluegrass classics.
Join him in his course, Bluegrass Guitar Fingerboard Mastery. Click here to check out his course introduction video. Use promo code StashLand at checkout to get your first month free or $20 off of an annual subscription!
Related In The Studio Posts
Peghead Nation's Monroe-Style Mandolin instructor plays a smoking version of a Bill Monroe classic with our co-founder.

Read More
Peghead Nation mandolin and guitar instructors play classic Bill Monroe boogie-woogie tune.

Read More
Peghead Nation mandolin instructor plays a blistering fast Bill Monroe tune.

Read More
Peghead Nation mandolin instructor plays a Bill Monroe cross-tuned instrumental.

Read More
Peghead Nation mandolin instructor plays a great standard with his long-time musical collaborator in the Peghead Nation studio.

Read More
Peghead Nation Irish Guitar instructor plays a set of jigs live in the studio with guitarist Liz Simmons.

Read More
Mandolin master plays a Civil War-era tune that he also teaches in his Old-Time Mandolin course.

Read More
Peghead Nation Irish Guitar and Irish Mandolin instructors play a great set of reels live in the studio.

Read More
Peghead Nation mandolin and guitar instructors play a David Grisman and Jerry Garcia tune.

Read More
The bluegrass guitarist, singer, songwriter, and new Peghead Nation instructor plays a traditional gospel song.

Read More