Evie Ladin: "Jump the Fire"
Peghead Nation Clawhammer Banjo instructor plays one of her original songs during the Great Lakes Music Camp instructor concert.
By: Dan Gabel
November 2, 2023
Evie Ladin was on hand at Great Lakes Music Camp in October to teach clawhammer banjo and vocals, joining a roster of talented instructors that also included fellow Peghead Nation teachers Emerald Rae, Bill Evans, Zoe Guigueno, Stash Wyslouch, and John Reischman. In this video clip, Evie performs her song "Jump the Fire" at the instructor concert, dedicating it to all the folks who stay up until the wee hours jamming at summer festivals.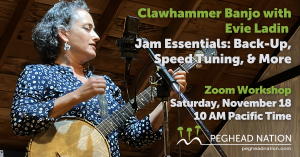 On November 18, Evie will be conducting a live Zoom workshop called Jam Essentials: Back-Up, Speed Tuning, & More. In the 90-minute workshop, Evie will explore ways to play clawhammer banjo in all kinds of jams, helping you to refine your backup playing, quickly get in the proper tuning, and other skills necessary for enjoying a jam in any style. Learn more about this free workshop and register to attend! 
Great Lakes Music Camp is held every October on the shore of Lake Michigan, in West Olive, Michigan. Each year the organizers gather a talented group of instructors to lead three days of intensive teaching, jamming, and performances, and in its five-year history, this weekend has become a destination for bluegrass, old-time, and roots players from around the world. Make plans to attend next year!
Related Live Onstage Posts
Peghead Nation banjo and mandolin instructors play an Osborne Brothers classic at Great Lakes Music Camp.

Read More
John Reischman plays his tune "Suzanne's Journey" at Great Lakes Music Camp 2023 with Bill Evans, Ethan Setiawan Jeremy Kittel, Hayes Griffin, and Todd Phillips.

Read More
A powerhouse band packed with Peghead Nation instructors plays an original tune from Bill Evans.

Read More
Fiddling gurus and hosts of the Peghead Nation live workshop series, Creative Jam Skills, play two great old-time tunes.

Read More
All-star band of Peghead Nation instructors Bill Evans, Chad Manning, Sharon Gilchrist, and John Reischman, along with Darol Anger and Jim Nunally, play one of John's new original tunes.

Read More
Powerhouse band of Peghead Nation instructors Bill Evans, Chad Manning, Sharon Gilchrist, and John Reischman, along with Darol Anger and Jim Nunally, play a bluegrass classic.

Read More
A performance from a Peghead-packed band of Bill Evans, Sharon Gilchrist, Chad Manning, John Reischman, and Jim Nunally.

Read More
Bruce Molsky, Stash Wyslouch and Allison de Groot play a traditional fiddle tune live at the Peghead Nation table at Wintergrass.

Read More
Peghead Nation fiddle and banjo instructor plays and sings a great traditional song with Stash Wyslouch and Allison de Groot, live at Wintergrass.

Read More
A performance of the jazz classic by the 2018 IBMA Banjo Player of Year, with Sharon Gilchrist, Chad Manning, John Reischman, and Jim Nunally.

Read More