Lauren Rioux and Brittany Haas: Piney Woods and House On Hadley
Fiddling gurus and hosts of the Peghead Nation live workshop series, Creative Jam Skills, play two great old-time tunes.
By: Dan Gabel
August 18, 2022
Fiddling pedagogue Lauren Rioux and bluegrass fiddle star Brittany Haas are gearing up to teach a six-part Peghead Nation live Zoom workshop series, called Creative Jam Skills.  The sessions in the workshop series will be held every other Saturday from 10 am to 11:30 am Pacific Time (1 pm to 2:30 pm Eastern Time), starting on September 3, 2022, and ending on Saturday, November 12.
In this video, shot by Live From Empty Sea, Lauren and Brittany play the old-time tunes "Piney Woods" and "House on Hadley." Throughout, they demonstrate some of the skills they will explore in their Creative Jam Skills workshop.
In their six-session workshop, you'll learn new tunes as a vehicle for upping your game as a melody player, backup player, and improviser. You'll explore different avenues for expressing yourself as an instrumentalist and work on your skill set as a musical collaborator.  Video recordings of each session will be available to all students so you can review what you've learned or catch up if you need to miss a session.
Lauren and Brittany have this to say about their Creative Jam Skills workshop: "We'll start with a tune, and add in some possible embellishments (double stops, ornaments, accents, slurs!). Then we'll show you the chords (or what chords we like to play with it), explore some of our favorite rhythm back-up patterns and techniques, talk about soloing concepts, and do some exercises to expand your approach to taking a solo."
Lauren Rioux is perhaps most well-known for her online string education site JamwithLauren.com, which provides students with an innovative curriculum, gorgeous learning materials, and her inimitable teaching style. Brittany Haas is widely regarded as one of the most influential fiddlers of her generation. She has recorded and performed with Steve Martin, David Rawlings, Punch Brothers, and Béla Fleck, among many others; was a member of the house band for Live From Here; and was the Americana Music Association's 2020 Instrumentalist of the Year. Lauren and Brittany became close friends in 2005 at the Mark O'Connor Fiddle Camp, and both cut their stringband teeth playing second fiddle in Darol Anger's Republic of Strings. They have toured together as a duo, produced solo albums for each other, and continue to collaborate on various teaching projects.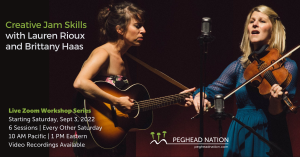 The fee for the six-part workshop is $200 and, in addition to admittance to all six workshops, students will receive PDFs related to each session, as well as access to the recordings of each workshop. Workshop recordings will be available to students within a week after each class, and you will retain access to all video and written materials after the live workshops have ended. Please join us for this unique, deep dive into learning how to jam!
Related Live Onstage Posts
John Reischman plays his tune "Suzanne's Journey" at Great Lakes Music Camp 2023 with Bill Evans, Ethan Setiawan Jeremy Kittel, Hayes Griffin, and Todd Phillips.

Read More
A powerhouse band packed with Peghead Nation instructors plays an original tune from Bill Evans.

Read More
All-star band of Peghead Nation instructors Bill Evans, Chad Manning, Sharon Gilchrist, and John Reischman, along with Darol Anger and Jim Nunally, play one of John's new original tunes.

Read More
Powerhouse band of Peghead Nation instructors Bill Evans, Chad Manning, Sharon Gilchrist, and John Reischman, along with Darol Anger and Jim Nunally, play a bluegrass classic.

Read More
A performance from a Peghead-packed band of Bill Evans, Sharon Gilchrist, Chad Manning, John Reischman, and Jim Nunally.

Read More
Bruce Molsky, Stash Wyslouch and Allison de Groot play a traditional fiddle tune live at the Peghead Nation table at Wintergrass.

Read More
Peghead Nation fiddle and banjo instructor plays and sings a great traditional song with Stash Wyslouch and Allison de Groot, live at Wintergrass.

Read More
A performance of the jazz classic by the 2018 IBMA Banjo Player of Year, with Sharon Gilchrist, Chad Manning, John Reischman, and Jim Nunally.

Read More
A performance from Bill Evans, Chris Coole, and Ned Luberecki, with a Peghead-packed band of Sharon Gilchrist, Chad Manning, John Reischman, and Jim Nunally.

Read More
Flatpicking master Kenny Smith plays one of his original tunes with Peghead Nation banjo and mandolin instructors, along with bassist Max Schwartz and fiddler Nate Lee.

Read More