Ear Trumpet Labs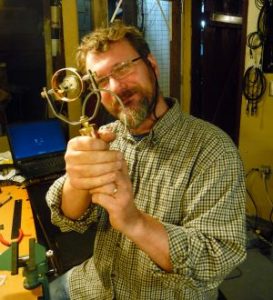 Ear Trumpet Labs is the unholy offspring of a former software engineer with a habit of building audio gear. Having learned the arcane secrets of microphone construction from his betters, he set about finding the coolest looking, most unlikely components with which to make bodies for his babies.
Emerging from the dark, he held before him the talismanic sound-art pieces that would light the path forward for a new workshop. In constant flux and experimentation, the microphones of Ear Trumpet Labs are all glimmering spots of distinctive light in a world of boring same-old.
We love to hear from artists, musical and otherwise, that want to use our mics, or build their own, or collaborate in some way. Drop us a line.
Visit EarTrumpetLabs.com to learn more.
Ear Trumpet Labs's Blog
Two microphones optimized for capturing acoustic performances.

Read More
The dobro master and fingerstyle powerhouse play Tommy's original tune in the Ear Trumpet Labs workshop.

Read More
Large-diaphragm microphone optimized for performing with acoustic instruments.

Read More
The Americana powerhouse plays an original song in the Ear Trumpet Labs yurt at the Grey Fox Festival.

Read More
Founder Patrick Graham talks about the creation of the Ear Trumpet Labs company and his inspiration behind making the custom microphones.

Read More
Ear Trumpet Labs is the unholy offspring of a former software engineer with a habit of building audio gear. Having learned the arcane secrets of microphone construction from his betters, he set about finding the coolest looking, most unlikely components with which to make bodies for his babies. In constant flux and experimentation, the microphones of Ear Trumpet Labs are all glimmering spots of distinctive light in a world of boring same-old.

Read More